Public Perceptions of the Election Commission, Election Management and Democracy in Malaysia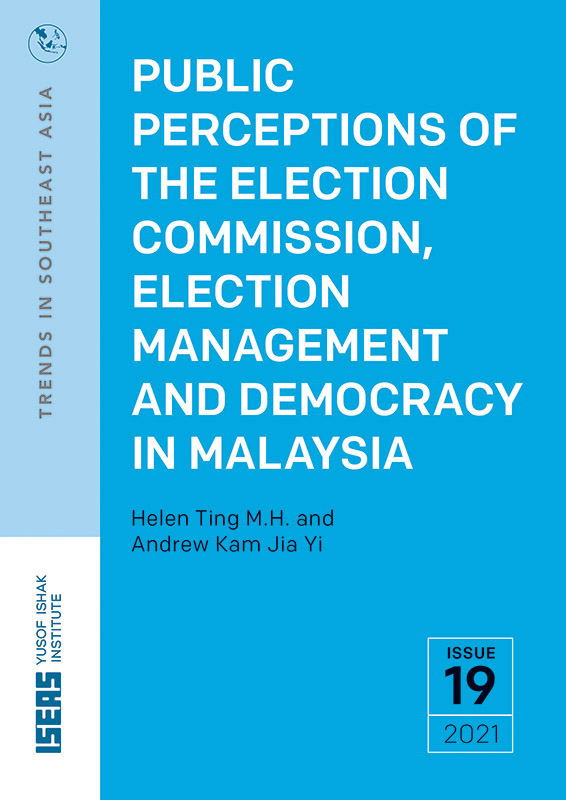 Date of publication:
2021
Publisher:
ISEAS – Yusof Ishak Institute

Ebook is available
About the publication
This report presents findings from a nationwide face-to-face survey of 2,627 Malaysians between March and April 2021 regarding public perceptions on the Election Commission (EC) and on election management.
Malaysians by and large hold a cautious, moderate affirmation of the state of democracy in Malaysia, and of it having made notable progress over the past decade.
A quarter of respondents regard the 2018 general election to be very free or/and fair, while 43 per cent think that it was free/fair though not without problems. This perception appears to have been influenced by the fact that there was a change of federal government.
Public confidence in the integrity and impartiality of the election management process and the EC is weakly affirmative, as revealed by a majority expressing a lack of confidence in an eventual online voting system being handled transparently.
Urban residents generally have greater distrust in state institutions.
Some notable contrasts in regional trends:
-- Sarawakians have a high level of trust in state institutions.
-- Sabahans have the lowest appreciation for the progress made in the state of democracy in the country, the lowest satisfaction with civil liberty, or the lowest trust in state institutions except for the Malaysian Anti-Corruption Commission (MACC) and the EC.
-- West Malaysians have the lowest level of trust in the MACC and EC but express the highest level of appreciation for the progress that have made in the state of democracy.
Contents
Public Perceptions of the Election Commission, Election Management and Democracy in Malaysia
[Whole Publication, ISBN: 9789815011180], by Helen Ting Mu Hung, Andrew Kam Jia Yi,

authors