Health Security in Indonesia and the Normalization of the Military's Non-Defence Role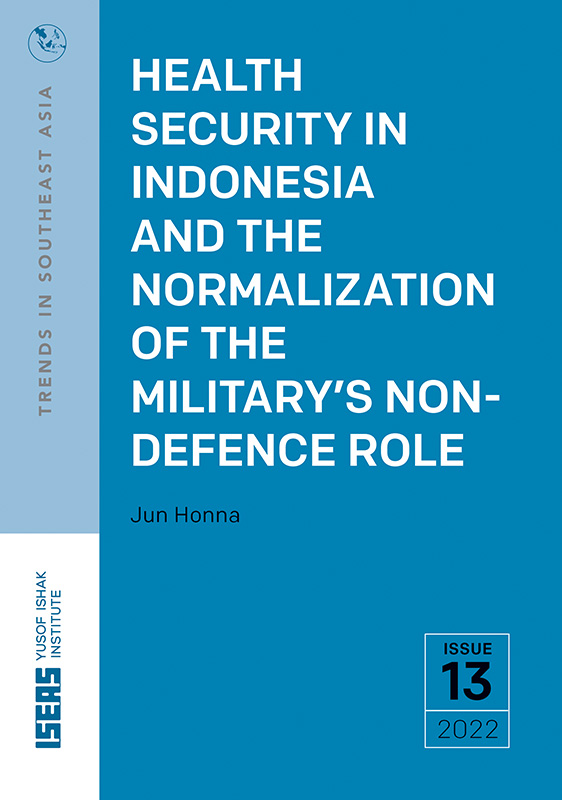 Date of publication:
2022
Publisher:
ISEAS – Yusof Ishak Institute

Ebook is available
About the publication
Like many countries, Indonesia's armed forces (TNI) have been engaging in health security activities since the outbreak of the COVID-19 pandemic in March 2020. The pandemic has made TNI popular in society owing to its visible dedication to crisis response at the grassroots level. It is important to clarify how this became possible and the impact it has had from the perspective of civil-military relations.
TNI's widening and deepening involvement in health security is the product of the normalization of "military operations other than war" (MOOTW). The 2004 TNI law restricted non-defence missions and required that ad hoc arrangements to undertake such non-war emergency missions gain parliamentary approval. TNI has skilfully used patriotic propaganda to justify its COVID-19-linked activities by invoking the spirit of the war of independence. In doing so, military elites have stoked nationalist sentiments to blunt military reform measures and normalize their role expansion. This is a new development in the history of TNI's MOOTW; operations related to counter-terrorism and disaster relief in the past—for example, the 2018 natural disasters in Lombok and Palu—were limited in time and space. In this sense, the COVID-19 crisis should be understood as an important game changer in the country's post-authoritarian civil-military relations.
The most significant implication has been the evaporation of political pressure for military reform. The skyrocketing popularity of TNI in society has incentivized political elites to ignore reform demands. Under such circumstances, the TNI leadership has advanced various institutional agendas, including the "healthification" and revitalization of babinsa and the territorial command system, creation of new jobs related to the COVID-19 pandemic, promotion of politically connected generals, and consolidation of intra-military power under the new TNI commander.
However, after two and a half years of the pandemic, whether TNI's role expansion really signals expanded political ambitions remains unclear. It should be noted that Indonesia's military leadership has not made any effort to hijack civilian politics or support a populist dictator's killing of citizens and the gutting of democratic institutions as seen in neighbouring countries. Instead, Indonesia's military elites cultivated Jokowi by providing institutional support, and carefully manoeuvred the pandemic crisis to gain greater autonomy and extend the scope of TNI's role beyond the conventional MOOTW paradigm. It appears that intra-military political dynamics, rather than institutional political ambitions, drive this agenda.
Contents
Health Security in Indonesia and the Normalization of the Military's Non-Defence Role
[Whole Publication, ISBN: 9789815011838], by Jun Honna,

author