Agricultural Trade between China and the Greater Mekong Subregion Countries: A Value Chain Analysis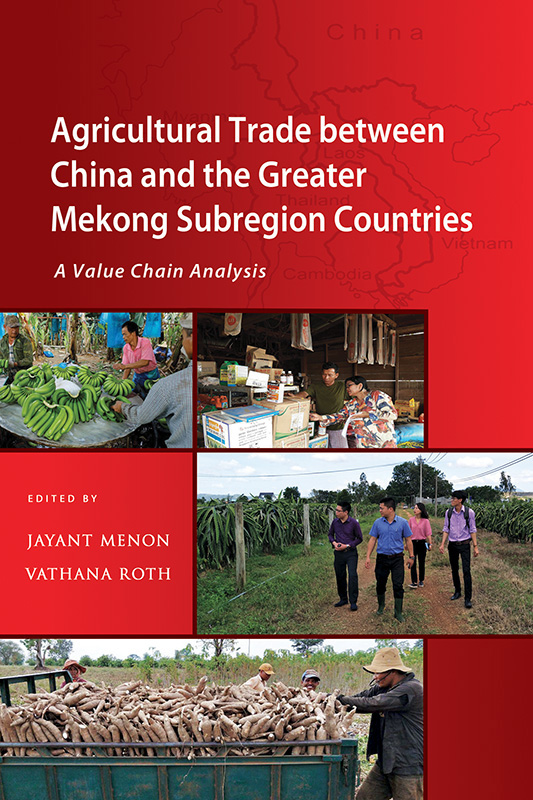 Date of publication:
2022
Publisher:
ISEAS – Yusof Ishak Institute

PDF is available
About the publication
"This book provides new insights into the important and developing agricultural value chains, including on current constraints and the enormity of opportunities, emanating in the dynamic GMS, especially through to their main giant market of China. Analysis in the GMS countries forms comparable case studies of major crops using mappings of their key processes and actors, as well as both qualitative and quantitative data, including primary data collection such as from new surveys. The analysis uses understandable methodologies, such as graphical cross-country comparisons, and established ratios, such as on comparative advantage, to provide useful insights into GMS agricultural value chains. A particular focus in the case studies is better understanding of the role Non-Tariff Measures (NTMs) might play in constraining agricultural exports to China and approaches to addressing these that are more inclusive and economically rewarding. I recommend this valuable book to those interested in agricultural trade in GMS countries and China, as well as the characteristics of their agricultural value chains, and their contribution to these countries' development."
Dr Ray Trewin, Former Fellow, ANU and editor of Crucial Agricultural Policy (World Scientific, 2016).
"The Greater Mekong Subregion encompasses several open, dynamic, latecomer economies. Over the past thirty years, they have benefited immensely from the restoration of peace, their re-engagement with the regional and global economies, and the rise of China. The region as a whole is a net food exporter with a strong comparative advantage in agriculture. How they manage their international commercial relations, with China in particular, will significantly influence their future socio-economic dynamics. The authors and contributors, all leading researchers in the field, are to be congratulated for this timely and authoritative volume that comprehensively examines the issues and charts a productive way forward. A must-read for anybody interested in these important issues and countries."
Professor Hal Hill, H.W. Arndt Professor Emeritus of the Southeast Asian Economies, ANU
Contents
Agricultural Trade between China and the Greater Mekong Subregion Countries: A Value Chain Analysis
[Whole Publication, ISBN: 9789815011135], by Jayant Menon, Vathana Roth,

editors

1. Agricultural Trade between China and the Greater Mekong Subregion Countries: An Overview, by Jayant Menon,

author

4. Agricultural Exports from Cambodia to China: A Value Chain Analysis of Cassava and Sugarcane, by Narith Roeun, Hokkheang Hiev,

authors