Singapore and International Law: The Early Years, Essays in Memory of S Tiwari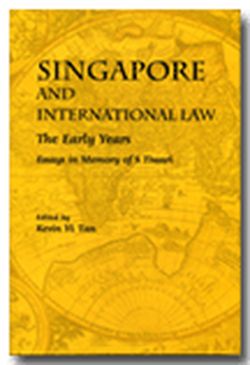 Date of publication:
2009
Publisher:
Centre for International Law, NUS
About the publication
In addition to a chapter by S. Tiwari reflecting on his experience in international law, this volume also includes an article tracing Singapore's interactions with international law in the early years of its independence by Professor Kevin Tan as well as three early articles on Singapore and international law by Professors L.C. Green and S. Jayakumar and Justice Chao Hick Tin. This was intended to be a celebratory volume, published to celebrate the opening of CIL. Alas, less that a year after that happy occasion, our dear friend and colleague, Tiwari, succumbed to a massive brain haemorrhage and passed away on 26 July this year. After graduating from NUS Law School, Sivakant Tiwari joined the Singapore legal service and served in several senior positions including legal adviser to the Ministry of Defence and Head of the International Affairs Division of the Attorney-Generals Chambers. He made enormous contributions for Singapore and to the practice of international law in Singapore.
Co-publication: Centre for International Law, NUS
Centre for International Law, NUS