Political Reform in Indonesia after Soeharto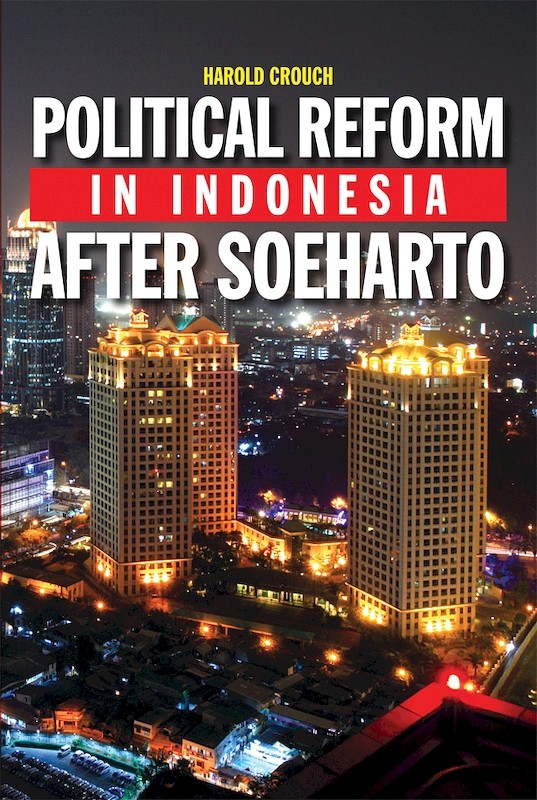 Date of publication:
2010
Publisher:
Institute of Southeast Asian Studies

Ebook is available
Reviews
"Keen observation and a strong storyline are the twin marks of good historical analysis. Political Reform in Indonesia After Soeharto is and will probably long remain the best single overview we have of institutional reform in the 10 years since President Suharto resigned in 1998. It is authoritative, well documented, and written in a clear, lively style. Culminating a long academic career observing Indonesian politics at the national level, the book brings together a wealth of insight" (South East Asia Research).

"A renowned expert on the country's politics, Crouch examines how Indonesia 'pulled back from the precipice' after 1998, and evaluates the subsequent reform measures after the fall of Suharto's New Order regime. Crouch acknowledges that much of the political elite have reorganized power relations for their own ends, but he asks whether or not this has prevented a fundamental transformation in Indonesia's political landscape (p. 7). Beginning with an overview of national level political developments, he proceeds to explore five key thematic areas: constitutional and electoral reform, decentralization, military reform, judicial reform, and regional politics. For Crouch, then, political reform in Indonesia had promising beginnings but lost momentum and become mired in an increasingly congealed political environment. The most significant reforms have been in the araas of formal and institutional aspects of governance. However, major obstacles remain, in particular because of the prevalence of money politics. The book contains an incredible level of detail reflecting Crouch's long experience in Indonesia. For example, he not only cites corruption as a major problem, he also identifies which committees in the legislature are corrupt (or 'wet') and even how much some of the bribes can run. This depth of detail married to the analytical temporal framework makes it invaluable for anyone seeking a broad overview of how political reform in Indonesia has progressed after Suharto" (Asia Pacific World).

About the publication
Three decades of authoritarian rule in Indonesia came to a sudden end in 1998. The collapse of the Soeharto regime was accompanied by massive economic decline, widespread rioting, communal conflict, and fears that the nation was approaching the brink of disintegration. Although the fall of Soeharto opened the way towards democratization, conditions were by no means propitious for political reform. This book asks how political reform could proceed despite such unpromising circumstances. It examines electoral and constitutional reform, the decentralization of a highly centralized regime, the gradual but incomplete withdrawal of the military from its deep political involvement, the launching of an anti-corruption campaign, and the achievement of peace in two provinces that had been devastated by communal violence and regional rebellion.
Contents
Political Reform in Indonesia after Soeharto
[Whole Publication, ISBN: 9789812309211]

2. The Fall of the New Order and the "Reformasi" Governments

3. Reforming the Constitution and the Electoral System

4. Struggles over Regional Government

5. Military Reform: Withdrawing from "Practical Politics" and Steps toward Civilian Control

6. Politics, Corruption and the Courts

7. Resolving Communal Violence in Maluku

8. Resolving the Separatist Challenge in Aceh

9. Reform in Unpromising Circumstances