Strategic Currents: Emerging Trends in Southeast Asia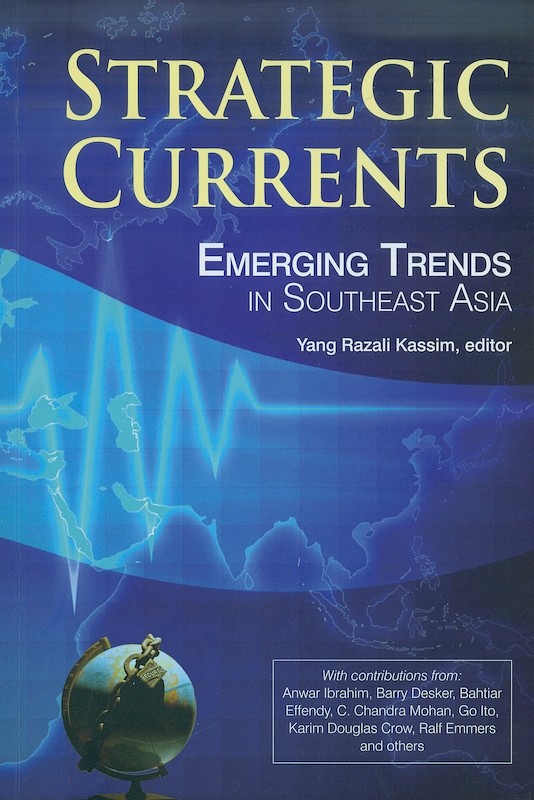 Date of publication:
2009

Ebook is available
About the publication
Southeast Asia may be going through a new phase. The region is experiencing new challenges as well as changes in its geostrategic and economic environment. Such changes have become more evident over the last few years, as manifested in a range of issues such as climate change, ASEAN identity, regionalism and religion. This volume reflects some of what possibly could be emerging trends in the region, as captured in a series of commentaries written for the S. Rajaratnam School of International Studies (RSIS), the Nanyang Technological University between 2007 and early 2008.
Edited by Yang Razali Kassim, and succinctly written in a readableand engaging style by regional experts, policy contributors and other personalities, including Malaysia's former deputy prime minister and finance minister Anwar Ibrahim, this book hopes to generate thinking on some of the key issues that are emerging to confront Southeast Asia and ASEAN.


Co-publication: ISEAS / RSIS
ISEAS / RSIS
Contents
Strategic Currents: Emerging Trends in Southeast Asia
[Whole Publication, ISBN: 9789812308849]

ASEAN: AT DECADE'S TURN

ASEAN Regional Forum: Time for Preventive Diplomacy, by Ralf Emmers,

contributor

The ASEAN Charter Controversy: Between Big Talk and Modest Actions, by Hiro Katsumata,

author

Prospects for an ASEAN Nuclear Cooperation: A Common Nuclear Facility?, by Alvin Chew,

author

THE MYANMAR CHALLENGE

Plight of Myanmars People: Challenges for the International Community, by Christopher Roberts,

author

India's Outdated Myanmar Policy: Time for a Change, by C Raja Mohan,

author

Rohingya Muslims: Myanmar's Forgotten People, by Nyi Nyi Kyaw,

author

CLIMATE CHANGE
POLITICAL ECONOMY AND REGIONALISM

The Asian Financial Crisis 10 Years Later: What Lessons have We Learned?, by Anwar Ibrahim,

author

East Asian Identity: After the Crisis, by Tang Shiping,

author

SINGAPORE AND SOUTHEAST ASIA

The Tao of Spider-Man: Lessons for Singapore Defence and Diplomacy, by Tan See Seng,

author

Self-Radicalization: The Case of Abdul Basheer Abdul Kader, by Kumar Ramakrishna,

author

The Singapore Armed Forces and Domestic Security, by Terence Lee,

author

Why We Must Ponder the Improbable: Risk Assessment and Horizon Scanning, by Barry Desker,

author

REGIONAL SECURITY

SOUTHEAST ASIA AND THE REGIONAL POWERS

East Asian Security: India's Rising Profile, by C Raja Mohan,

author

Rudd's Rise: Changes in Australia's Strategic Directions, by Sam Bateman,

author

Timor-Leste and China: The Dragon's Newest Friend, by Loro Horta,

author

A New Pro-Asia Doctrine? Japan's Approach to East Asian Regionalism, by Go Ito,

author

South China Sea: Time for ASEAN-China Joint Development?, by Robert Beckman,

author

SOUTHEAST ASIA AND CONTEMPORARY ISLAM

Turkey and the Trban: The Dilemmas of Laicist Ideology, by Karim D Crow,

author

New PAS, Young Ulama: Re-Defining the Future of Islamist Politics, by Yang Razali Kassim,

author