India-ASEAN Partnership in an Era of Globalization: Reflections by Eminent Persons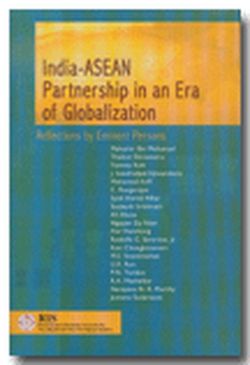 Date of publication:
2004
Review
"The impetus behind Indian engagements with ASEAN now extends beyond economic cooperation, has undergone considerable transformation in recent years and is still in a state of flux. This book is invaluable in the insights it provides into this transforming relationship" (
Bulletin of Indonesian Economic Studies
).
"This book is essential reading for anyone who likes to know changing episodes of India-ASEAN relations after the end of the Cold War and some detailed analyses of the Asian Financial Crisis in its root causes and lessons" (ASIEN).
About the publication
The ASEAN-India partnership has steadily evolved from India becoming a sectoral dialogue partner of ASEAN in 1992 to annual summit level interaction in 2002. The India-ASEAN Eminent Persons Lecture Series was launched in December 1996 with the objective to promote awareness about the reality and potential of the India-ASEAN partnership into the 21st century.
Since its launch the Lecture Series coordinated by the RIS has established itself as an institution of influence and standing. Lectures have been delivered in India by very distinguished statesmen and experts from the ASEAN countries and by equally noted Indian experts. These Lectures provide valuable reflections on a number of themes concerning the ASEAN-India partnership in the current context of globalization.
This volume puts together these reflections, which present visionary perspectives on many issues of current development concerns in this part of the world. The book will be useful for policy-makers as well as scholars.





Co-publication: ISEAS / RIS
Institute of Southeast Asian Studies / Research and Information System for the Non-Aligned and Other Developing Countries