Non-Traditional Security Issues in ASEAN: Agendas for Action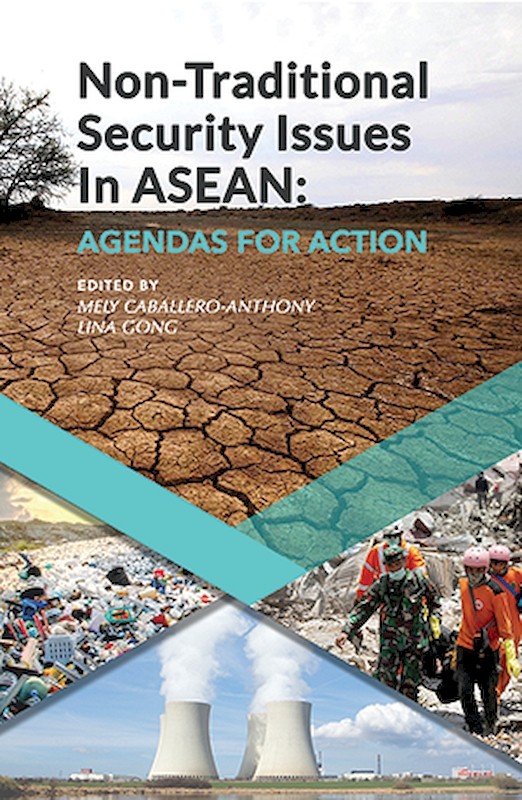 Date of publication:
2020
Publisher:
ISEAS – Yusof Ishak Institute

Ebook is available
Reviews
"An excellent volume which bridges scholarly research and policy imperatives on ASEAN's multi-faceted dimensions of security. It offers fresh perspectives on the opportunities and challenges for the region to address existing and emerging security threats that affects the well-being of Southeast Asians on a daily basis."
~ Dr Tang Siew Mun, Head, ASEAN Studies Centre (2015-2020).

About the publication
Non-Traditional Security Issues in ASEAN
examines the current state of governance of non-traditional security challenges confronting the ASEAN region. The book takes an issue-specific approach to investigating how ASEAN states and societies govern many of the pressing non-traditional security issues, such as climate change, food security, environmental protection, humanitarian assistance and disaster response, health security, nuclear security, and human trafficking and forced displacement.
With non-traditional security as an established concept in the policy and scholarly communities in ASEAN, this book moves beyond securitization and focuses on capacity-building, regional cooperation and institutions for dealing with non-traditional security challenges in the region. Through the development of a comprehensive analytical framework that examines the processes of governing non-traditional security problems, the editors put together chapters that identify some of the major gaps and challenges in managing many of the pressing security issues in Southeast Asia.
Non-Traditional Security Issues in ASEAN provides a systemic assessment of the state of governance of the most pressing challenges in the region. The authors analyse the ways in which particular issues are addressed at national and regional levels and by different stakeholders. In spite of the differences among various non-traditional security issues, the analysis of the chapters converge on three core themes for enhancing governance, which include engagement of multiple actors, effective enforcement of national and regional laws and regulations, and better coordination between different actors. As such, Non-Traditional Security Issues in ASEAN contributes to policy making by highlighting the key agendas that call for national action and promoting and deepening regional cooperation in governing non-traditional security.
"A timely publication. Climate change, food security, health security, disaster response are key issues affecting the shared vulnerability of ASEAN and its people. This book shows why these and similar non-traditional threats are urgent agendas for Southeast Asia and best addressed through regional cooperation."
Dr Noeleen Heyzer, United Nations Under-Secretary-General (2007–15)

Contents
6. Advancing a Regional Pathway to Enhance Nuclear Energy Governance in Southeast Asia, by Julius Cesar I. Trajano,

author

8. Displaced Populations and Regional Governance in Southeast Asia, by Alistair D.B. Cook,

author

9. Health Security Challenges in Asia: New Agendas for Strengthening Regional Cooperation in Health Security, by Mely Caballero-Anthony,

author