Southeast Asia in Search of an ASEAN Community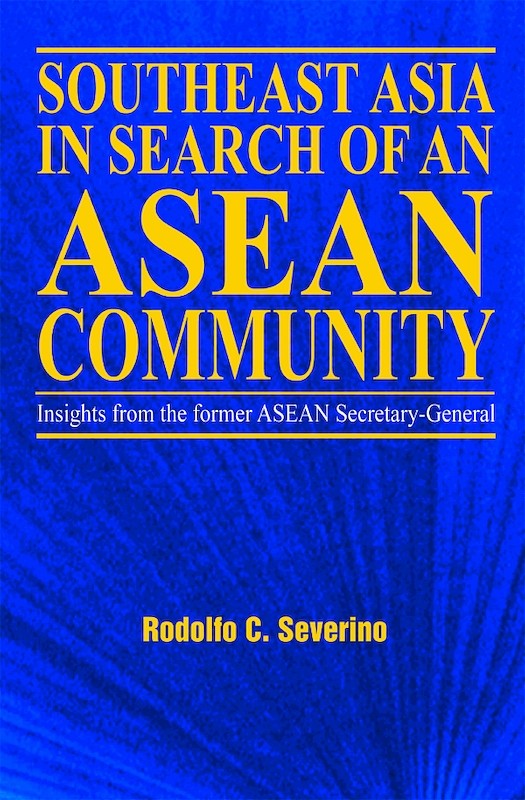 Date of publication:
2006

PDF is available
Review
"Rodolfo Severino has gifted ASEAN on the occasion of its fortieth year with a wide-ranging analysis of the organization. While he disclaims it as an academic work, and of being comprehensive, it is based not only on his own experience, both as Secretary-General (1998-2002) and as a Philippine diplomat, but also on over a hundred interviews with top policy makers from every member country, many documents not commonly available, and not a few academic scribblers' works. It is comprehensive and historically rooted. In fact, it is quite an accomplishment, and one that academic observers could not have produced. This is an excellent review of an important regional association by an astute insider. It should be of wide interest to those concerned with Asian affairs, but is also suitable for the classroom" (
Pacific Affairs
).
"Foreign ministers of the Association of Southeast Asian Nations (ASEAN) began by seeking to cool tensions and restore diplomatic relations among themselves and to enhance regime security of the first five members. Subsequently, ASEAN undertook deeper forms of cooperation. Eventually, membership increased to ten. Scholars of regional cooperation and integration should read Southeast Asia in Search of an ASEAN Community: Insights from the former ASEAN Secretary-General. This book matters because of who wrote it. Educated in the humanities and world politics, Filipino diplomat Rodolfo Severino is an experienced practitioner. Among other foreign service assignments, he has been posted to the U.S. and China -- two countries whose governments have paid attention to Southeast Asian regional organizations. During 1998-2002, the author was ASEAN's Secretary-General. And he has contributed to the ASEAN-China Group of Eminent Persons. In his "Preface', the author hopes that the future 'ASEAN community' will include Southeast Asian readers of this book who have underestimated or misunderstood ASEAN's institutional accomplishments. In the 'Foreword' Ambassador Tommy Koh of Singapore suggests that ASEAN's Group of Eminent Persons may wish to read this book before making recommendations for ASEAN's future (p. ix). By now, surely it already has had influence in ASEAN's inner circles.... Journalists, historians, economists, civil society organizations, governmental practitioners, comparative politics specialists and foreign policy analysts can also use this book" (East Asian Integration Review).
About the publication
Not just another book on ASEAN, this volume reappraises the organization from the inside, through controversial or perplexing issues such as the ASEAN Way, the accession of the new members, including Myanmar, the principle of non-interference, regional security, regional economic integration, the haze and SARS, and ASEANs future.
Written by a key player, the former ASEAN Secretary-General, this book will illuminate the inner workings of the key Southeast Asian regional institution. It is a must-read for journalists, policy-makers, political scientists and others who need an insiders view on how ASEAN has evolved, how it operates and whether it will remain relevant in the evolving Asia Pacific and global order.









Contents
Southeast Asia in Search of an ASEAN Community
[Whole Publication, ISBN: 9789812305671]

Preliminary pages with Foreword by Tommy Koh

1. The "ASEAN Way": Its Nature and Origins

2. Who Belongs in ASEAN? The Question of Membership

3. The Issue of Non-Interference

4. Regional Security: The ASEAN Role

5. Integrating the Regional Economy

7. The ASEAN Community: Is It for Real?

8. What Kind of Future for ASEAN?