Secrets and Power in Myanmar: Intelligence and the Fall of General Khin Nyunt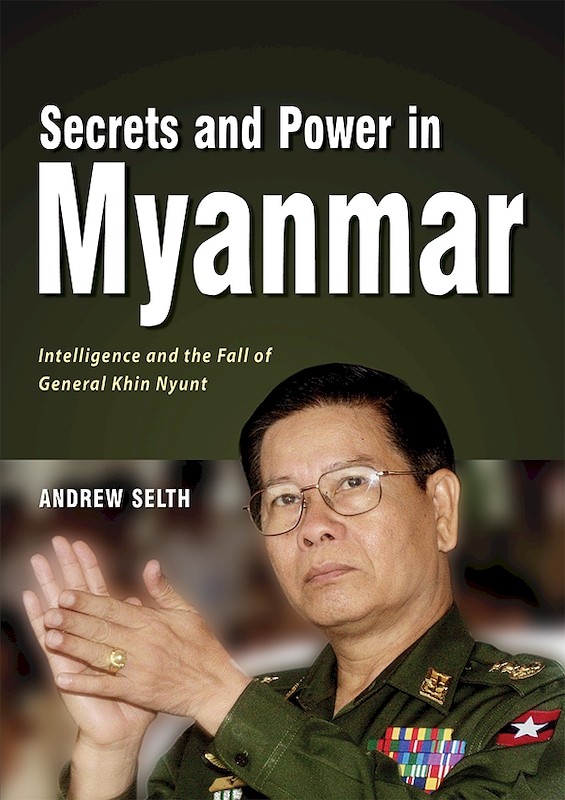 Date of publication:
2019
Publisher:
ISEAS – Yusof Ishak Institute

Ebook is available
Reviews
David Scott Mathieson, Tea Circle, Oxford, 2020.
"The scholar Andrew Selth's latest book is an examination of one of Burma's most powerful and feared figures for the past forty years. Since his purge in late 2004, Khin Nyunt has been eclipsed by history, ostracized from the military, largely unknown to the outside world since the 'transition' to democracy in 2011, and remembered only by his many victims. Selth's study, Secrets and Power in Myanmar, is less a political biography of Khin Nyunt, and more a technical examination of the intelligence services, producing skilful navigation through the maze of the opaque world of intelligence gathering by one of the most esteemed chroniclers of modern Burma.
Selth is the indisputable master of open-source intelligence and the doyen of deft political analysis that includes all possible permutations and possibilities. This approach should be studied and emulated, especially to leaven the questionable dependence on quantitative data and spurious system analysis that abounds in security studies on Burma. Selth has a more rigorous and readable style that is well suited to propounding the complexities of political machinations in Burma."
Kai Oswald, Pacific Affairs, 2020.
Beyond providing an overview of Myanmar's intelligence apparatus and the fall of Khin Nyunt, Selth covers the partial rebuilding of intelligence capacity, notable intelligence failures, the foreign relationships of the new intelligence apparatus, and questions of accountability. The discussion on intelligence failures in particular provides a unique perspective on current crises -- including in Rakhine state -- that will be of particular interest to scholars of conflict resolution. The chapters are all meticulously references, increasing the book's value as a general reference on Myanmar.
Ultimately, the book provides a richly-detailed view into one of the most powerful but elusive institutions in Myanmar, which makes it fascinating not just for scholars of Myanmar, but more broadly for scholars of authoritarian regimes and other "intelligence states" as well.

Huang Tianlei, New Mandala, 5 Nov 2019.
"Secrets and Power in Myanmar is an update as well as an extension of one of Selth's earlier works on the Burmese intelligence system, published in the late 1990s. Though it depends heavily on materials published in English, as Selth himself acknowledges, it is still a great contribution to the study of the praetorian state in Burma, first and foremost because of its intellectual honesty in distinguishing facts and opinions in a field full of anecdotes, hearsay and speculation. It employs a wealth of first-hand materials, including interviews, memoirs and diplomatic cables, and dissects the information carefully to present a broad picture of Burma's intelligence apparatus both before and after the downfall of Khin Nyunt in 2004. The book is a must-read for all Burma observers both for the enormous richness in its content and its skilful presentation of a vast amount of information."
About the publication
"No external observer knows more about Myanmar's security and intelligence apparatus than Andrew Selth. In this book he presents an account of the structure and functions of Myanmar's deep state, along with a tale of personal ambition, rivalry and ruthless power politics worthy of John Le Carre. A thoroughly educative, entertaining and intriguing read."
— Professor Michael Wesley, Dean, College of Asia and the Pacific,
The Australian National University
"Andrew Selth has once again amply illustrated the depth and penetration of his study of Myanmar/Burma and its institutions. This work on the more recent aspects of the country's intelligence apparatus goes beyond a masterful and comprehensive analysis of the Burmese intelligence community, and probes the social and institutional bases of the attitudes giving rise to that critical aspect of power. We are once again in Dr Selth's debt. This is required reading for serious observers of the Burmese scene."
— David I. Steinberg, Distinguished Professor of Asian Studies Emeritus,
Georgetown University
"By lifting the lid on a pervasive yet secretive intelligence apparatus, Andrew Selth makes an outstanding contribution to Myanmar Studies. For scholars and practitioners alike, this book provides an essential history of a security state that remains powerful even during the transition away from overt authoritarian rule."
— Professor Ian Holliday, Vice-President (Teaching and Learning),
The University of Hong Kong
Contents
Secrets and Power in Myanmar: Intelligence and the Fall of General Khin Nyunt
[Whole Publication, ISBN: 9789814843799], by Andrew Selth,

author

2. Myanmar's Intelligence Apparatus Before 2004

3. The Fall of General Khin Nyunt

4. Power Shifts and Structural Changes

5. Intelligence Developments Since 2011

8. Questions of Accountability