The Elderly Must Endure: Ageing in the Minangkabau Community in Modern Indonesia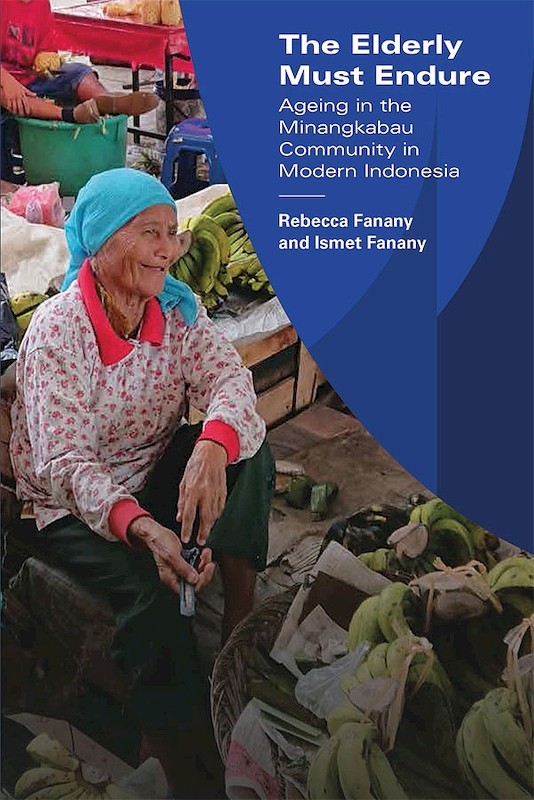 Date of publication:
2018
Publisher:
ISEAS – Yusof Ishak Institute

Ebook is available
Review
Suryadi, Archipel 99. 2020.
"The Elderly Must Endure focuses on the Minangkabau elderly people in the 21st century. The book is the result of a 'long-term study' among the Minangkabau of West Sumatra and presented in a fascinating ethnographic report style. Rebecca Fanany and Ismet Fanany conducted an in-depth interview with several elderly people and numbers of their extended families, both in West Sumatra and overseas (rantau), to describe 'the experience of ageing in modern Minangkabau society' which constitutes the 'forefront of social change with the understanding that this will offer insight into similar forces that are being experienced all around the country by older individuals of all backgrounds and cultural origins.' (p. 18).
This book provides a fruitful cultural landscape of being elderly in the Minangkabau cultural context amidst the rapid social changes of contemporary Indonesian society. In my feeling, it seems to be a self-reflection of one of its authors (Prof Ismet Fanany), a Minangkabau intellectural perantau who has spent most of his life and ageing overseas, which resonates with his 'longing for home.' This ethnographic study has taken into account many aspects of Minangkabau ethnicity, tangible and intangible, to get a clear insight of the experiences of its elderly and the problems they face in modern Indonesia today. Although the authors do not offer a clear solution to overcome these problems, this book is highly beneficial not only to scholars but also for the policy makers in Indonesia."
About the publication
Since its independence in 1945, Indonesia has experienced decades of rapid social change that have affected every area of life and have reached even the most remote parts of the country. The impact on the experience of the population has been equally significant, especially for those individuals who are over the age of 60 today and have lived through much of this period. This book concerns older members of the Minangkabau ethnic group, one of Indonesia's many local cultures. The Minangkabau have an ancient matrilineal social structure that is embodied in their local law and customs (
adat
) and that, in the view of many Minangkabau, is under increasing pressure in the modern context.
Today's older Minangkabau are deeply affected by these challenges to the traditional way of life which relate to fundamental social patterns, such as the nature of the long-established tradition of leaving their region of origin to work elsewhere (marantau) and the structure of relationships within the extended family, as well as the potential value of traditional practices in modern society. The gap between their expectations that were formed early in their life and the realities of life in modern Indonesia often create serious problems of cultural consonance that represent a personal challenge for which there is no precedent and no established strategy to address.
This book is based on a long-term study of older Minangkabau in modern Indonesia with a focus on cultural consonance. It profiles the members of one family from a village in the highlands of West Sumatra whose members now live in cities across Indonesia as well as in their village of origin. The challenges but also the opportunities experienced by these individuals, and members of the older Minangkabau population in general, are characteristic of similar social change experienced across Indonesia in recent decades and illustrate the nature of culture shift in the rapidly urbanizing and modernizing context of modern Indonesia.
Contents
The Elderly Must Endure: Ageing in the Minangkabau Community in Modern Indonesia
[Whole Publication, ISBN: 9789814818476], by Rebecca Fanany, Ismet Fanany,

authors

2. Ageing in the Past and Present

3. Adat Traditions and the Elderly

4. Religion and the Elderly

5. Language and the Elderly

9. Ageing in an Institution

10. Ageing and Cultural Consonance

11. The Elderly Must Endure