Weathering the Storm: The Economies of Southeast Asia in the 1930s Depression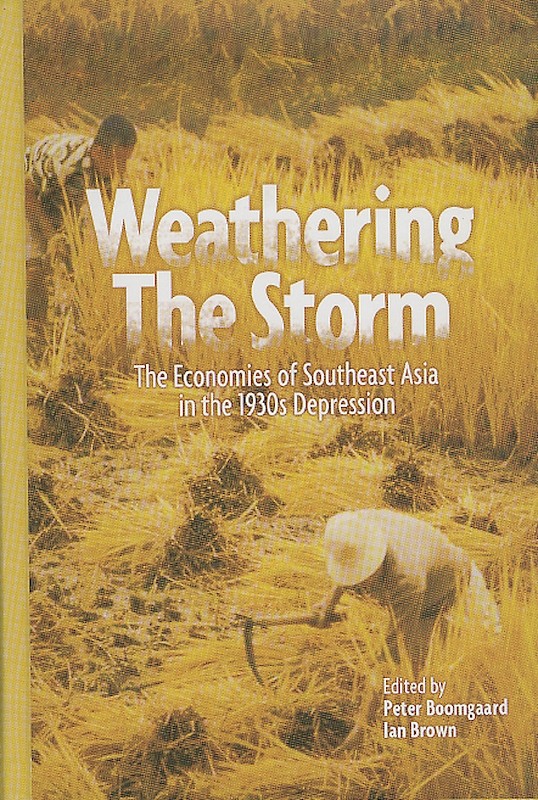 Date of publication:
2001
Review
"This is a most welcome and much overdue book, at once both solid and stimulating" (Review of Indonesian and Malaysian Affairs [RIMA]).
About the publication
The principal cause of the 1930s depression in Southeast Asia lay outside the region through a sharp contraction in demand for the regions major commodity exports. But it had important internal causes too: an oversupply of primary commodities and an increasing scarcity of new agricultural land leading to higher rents and lower wages, rising indebtedness and increasing landlessness. This work thoroughly analyses the pre-war depression. It also looks at the changes in the basic structures of the economies of Southeast Asia that were of long-term importance, such as the role of the state in the economy. The authors also draw similarities and contrasts between the 1930s depression and the 1990s Asian crisis.
Co-publication: ISEAS / KITLV
institute of Southeast Asian Studies / KITLV Press
Contents
Preliminary pages
[Whole Publication, ISBN: 9789812305077]

PART I: MATERIAL CONDITIONS

2. Surviving the Slump: Developments in Real Income During the Depression of the 1930s in Indonesia, Particularly Java, by Daniel F Doeppers, Peter Boomgaard,

authors

4. Uneven Impact and Regional Responses: The Philippines in the 1930s Depression, by Ian Brown, Willem Wolters,

authors

5. Material Conditions in Rural Lower Burma During the Economic Crisis of the Early 1930s: What the Cotton Textile Import Figures Reveal, by J Thomas Lindblad, Ian Brown,

authors

PART II: AGRICULTURAL STRATEGIES

7. Entrepreneurial Strategies in Indigenous Export Agriculture in the Outer Islands of Colonial Indonesia, 1925-38, by S Nawiyanto, Jeroen Touwen,

authors

10. Rice and the Colonial Lobby: The Economic Crisis in French Indo-China in the 1920s and 1930s, by Irene Norlund,

author

PART III: TRADING COMMUNITIES
PART IV: THE STATE'S RESPONSE

13. Imperial Unity Versus Local Autonomy: British Malaya and the Depression of the 1930s, by Anne Booth, Paul H Kratoska,

authors

14. Crisis and Response: A Study of Foreign Trade and Exchange Rate Policies in Three Southeast Asian Colonies in the 1930s, by Anne Booth,

author