Services Liberalization in ASEAN: Foreign Direct Investment in Logistics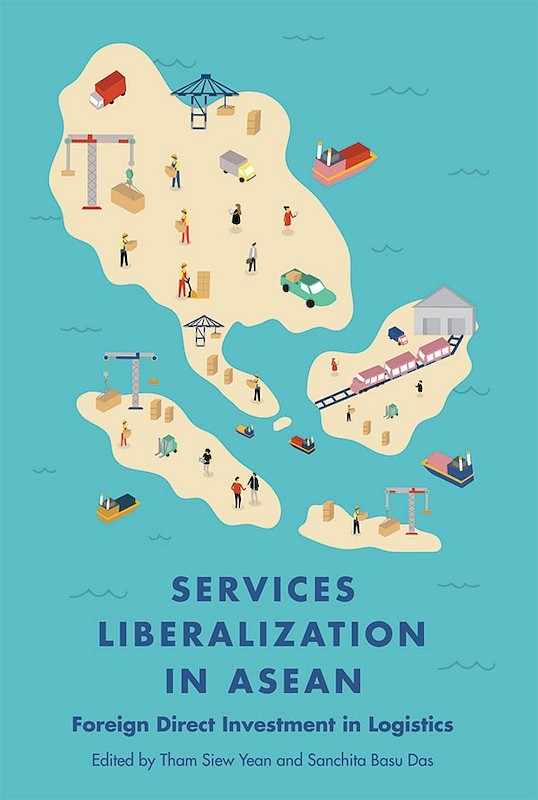 Date of publication:
2017
Publisher:
ISEAS – Yusof Ishak Institute

Ebook is available
Reviews
Rashesh Shrestha, Asian-Pacific Economic Literature, 2019.
"Edited by Dr Tham Siew Yean and Dr Sanchita Basu Das of the Institute of Southeast Asian Studies, this book brings together authors with institutional knowledge of each country to examine the status of domestic regulatory reforms, liberalisation, and foreign investment in the services sector in ASEAN countries. These are timely issues as a good institutional environment is necessary to attract foreign direct investment, especially in today's technological era where geographic proximity is increasingly rendered irrelevant due to lower communication costs. The added importance of the services sector as a direct contributor to GDP and employment generation, as well as enabler of agriculture and manufacturing, increases the importance of the issues raised by the book.
Overall, the book will be useful to anyone who is interested in in-depth information on the status of services liberalisation, especially the logistics sector, in each AMS. The book provides a picture of a sector beset by intrinsic complexity that is compounded by regulatory hurdles. In addition to the common thread of institutional reform, the book is able to highlight some country-specific issues that need special attention. Brunei's small domestic market, Lao People's Democratic Republic's (PDR) land-locked position, and Singapore's limited labour force are some examples of issues that need to be addressed while further developing the logistics subsector. Likewise, infrastructure remains a bottleneck for Cambodia, Lao PDR, and Myanmar. These discussions will be useful for readers interested in particular AMSs."
About the publication
The services sector plays an important role in ASEAN economies as it accounts for about half of the regions GDP and more than 45 per cent of its total employment. ASEAN aspires to deepen integration in the services sector in order to enhance the sectors contribution to economic development and growth in each country. Despite this, services liberalization has progressed slowly compared to goods liberalization both at the multilateral and the regional levels. Different regulatory mechanisms across countries have contributed to the slow pace of liberalization.
Logistics is an important industry in the services sector. The integration of logistics is important for deepening economic integration in ASEAN as it facilitates the movement of goods, services and people within and across countries, among producers and from producers to consumers. In view of its importance, ASEAN has identified logistics as one of its priority integration sectors. It has also developed a Connectivity Master Plan and a Strategic Transport Plan, where logistics plays an important role.
This book examines the current state of services liberalization in the ten ASEAN economies. It also assesses the FDI enabling environment and the extent of FDI liberalization in the logistics sector as well as the liberalization challenges encountered in each of the ASEAN economies. The book, thus, provides a comparative picture of services liberalization as well as the state of logistics liberalization and development in each of the ten ASEAN member countries. All these have important bearings on deepening ASEAN economic integration for 2025 and beyond.
Contents
Services Liberalization in ASEAN: Foreign Direct Investment in Logistics
[Whole Publication, ISBN: 9789814786256], by Tham Siew Yean, Sanchita Basu Das,

editors

3. FDI Liberalization in Malaysia's Logistics Services, by Tham Siew Yean,

author

4. Logistics Services Liberalization in the Philippines, by Gilberto Llanto,

author

6. Logistics Services Liberalization in Thailand, by Ruth Banomyong,

author

8. Services Liberalization: Case of Logistics in Brunei, by Tham Siew Yean,

author

9. FDI, Services Liberalization and Logistics Development in Cambodia, by Chheang Vannarith,

author