Spirits and Ships: Cultural Transfers in Early Monsoon Asia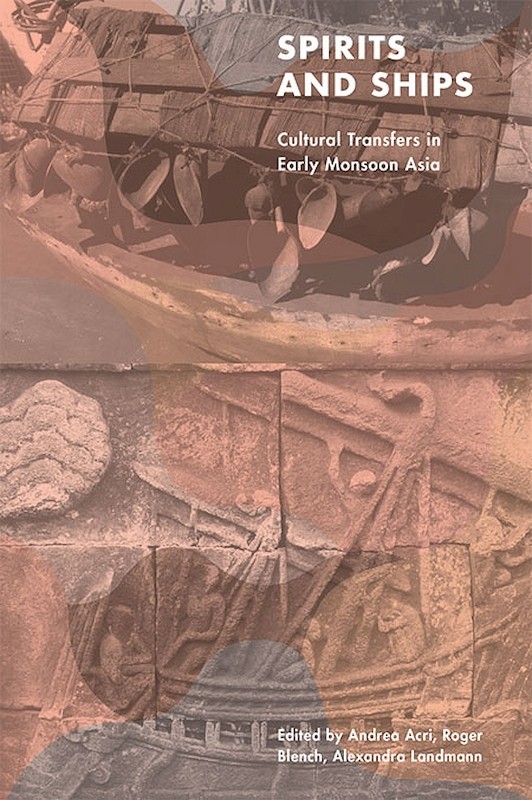 Date of publication:
2017
Publisher:
ISEAS – Yusof Ishak Institute

PDF is available
Review
Jiri Jakl, Archipel 98, Paris, 2019.
"The volume under review consists of eleven essays, seven of which are papers that were presented at the conference entitled "Cultural Transfer in Early Monsoon Asia: Austronesian-Indic Encounters." All the essays, and a useful introduction, are linked by their interest in the (early) history of maritime Southeast Asia, and the values, concepts, and practices shared by the people of this expansive region.
In Chapter 3, ... Andrea Acri looks at the supra-local nature of Tantric phenomena, and offers a number of interesting insights into the early geography of Tantrism.
In Chapter 8, Waruno Mahdi offers a wide-ranging discussion of a little studied problem of the earliest Southeast Asian navigation and early sea-going vessels, using mainly linguistic evidence.
The edited volume under review represents a valuable contribution to Southeast Asian studies and offers much food for thought for anyone interested in pre-modern South and Southeast Asia. Apart from interesting, well-researched essays, the editors have also produced a visually appealing and well-organized volume."
Fernando Rosa, Suvannabhumi: Multi-diciplinary Journal of Southeast Asian Studies, Vol.9 No. 2, Dec 2017.
"This volume follows the earlier Esoteric Buddhism in Mediaeval Maritime Asia: Networks of Masters, Texts, Icons, edited by Andrea Acri and published in 2016 by ISEAS. It is a breathtaking work. The range of areas, time periods, and subjects covered is overwhelming. The work, which came with an introduction, offered two key theoretical, historical, and ethnographic contributions by Robert Dentan and Andrea Acri. It ended with an equally important ethnographic chapter by Robert Wessing. That Dentan and Wessing are both anthropologists is hardly a coincidence here. The great originality of the volume lies exactly in bringing the richness of highly localized ethnographic detail in contact with a very broad and detailed historical perspective based on universal religions (in fact, varieties of Buddhism and Hinduism) encompassing diverse epochs and different oceanic regions. The result is a veritable blurring of traditional boundaries of area studies, in particular, those related to South, Southeast, and East Asia, the heart of Monsoon Asia as treated in this volume.
One of the most absorbing chapters is Imran bin Tajudeen's on "Indic architectural and cultural translation" in Malayo-Polynesian societies ("Malayo-Polynesian" is a term which the book fully resuscitated, incidentally, from various perspectives). This is, to my mind, one of the most important and trailblazing chapters in the volume, which carried out a detailed, theoretically fundamental analysis of comparative architecture of a vast region, stretching well into the Pacific, as his title indicates (in fact, as far as Fiji and Tahiti).
In his conclusion, Blench claimed that all the material and intangible items he analyzed, such as music and language, are difficult to integrate into a "psychogeographic map," even though he managed to show how these strongly conveyed the sense of a Kulturkreis. This is precisely what most of the contributors achieved in their own ways."
Patrick Vanden Berghe, New Books.Asia, IIAS, 2018.
"Spirits and Ships is a compilation of seven papers that were presented at 'Cultural Transfer in Early Monsoon Asia: Austronesian-Indic encounters,' a conference held in 2013. Added to this volume are four more articles from invited specialists. All articles reinvestigate the long-standing concept of 'Monsoon Asia' (lands and coasts in South, East and Southeast Asia that have a long, shared history of being connected through maritime channels.) The contributions explore ancient cultural exchange and other forms of dynamics and interaction, from early history until the present, in this part of the world. Despite the rich diversity in this vast area, there seem to be enough ground to propose a pattern of shared values, habits and models. New in this approach is that Spirits and Ships does not limit its scope to one discipline (be it religion, culture or archaeology), but that it brings together specialists from a wide range of areas (linguistics, ethnography, archaeology, art history, religion, etc.). While this is an asset, it is a threat as well, since not every discipline engaged with, offers enough evidence for this proposition.
Spirits and Ships is a challenging publication for those interested in the 'oldest' history of South and Southeast Asia. The editors did a great job in bringing together many experts on the field, but as already said before, not every contribution in convincing. So, this is a volume that will no doubt polarize, since it contains some exceedingly speculative chapters. Still, it provided food for thought, and a stimulus to undertake further, and more integrated, research. As a final note, I would like to add that the publication might have benefitted from the inclusion of some more maps."
"As a whole, Spirits and ships is a very important revisionist collected work which provides an updated multi- and counter-vision approach that will lead to a better understanding of early Monsoon Asia for its readers."
About the publication
This volume seeks to foreground a borderless history and geography of South, Southeast, and East Asian littoral zones that would be maritime-focused, and thereby explore the ancient connections and dynamics of interaction that favoured the encounters among the cultures found throughout the region stretching from the Indian Ocean littorals to the Western Pacific, from the early historical period to the present. Transcending the artificial boundaries of macro-regions and nation-states, and trying to bridge the arbitrary divide between (inherently cosmopolitan) high cultures (e.g. Sanskritic, Sinitic, or Islamicate) and local or indigenous cultures, this multidisciplinary volume explores the metaphor of Monsoon Asia as a vast geo-environmental area inhabited by speakers of numerous language phyla, which for millennia has formed an integrated system of littorals where crops, goods, ideas, cosmologies, and ritual practices circulated on the sea-routes governed by the seasonal monsoon winds. The collective body of work presented in the volume describes Monsoon Asia as an ideal theatre for circulatory dynamics of cultural transfer, interaction, acceptance, selection, and avoidance, and argues that, despite the rich ethnic, linguistic and sociocultural diversity, a shared pattern of values, norms, and cultural models is discernible throughout the region.
Contents
2. Fearsome Bleeding, Boogeyman Gods and Chaos Victorious: A Conjectural History of Insular South Asian Religious Tropes, by Robert K Dentan,

author

3. Tantrism "Seen from the East", by Andrea Acri,

author

5. Ethnographic and Archaeological Correlates for a Mainland Southeast Asia Linguistic Area, by Roger Blench,

author

6. Was There a Late Prehistoric Integrated Southeast Asian Maritime Space? Insight from Settlements and Industries, by Bérénice Bellina,

author

8. Pre-Austronesian Origins of Seafaring in Insular Southeast Asia, by Waruno Mahdi,

author

9. The Role of "Prakrit" in Maritime Southeast Asia through 101 Etymologies, by Tom Hoogervorst,

author

10. Who Were the First Malagasy, and What Did They Speak?, by Alexander Adelaar,

author

11. Śāstric and Austronesian Comparative Perspectives: Parallel Frameworks on Indic Architectural and Cultural Translations among Western Malayo-Polynesian Societies, by Imran bin Tajudeen,

author

12. The Lord of the Land Relationship in Southeast Asia, by Robert Wessing,

author