Coalitions in Collision: Malaysia's 13th General Elections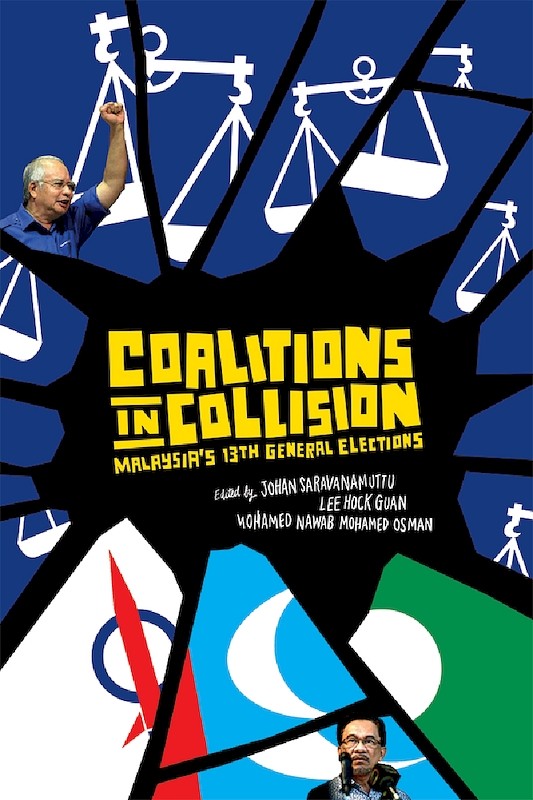 Date of publication:
2015
Publisher:
Institute of Southeast Asian Studies / Strategic Information and Research Development Centre

Ebook is available
About the publication
After the watershed 2008 election when the ruling Barisan Nasional (BN) coalition lost its customary two-thirds control of parliamentary seats, there was the not unreasonable expectation that BN would slip even further in the much-anticipated Thirteenth General Election of 2013, which is the subject of this book. In the event, the BN lost the popular vote to the Pakatan Rakyat (PR) but still retained the reins of government. In this book, prominent Malaysian specialists and experts will provide the reader with fresh insights into the evolving character of electoral politics by delving into its failing model of consociationalism, the extent of malapportionment in the electoral system and its effects on outcomes, how 'new politics' continue to meet the resistance of old modes of political behaviour, the path-dependence analysis of twin-coalition politics, the significance of the FELDA vote bank, the issues animating electoral politics in Sabah, Sarawak, Terengganu and Johor, why the PR continues to command urban support, the role of the biased mainstream media, and details of the campaign strategies of both coalitions. In this new study of Malaysia's electoral politics, it is evident that the ruling coalition has lost its first-mover advantage and is only able to hold on to power due to the first-past-the-post (FPTP) single member plurality electoral system. This sort of system has given rise, in the parlance of electoral studies, to 'manufactured majorities', that is, electoral outcomes that confer a majority of seats (simple or large) to a single party or a coalition of parties without commanding a majority of the popular vote. Malaysia's FPTP system, imbued as it is with a generous proportion of 'rural weightage', continues to favour the BN, oftentimes generating large manufactured parliamentary majorities. While some may argue that electoral politics have reached an impasse, after two general elections, Malaysia's twin-coalition system seems to have gained some traction and, thanks to its federalism, with the PR having considerable control of state governments in the Malay heartland and of the more urbanized states of Selangor and Penang.

The e-chapter on " Introduction: The Electoral System's Impact on Outcomes " , is downloadable free of charge.

Co-publication: Institute of Southeast Asian Studies / Strategic Information and Research Development Centre
Available for distribution by ISEAS worldwide except Malaysia. For buyers in Malaysia, please visit SIRD's distributor in Malaysia, GB Gerakbudaya.
Contents
4. Mal-apportionment and the Electoral Authoritarian Regime in Malaysia, by Lee Hock Guan,

author

5. The Political Economy of FELDA Seats: UMNO's Malay Rural Fortress in GE13, by Khor Yu Leng,

author

6. Fragmented but Captured: Malay Voters and the FELDA Factor in GE13, by Maznah Mohamad,

author

8. The 'Pek Moh' Factor and the Sarawak Parliamentary Seats, by James Chin,

author

9. The Appeal and Future of the 'Borneo Agenda' in Sabah, by Arnold Puyok,

author

10. The Case of Titiwangsa: Changing Features of Election Campaigns?, by Choong Pui Yee,

author

11. Terengganu and Kelantan: The Separation and Convergence of Blurred Identities, by Afif Pasuni,

author

12. A Jewel in the Barisan Nasional Crown: An Electoral Analysis of Four Parliamentary Seats in Johor, by Mustafa Izzuddin,

author