Institutions and Social Mobilization: The Chinese Education Movement in Malaysia, 1951-2011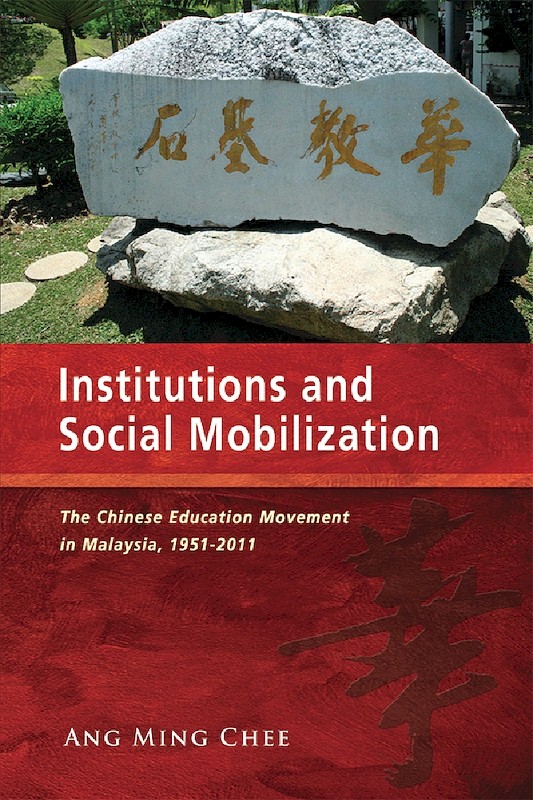 Date of publication:
2015
Publisher:
Institute of Southeast Asian Studies

Ebook is available
Review
Anna Doukakis. Asian Studies Review Vol. 40:2, 2016.

".... One of the strengths of this work is the discussion of the importance of informal relationships between major players. .... The work also highlights one of the factors common to vernacular education in Malaya and Malaysia: the right to operate schools in vernacular languages as a means of preserving culture and ethnic identity, often in opposition to state policies and nation-building.

.... The qualitative nature of the sources used for this research defines the study's scope and conclusions. .... Through use of non-English sources, previously untapped in the scholarly literature, as well as the provision of appendices, glossary and impressive bibliography, Ang provides important information about the organisation and internal workings of the Chinese education movement in Malaysia."

About the publication
"This book marks a major contribution since the work of Tan Liok Eee (1997) on the Dongjiaozong movement in Malaysia. The author's familiarity with both popular and academic writings in Mandarin has yielded rare, first-hand, and often bottom-up views on the Dongjiaozong movement from actors directly involved in the movement. As a result, readers get a better understanding of the personalities, leadership dynamics, creative strategies of control and resistance within this social movement as well as its ability to exploit political vulnerabilities and interpersonal relationships to cajole, negotiate and arm-twist the state in its bid to defend Chinese education in Malaysia. This book will be of interest to practitioners in the fields of political science and Malaysian studies, in general, and the study of state-society relations and social movements in non-liberal democratic contexts, in particular." - Associate Professor Goh Beng Lan, Department of Southeast Asian Studies, National University of Singapore

"Ang Ming Chee's insightful examination of the decades-long Chinese education movement in Malaysia is a powerful example of scholarship exemplifying deep passion and rigorous analysis. This important study will be a major reference for those interested in Chinese politics in Malaysia and the social resistance movements under non-democratic conditions for years to come."- Associate Professor Jamie S. Davidson, Department of Political Science, National University of Singapore

The e-chapter on " Institutions and Social Mobilization" , is downloadable free of charge.

Contents
Institutions and Social Mobilization: The Chinese Education Movement in Malaysia, 1951-2011
[Whole Publication, ISBN: 9789814459990], by Ang Ming Chee,

author

1. Institutions and Social Mobilization

2. Nation Building and Formation of Social Movement

3. Challenges and Adaptions

4. Leaders, Alliances, and Politics

5. Mobilization Machinery

6. Social Mobilization in Non-Liberal Democracies

Glossary of Non-English Text