Decentralization and Its Discontents: An Essay on Class, Political Agency and National Perspective in Indonesian Politics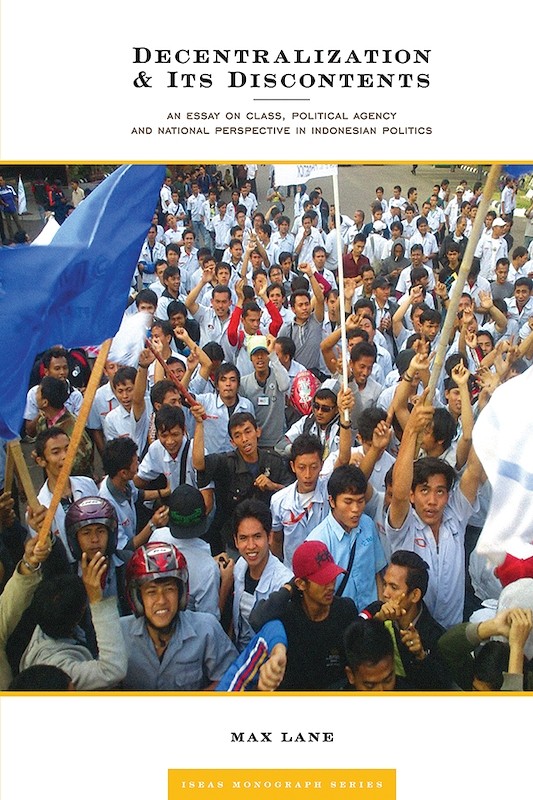 Date of publication:
2014
Publisher:
Institute of Southeast Asian Studies

Ebook is available
Review
Chong Wu Ling.
Sarjana
Vol. 31, No. 1, 2016, pp. 81-82.
"Max Lane's monograph is a welcoming addition to the literature on decentralisation in post-Suharto Indonesia. Since decentralisation was implemented in Indonesia in 2001, there have been several published scholarly work that deal with the strengths and weaknesses as well as the impact of decentralisation upon Indonesian society. However, as Lane notes in his monograph (xiii-xv), most of these works either emphasise the capture of decentralisation by predatory politico-business interests due to the absence of a strong, effective civil society, or impose solutions that neglect the real conflict between politico-business interests. In this monograph, Lane proposes a different perspective. He argues that decentralisation in post-Suharto Indonesia is a manifestation of the changed balance of power between the former crony capital nurtured under the Suharto regime and local, smaller capital. .... Lane also rightly points out that the rise of local capital after the diminishment of crony capital is due to the absence of a large and strong national capitalist class.
.... Overall, this monograph offers a useful and relevant approach to understanding decentralisation in post-Suharto Indonesia and the issue of class and the national political agency related to decentralisation. Lane has provided relevant points and evidence to substantiate his analysis and arguments. It will be of greatest use to those who are interested in studying the current trend of decentralisation in Indonesia."
About the publication
"Decentralization is a major trend in Indonesia since the first decades of that nation under Sukarno and Suharto. Max Lane is justly treasured for illuminating those first decades, for example, through his translations of Pramoedya Ananta Toer, and his excellent book, Unfinished Nation: Indonesia Before and After Suharto. Anyone who seeks insights into the current trend of decentralization, whether in Indonesia or other parts of the world, will find this work cogent."

- James L. Peacock, Kenan Distinguished Professor, University of North Carolina at Chapel Hill

"This book opens up the discussion on the history and political economy of the new populist policies that seem to gain momentum in the face of the Indonesian elections. It also addresses questions pertaining to the problems and options related to popular aspirations within this context-all of which cannot be explained very well by any of the predominant theses on Indonesia, whether as an oligarchy or a democratically liberal but economically predatory country."

- Professor Olle Trnquist, University of Oslo
Contents
Decentralization and Its Discontents: An Essay on Class, Political Agency and National Perspective in Indonesian Politics
[Whole Publication, ISBN: 9789814519748], by Max Lane,

author