Transforming Malaysia: Dominant and Competing Paradigms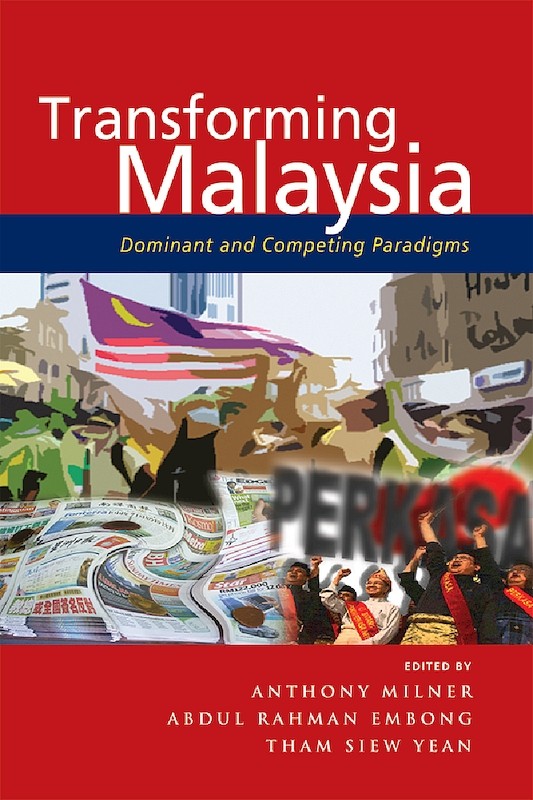 Date of publication:
2014
Publisher:
Institute of Southeast Asian Studies

Ebook is available
Review
Scott Edwards, Southeast Asian Studies Vol.8 No.2, 2019.
"Transforming Malaysia discusses why the race paradigm, "the dominant societal paradigm of social and political life" (p.1), requires critical analysis in relation to competing paradigms. .... Such a critical and ideological focus on just how race became so important is one that has been sorely missing in prior discourse. Therefore, in examining the taken-for-granted nature of the divisions between the races, and its impact on Malaysia's politics and development, the book makes way for new frames of analysis such as class. This contribution fits extremely well with the goals of the book, namely demonstrating how this race-based focus was constructed and evolved to become the dominant societal paradigm.
All in all, Transforming Malaysia is a thought-provoking and critically insightful book, and should be of interest to both scholars and practitioners of Malaysia's domestic politics and development. Its conclusion – that the task of gaining public consensus for change will be difficult, as a result of the strength of the race paradigm – resonates extremely strongly with the current debates in Malaysian politics and society. While this conclusion may seem extremely pessimistic, the book is a useful starting point for change, as it achieves its goal of forcing a retrospection and problematizing of the racial paradigm's inflexibility. More reflection of just how the race paradigm has become entrenched can increase skepticism of its employment and the actors that depend upon it. However, more work still needs to be done in terms of identifying, analyzing, and strengthening paradigms that can replace it."
Gomez, Edmund Terrence.
Asian-Pacific Economic Literature
. Crawford School of Public Policy, The Australian National University and Wiley Publishing Asia Pty Ltd, 2015.
"There is growing consensus among scholars in the area of Malaysian studies of the need to analyse this country's socioeconomic development from a perspective that is not race based.
Transforming Malaysia
is a crucial addition to this body of literature. .... The book offers important lessons that can inform the shaping of politics, including those that can redress social inequities."
About the publication
In the wake of Malaysia's 13th General Election some commentators speak of a sharpening of ethnic politics — with Prime Minister Najib blaming a "Chinese tsunami" for his government's polling setbacks; others are optimistic about the arrival of a new "non-racialized form of politics" and the emergence of "transethnic solidarity". This book, which engages with both the race paradigm and its opponents, warns that change is likely to come slowly — but is not impossible. Malaysia's race paradigm is a man-made ideological construct — one that has been contested in the past, and could realistically be contested in the future. In confronting the continuing challenge of globalization, Malaysians should not neglect the history of ideas — and ideology — as they search for new options.
Contents
3. Knowledge Construction, the Rakyat Paradigm and Malaysia's Social Cohesion, by Abdul Rahman Embong,

author

4. Race Paradigm and Nation-Building in Malaysia, by Helen Ting,

author

5. Race-Based Paradigm in Poverty Eradication and Income Distribution Analysis and Policy, by Ragayah Haji Mat Zin,

author

6. Foreign Workers in Malaysia in the Post-Independence Era: Race Paradigm in State Policy, Academic Writings and Public Discourse, by Azizah Kassim,

author

7. Trade Policy Formulation in Malaysia: Navigating between the Economic and Race Paradigms, by Tham Siew Yean,

author

8. National Security Conceptions and Foreign Policy Behaviour: Transcending the Dominant Race Paradigm?, by K S Nathan,

author