State and Uncivil Society in Thailand at the Temple of Preah Vihear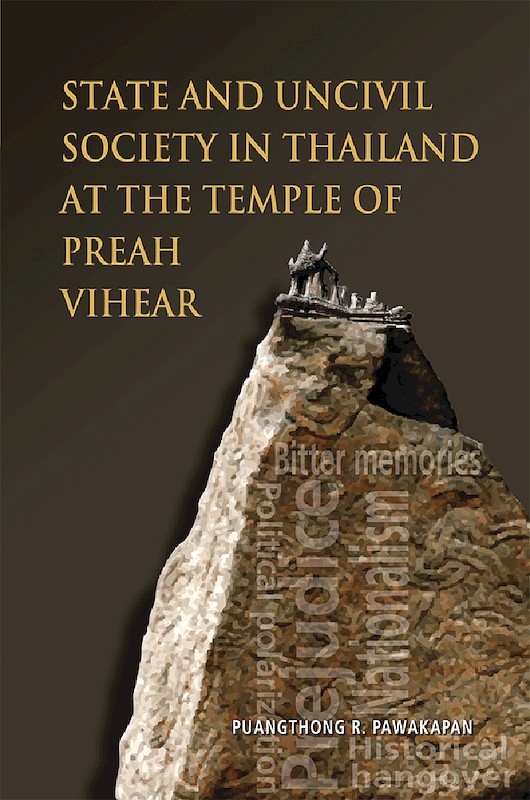 Date of publication:
2013
Publisher:
Institute of Southeast Asian Studies

PDF is available
Review
"Instead of being a place for peace, meditation, contemplation and prayer, the ancient Khmer temple of Prasat Preah Vihear (Phra Wihan, to the Thai) has become in recent years the object of political dispute and even military clashes between two ASEAN members: Thailand and Cambodia. This short book by Thai historian Puangthong Pawakapan is a welcome addition to the growing corpus of literature on the temple dispute which has been produced since the controversial decision by UNESCO in July 2008 to inscribe Preah Vihear on its World Heritage list. The author , who is Associate Professor in the International Relations Department of Chulalongkorn University's Faculty of Political Science, is most qualified to write on this subject as she has in the past conducted extensive research on Thai-Cambodian relations. The main purpose of this well-written book, however, is not only to provide a comprehensive overview of the historical background of the conflict but also to analyse the actions, strategy, and objectives of the campaign of Thailand's People's Alliance for Democracy (PAD) to exploit the border conflict for its own anti-Thaksin agenda" (New Mandala Review).

"This short book discusses what Shakespeare's Hamlet [Act 4, Scene 4] might have termed 'an egg-shell', something small over which armies of 'mass and charge' might contend. But nationalism has made frontiers an even more sensitive matter than in the great playwright's time, and the popularisation of politics can conduce to outright conflict. The tussle between Thailand and Cambodia over the temple of Preah Vihear -- which led to some loss of life, notably in 2011 -- is a case in point. As Dr Puangthong R. Pawakapan suggests, it raises other issues too, given, for example, the fact that the two countries are members of ASEAN and that the regional organization is aiming to make itself more people-centred. As her title suggests, she raises some other considerations. Civil society organizations are widely thought essential to democracy, but the activities of the People's Alliance for Democracy suggest that they may also undermine it. The events of 2008-11 are thus not only part of the turbulent history of democracy in Siam/Thailand since the original coup of the Promoters. They may also have wider implications for other would-be democracies and for ASEAN itself. Its essential basis is the burying, if not resolving, of inter-member disputes. Can that be sustained if they are dealt with 'uncivilly'?" (IIAS Newsletter).

About the publication
Since it began in 2008, the dispute over the temple of Preah Vihear and its adjacent area has envenomed Thai-Cambodian relations. Puangthong R. Pawakapan argues that initially Thai-Cambodian cooperation on the temple had begun within the framework of Thailand's strategy to become a regional economic centre and leader. It was the first time in Southeast Asia that two formerly antagonistic states were employing cultural methods to settle a territorial dispute and turned it into a symbol of friendship and cooperation between the two countries. But the ultra-nationalist movement derailed this essay in cooperation. Instead, the temple became a symbol of hatred between the two countries. The ultra-nationalists' success has to be attributed to the support it enjoyed from various civic groups and institutions.

Contents
State and Uncivil Society in Thailand at the Temple of Preah Vihear
[Whole Publication, ISBN: 9789814459914]

2. The Post-Cold War Regional Integration

3. Thai-Cambodian Cooperation on the Preah Vihear Temple

4. Uncivil Society in Polarized Politics