Southern Vietnam Under the Nguyen: Documents on the Economic History of Cochinchina (Dang Trong), 1602-1777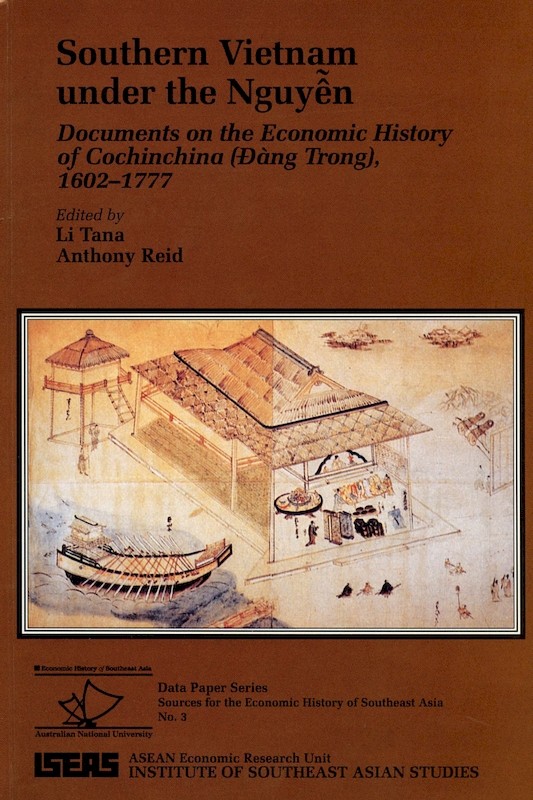 Date of publication:
1993
Publisher:
Institute of Southeast Asian Studies

PDF is available
About the publication
From about 1600 until the Tay Son rebellion of the 1770s, there were two Vietnamese states. The southern one, with its centre around modern Hue and its southern frontier ever expanding into Cambodian territory in the Mekong delta, was the more dynamic, both economically and military. Occupying as it did the strategic, harbour studded coast along which most shipping passed between China and all points south and west, it was necessarily involved in the commerce of many peoples. Since it imposed a Vietnamese civilization on a variety of Khmer and Cham peoples it was also ethnically and socially creative. Nevertheless this southern states has remained in the historical shadows. It appeared marginal and even embarrassing to Vietnamese national discourse, partly because of its very diversity. Even its names -"Dang Trong", "Cochinchina" - remain perplexing and obscure. Southern Vietnam under the Nguyen attempt for the first time to make available in English some of the key sources on the economic history of this complex region through translations from Vietnamese chronicles and from Chinese, Dutch, and French travel accounts.
Contents
Southern Vietman Under the Nguyen: Documents on the Economic History of Cochinchina (Dang Trong), 1602-1777
[Whole Publication, ISBN: 9789814379472]

2. The Trials of a Foreign Merchant Letter by Jeronimus Wonderaer from Hoi An, 1602; Translated by Ruurdje Laarhoven

3. A Japanese Resident's Account Declaration of the Situation of Quinam Kingdom by Francisco, 1642; Translated by Ruurdje Laarhoven

4. The End of Dutch Relations with the Nguyen State, 1651-2; Excerpts Translated by Anthony Reid

5. Maps of Southern Vietnam, c. 1690 Giap Ngo Nien Binh Nam Do (Maps of the Pacified South in the Year of Giap Ngo); Translated & Interpreted by David Bulbeck & Li Tana

6. A Chinese Buddhist Report, 1694-5 Hai Wai Ji Shi (Record of Countries Overseas) by Da Shan; Excerpts Translated by Li Tana

7. Description of Cochinchina, 1749-50 Voyage de Pierre Poivre en Cochinchine (Peirre Poivre's Journey to Cochinchina); Translated by Kristine Alilunas-Rodgers

8. Miscellaneous Nguyen Records Seized in 1775-6 Phu Bien Tap Luc (Miscellaneous Records of Pacification in the Border Area) By Le Quy Don; Excerpts Translated by Li Tana.

9. The Nguyen Chronicle up to 1777 Dai Nam Thuc Luc Tien Bien (Veritable Record of Dai Nam's Initial Period) By Truong Dang Que et. al; Excerpts Translated by Li Tana