House of Glass: Culture, Modernity, and the State in Southeast Asia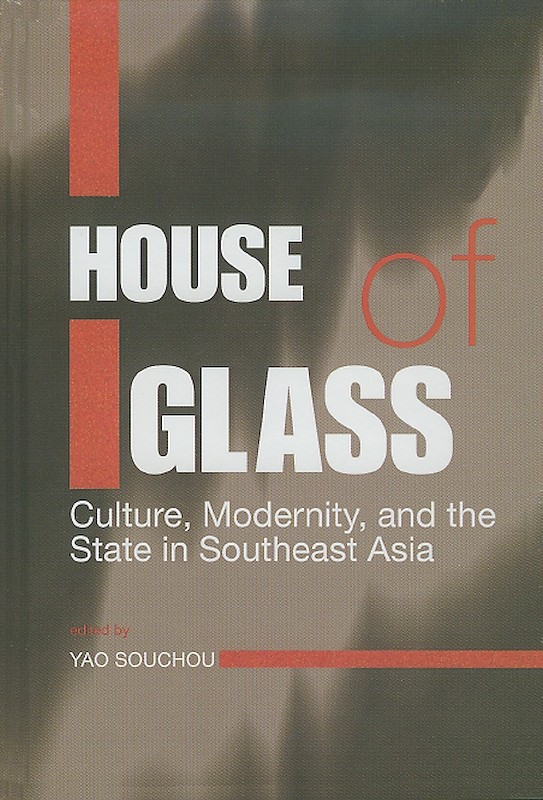 Date of publication:
2001
Reviews
"Yao argues that by a more circuitous route, the state's pursuit of globalising aims may yet erode its authoritarian controls. He identifies the vision of 'Asian modernity' that grips many governments in Southeast Asia: 'economic development, the consumption of Western goods and services with a cosmopolitan aura, and seeking a greater profile on the international stage'. At the same time, he contents that 'the fruits of global capitalism will always have their social, cultural, and financial costs'" (Australian Journal of International Affairs).
About the publication
Drawing on critical theory and post-modernism, this book argues for a new strategy for writing about the social and cultural experiences of living in modern Southeast Asian states. Contributors -- many of whom work in universities in the region -- question the processes of cultural transformation under conditions of globalization and rapid economic and political change. By paying attention to the specificity of what is taking place in the particular state, the book questions the conventional narratives of developmentalism and state-sponsored national peace as they are understood in Southeast Asia, and shows how such understanding can be made and unmade.





Co-publication: ISEAS / WL
Institute of Southeast Asian Studies/White Lotus:
Contents
House of Glass: Culture, Modernity, and the State in Southeast Asia


[Whole Publication]

Preliminary pages, with Introduction by Yao Souchou

PART I: LOCAL DESIRE AND GLOBAL ANXIETIES

1. Desperately Guarding Borders: Media Globalization, "Cultural Imperialism" and the Rise of "Asia", by Ien Ang,

contributor

2. Modernity and Mahathir's Rage: Theorizing State Discourse of Mass Media in Southeast Asia, by Yao Souchou,

contributor

3. Representing State Desire and the Sins of Transgression, by Ray Langenbach,

contributor

PART II: IDENTITY, THE STATE, AND POST-MODERNITY

5. National Identity, Diasporic Anxiety, and Music Video Culture in Vietnam, by Andrew M Carruthers,

contributor

PART III: STATE POWER, DEVELOPMENT, AND THE SPECTRE OF NATION-BUILDING

7. Cultural Claims on the New World Order: Malaysia as a Voice for the Third World?, by Loong Wong,

contributor

8. (De)constructing the New Order: Capitalism and the Cultural Contours of the Patrimonial State in Indonesia, by Mark T Berger,

contributor

9. The State and Information in Modern Southeast Asian History, by Tim Harper,

author

PART IV: REPRESENTATIONAL STRATEGIES AND POLITICS OF THE POPULAR

10. Representing the Singapore Modern: Dick Lee, Pop Music, and the "New" Asia, by C J W-L Wee,

contributor

11. Pictures at an Exhibition: Re-presenting the Sugar Industry at the Negros Museum, Philippines, by Marian Pastor Roces,

contributor

13. On the Expressway, and Under It: Representations of the Middle Class, the Poor, and Democracy in Thailand, by James Ockey,

contributor