Rising China and New Chinese Migrants in Southeast Asia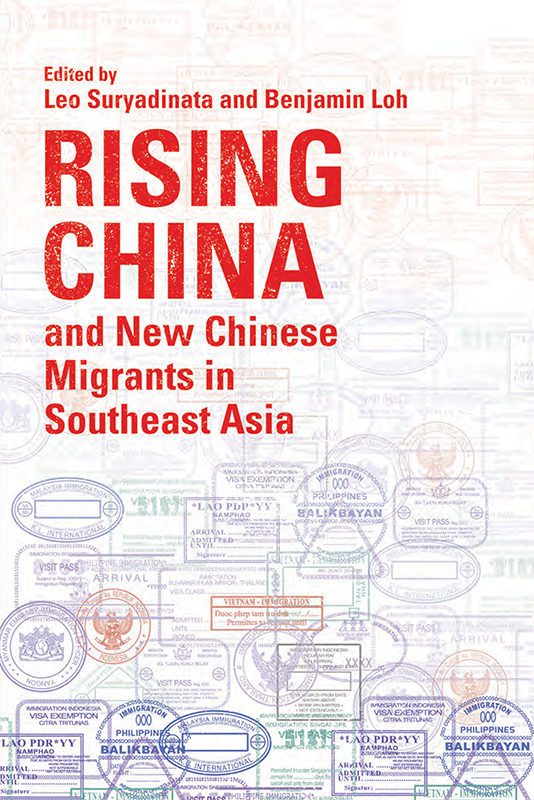 Date of publication:
2022
Publisher:
ISEAS – Yusof Ishak Institute

Ebook is available
About the publication
New Chinese migration is a recent development that has just entered an initial phase. An overarching theme and conclusion across the sixteen chapters in this volume is that China's policy towards Chinese migrants has changed from period to period, and it is still too early for us to determine if Beijing will continue to pursue the policy of luoye guigen (return to original roots) or will revert to one of luodi shenggen (sink into local roots). The various chapters also show that the profile, motivations and outlooks of xin yimin (new Chinese migrants) have become more diverse, while local reactions to these new migrants have become less accommodating with increasing nationalism.
Contents
Rising China and New Chinese Migrants in Southeast Asia
[Whole Publication, ISBN: 9789815011593], by Leo Suryadinata, Benjamin Loh,

editors

PART I: GENERAL OVERVIEWS ON RISING CHINA AND XIN YIMIN

1. Rising China, New Migrants and Ethnic Chinese Identity in Southeast Asia, by Leo Suryadinata,

author

2. Contemporary Chinese Immigration into Mainland Southeast Asia, by Terence Chong,

author

PART II: CHINA'S SOFT POWER, XIN YIMIN AND LOCAL COMMUNITIES

3. Confucius Institutes in Southeast Asia: An Overview, by Neo Peng Fu,

author

4. Cambodian Perceptions of China: A Chinese Learners' Perspective, by Chheang Vannarith,

author

5. China's Soft Power and the Chinese Overseas: Case Study of Xiamen University and the Confucius Institute in Malaysia, by Peter T C Chang,

author

6. China Dream and Singapore Heart: A Comparison between the China Cultural Centre (CCC) and the Singapore Chinese Cultural Centre (SCCC), by Ho Yikai,

author

PART III: NEW CHINESE MIGRANTS AND LOCAL COMMUNITIES

8. Xin Yimin in the Philippines: Challenges and Perspectives, by Teresita Ang-See,

author

9. New Transnational Chinese Migrants in an Evolving Malaysia, by Danny Wong Tze Ken,

author

10. Xin Yimin in Indonesia: A Growing Community That Faces New Challenges, by Leo Suryadinata,

author

11. Indonesian Elites' Perceptions of New Chinese Migrants during the Jokowi Presidency, by Johanes Herlijanto,

author

PART IV: NEW CHINESE MIGRANTS AND LOCAL ECONOMIES

12. Vietnam-China Economic Ties and New Chinese Migrants in Vietnam, by Nguyen Van Chinh,

author

13. Chinese Engagement in Laos: Past, Present, and Uncertain Future, by Danielle Tan,

author

14. Casino Capitalism, Chinese Special Economic Zone and the Making of a Neoliberal Border in Northern Laos, by Pinkaew Laungaramsri,

author

15. 'Old' and 'New' Chinese Business in Cambodia's Capital, by Michiel Verver,

author

16. Entrepreneurial Excursions: Short-Hop Chinese Migration at the Peripheries of Myanmar, by Andrew Ong,

author