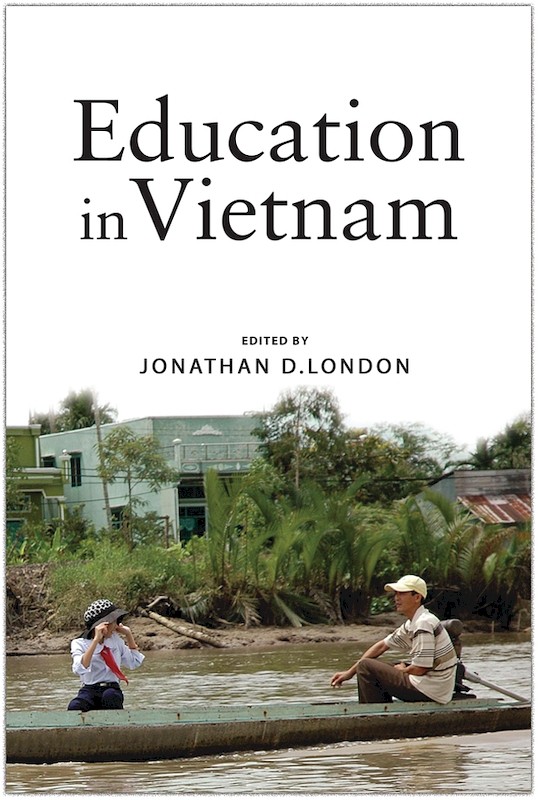 Date of publication:
2011
Publisher:
Institute of Southeast Asian Studies
Review
"Scholars and professionals have written a book on a vital sector for the development of Vietnam: education. The overarching theme is the challenges for education to adapt to 1986 doi moi, the transition from the centrally planned command economy to a 'market economy with a socialism direction' and more specifically how to reconcile socialist governance with capitalism. The book starts with a valuable introductory chapter on the historical development of education in Vietnam and the various legacies on which the current system is built. Through this chapter, London also presents the structure of the book, organized around three themes: the governance of education and political economy of education finance; issues in primary and secondary education; and issues of higher education and vocational training... The book is an important resource for anyone interested in education in Vietnam" (Pacific Affairs).

About the publication
Vietnam is a country on the move. Yet contemporary Vietnam's education system is at a crossroads. Rapid economic growth has permitted rapid increases in the scale and scope of formal schooling, but there is a prevailing sense that the current education system is inadequate to the country's needs. Sunny assessments of Vietnam's achievements in the sphere of education have given way to a realization that the country lacks skilled workers. Some have even spoken of an "education crisis". These are not abstract concerns. What is occurring in Vietnam's education system today has broad implications for the country's social, political, economic, and cultural development.
Featuring contributions from scholars and policy analysts from within and outside Vietnam, Education in Vietnam addresses key issues pertaining to the political economy of education, the provision and payment for primary and secondary education, and the development of vocational and tertiary education. The book marks an important contribution to existing understandings of Vietnam's education system and contributes to broader understandings of social conditions and change in contemporary Vietnam.
Contents
Education in Vietnam
[Whole Publication, ISBN: 9789814279062]

1. Contemporary Vietnam's Education System: Historical Roots, Current Trends, by Jonathan D London,

author

3. Education, Education Finance, and the Economy, by Jim Cobbe,

author

4. Market-oriented Education: Private (People-Founded) Upper-Secondary Schools in Hanoi, by Tran Thi Bich Lieu,

author

5. School Dropout Trends in Vietnam from 1998 to 2006, by Bui Thai Quyen,

author

6. They Think We Dont Value Schooling: Paradoxes of Education in the Multi-Ethnic Central Highlands of Vietnam, by Truong Huyen Chi,

author

8. Challenges to Higher Education Reform: A University Management Perspective, by Nguyen Minh Hong,

author

9. Market-led Globalization and Higher Education: The Case of Da Nang University, by Ho Vu Khue Ngoc,

author

10. Research Institutions, Industry, and Sustainable Development, by Marea Fatseas,

author

11. WTO Accession, Socioeconomic Transformation, and Skills Development Strategies in Vietnam, by Alexandre Dormeier Freire,

author