Making Democracy Meaningful: Problems and Options in Indonesia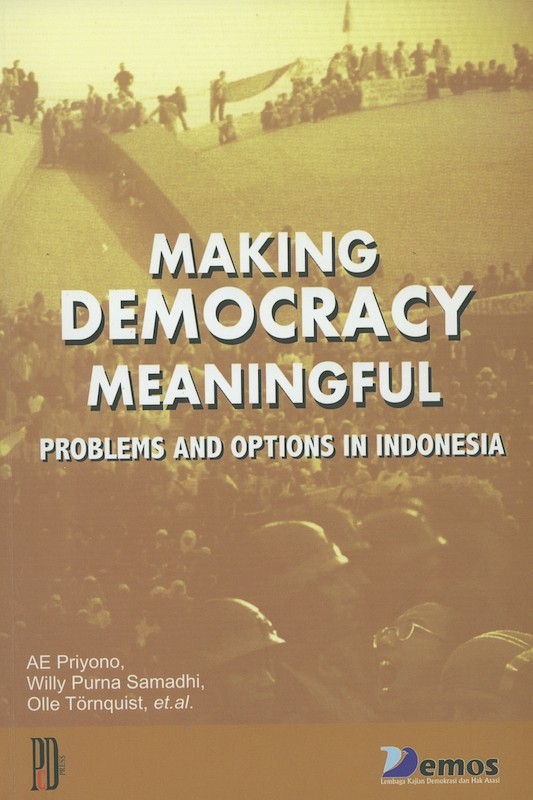 Date of publication:
2008
Publisher:
PCD Press with DEMOS
About the publication
Indonesia's democracy is in critical state now. It has been widely admitted that pro-democracy activists are marginalized, while elites stay firmly as oligarchic power. How to make democracy in the third largest country in the world meaningful; that is when ordinary people have opportunities to improve the quality of their life and to transform violent conflict into peaceful politics?
What are the most serious problems in this situation? What is the basis of elites' domination and how to tame it? How to make it possible for pro-democracy actors to take initiative to revitalise themselves? By conducting a long-termed research project to investigate the roots of the problems of democracy in Indonesia, Demos attempts to search empirical knowledge for the birth of new agenda of democratization, and based on the research result, then cooperate with other various parties that are concerned with democracy. Standard research methodology is not adequate to acommodate this work. Neither are written souces. An assessment to audit democracy from below, thus, must be created.
And this is the result! This book contains the perspective, experience and reflection of 800 activists who has been working in 14 various democratization issues. They came from 32 provinces in Indonesia and spent one to two days to answer 333 questions on problems and options and democratization.
This is the first book that provides the most comprehensive information on the contemporary situation of Indonesia's democracy, and a challenge to make it meaningful!

Published by PCD Press with Demos in the Indonesia. ISEAS has worldwide distribution rights.




Co-publication: PCD Press with DEMOS
PCD Press with Centre for Democracy and Human Rights Studies