Different Under God: A Survey of Church-going Protestants in Singapore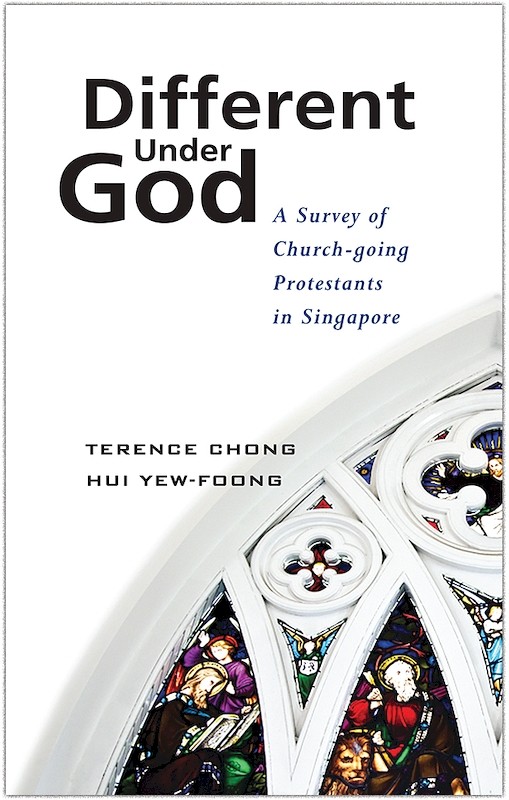 Date of publication:
2013
Publisher:
Institute of Southeast Asian Studies

Ebook is available
Review
"Different Under God reveals the outcomes of a major survey of Protestant church-goers in Singapore. Conducted by Terence Chong and Hui Yew-Foong, between December 2009 and January 2011, this is a survey of 2,663 people from 24 churches, consisting of Anglican, Methodist and Bible-Presbyterian, as well as independent churches and megachurches. Ostensibly, this survey is an attempt to profile the demographic, as well as value attitudes of these Protestants in relation to public/policy issues, sexuality and financial opinions. But it is also a timely effort to get to the heart of the rapid rise of the megachurch phenomenon in Singapore, particularly because of many recent high-profile public controversies involving this sector of the religious space. Different Under God reveals, the average church-goers, including megachurch attendees, are clear-minded adherents of the faith. With these new churches especially, given that many members are first-generation converts from a variety of social and educational backgrounds, there is a discernible level of moderate sensibility and objective understanding of the larger context of multiculturalism in Singapore. The disparate constitution of the megachurch landscape is one that points to dynamism and tolerance, with respondents indicating their ability to accept differences in cultural-religious practice, as well as policy matters that differ from their own values and beliefs – matters of sexuality or abortion, say. One other aspect that does stand out from this survey is the question of money and finances. Different Under God reveals that, with megachurch Christians, there is a more acute awareness of the connections between religious and material considerations. While it is easy here to make connections between these beliefs about wealth and materiality and the so-called prosperity gospels – favoured by similarly ascendant megachurches in other countries such as America and Australia – the authors are fairly clear about the inconclusiveness of such a relationship. Different Under God is an important contribution to the ongoing public and academic interests in the place of Christianity within the landscape of Singaporean multiculturalism. The project has managed to do so by setting out to explore -- and explore comprehensively -- the multifaceted character of the Protestant faith, as well as that of its adherents. The survey's achievements lay in its approach to the inquiry with no preconceived notions, as indeed some of the more surprising revelations that emerged from the data have indicated. As such, it has certainly secured its place as a dependable resource for scholars of the subject " (Singapore Review of Books).
About the publication
"Different under God is the first substantial, comprehensive and scientific analysis of Christianity in Singapore, covering religious, social and political attitudes. This survey by Terence Chong and Hui Yew-Foong will be enthusiastically welcomed by todays sociologists and historians in the future. An important and timely contribution to the sociology of religion and to the study of Singapore."
—Bryan S. Turner, Presidential Professor of Sociology, the Graduate Centre, the City, University of New York, USA
"This is a landmark study of Christianity in Singapore that is sorely needed today, not only to confirm many scholarly guesses, but also to dispel public stereotypes of Christians as homogeneously sheep-like or militant. Scholars and Singaporeans beware, Terence and Yew-Foong have started a fire that will enliven public discourse on religion and society for years to come."
—Daniel P.S. Goh, Assistant Professor of Sociology, National University of Singapore
"Analysing individual and discussion-group responses from churchgoers in both mainline denominations and independent churches, this study grapples with a number of highly-relevant, even sensitive issues in contemporary Christianity: issues of moral values and attitudes (including those on sexuality and sexual orientation), money and giving, organizational belonging, governance, and others. While some of the findings and conclusions may reinforce broad perceptions of Christianity and churches in Singapore, others were quite eye-opening. Also useful for researchers, the study contains important data on respondents socio-economic backgrounds. All in all it is a most welcome scholarly contribution, and I expect that it will be a well-cited resource for future scholarship."
—Robbie B.H. Goh, Professor of English Literature, National University of Singapore
Contents
Different Under God: A Survey of Church-going Protestants
[Whole Publication, ISBN: 9789814414432]