The Unrealized Mahathir-Anwar Transitions: Social Divides and Political Consequences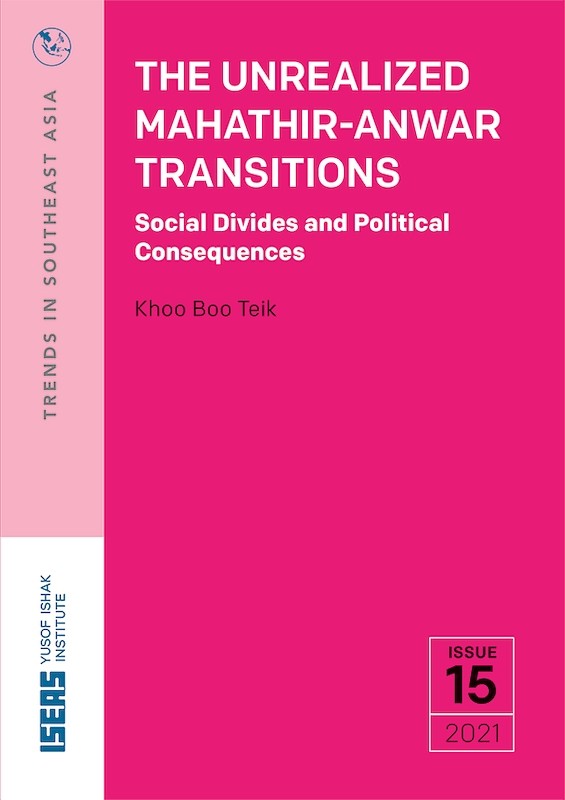 Date of publication:
2021
Publisher:
ISEAS – Yusof Ishak Institute

Ebook is available
About the publication
The failure of two expected transitions of leadership from Dr Mahathir Mohamad to Anwar Ibrahim (in 1998 and 2020) are traceable beyond their personal entanglements to the social divides and political currents of their time.
The unrealized transitions are symptomatic of UMNO's dynamic of "dysfunctional succession". Under Mahathir, the party split. Under Najib, it was defeated. The condition persists as the current prime minister, Muhyiddin Yassin, has not even appointed a deputy prime minister after being in power for fifteen months.
The unrealized transitions were a setback for a "reform agenda", which Anwar Ibrahim articulated, but which emerged from dissident movements for diverse reforms. These movements helped the multiethnic, socially inclusive, opposition to win the 14th General Election. They are only seemingly dormant because of the pandemic.
The Pakatan Harapan regime had the best chance to supply a fresh vision, deeper social understanding, and commitment to reform. The present Perikatan Nasional regime's fixation on "Malayness" overlooks twenty years of intense intra-Malay conflicts that began with the failure of the first transition.
As the "7th Prime Minister", Mahathir had a rare chance to redeem himself from major errors of his first twenty-two-year tenure. He squandered his chance by not honouring the Pakatan Harapan transition plan.
Anwar Ibrahim's opponents mock him for being obsessed with wanting to be prime minister. Yet they obsessively fear his becoming prime minister. Anwar may be twice loser in political succession but "the spectre of Anwar" still haunts Malaysian political consciousness.
Contents
The Unrealized Mahathir-Anwar Transitions: Social Divides and Political Consequences
[Whole Publication, ISBN: 9789815011012], by Khoo Boo Teik,

author