Gaps and Opportunities in ASEAN's Climate Governance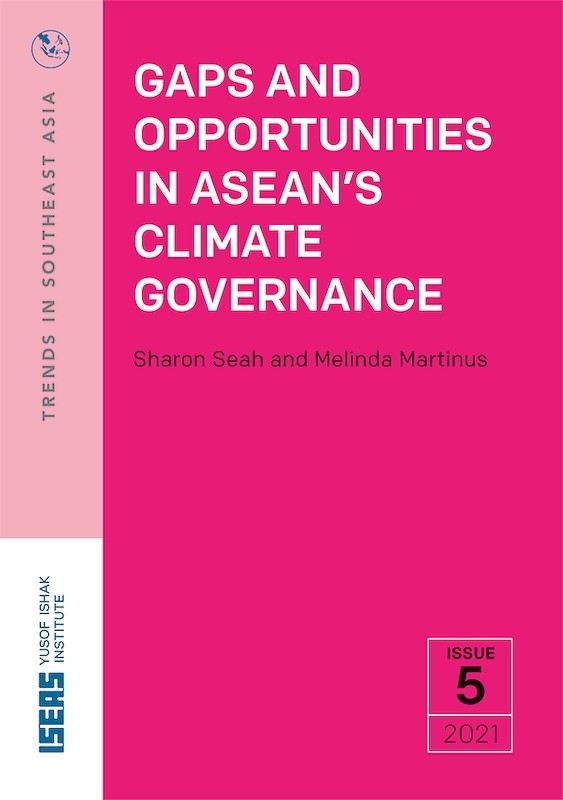 Date of publication:
2021
Publisher:
ISEAS – Yusof Ishak Institute

PDF is available
About the publication
Although climate-linked impacts on ASEAN's economy, increasing vulnerability to severe weather, and interlinkages to transboundary haze, health, security and marine pollution are evident, a recent survey by the ISEAS – Yusof Ishak Institute reveals that Southeast Asians are ambivalent about ASEAN's effectiveness in tackling climate change.
All ASEAN Member States (AMS) are fully committed to accelerating reductions to global emissions under the Paris Agreement and demonstrate political will to set up intersectoral climate governance on renewable energy transition, agriculture and food security, forest and land use protection, disaster risk management, conservation on biodiversity, among many other measures.
Under the ASEAN Socio-Cultural Community (ASCC) pillar, the ASEAN Ministerial Meetings on the Environment (AMME) and the ASEAN Senior Officials' Meeting on the Environment (ASOEN) meet annually to discuss environment-related issues, including climate change. The ASEAN Working Group on Climate Change (AWGCC), one of seven technical working groups reporting to the ASOEN, is tasked to enhance regional cooperation on climate change, promote collaboration between sectoral bodies, and articulate ASEAN's concerns and priorities at the international level.
Climate change issues have become cross-cutting and involve various ASEAN sectoral bodies. The AWGCC's role, however, is still limited to the environmental mandate.
ASEAN needs to establish a super coordinating body on climate change that can ensure information sharing across ASEAN bodies, convene support from dialogue partners, and engage with civil society organizations. The ASEAN Coordinating Council Working Group on Public Health Emergencies (ACCWG-PHE) model established during the COVID-19 crisis can serve as a precedent.
Contents