Turning Points and Transitions: Selections from Southeast Asian Affairs 1974–2018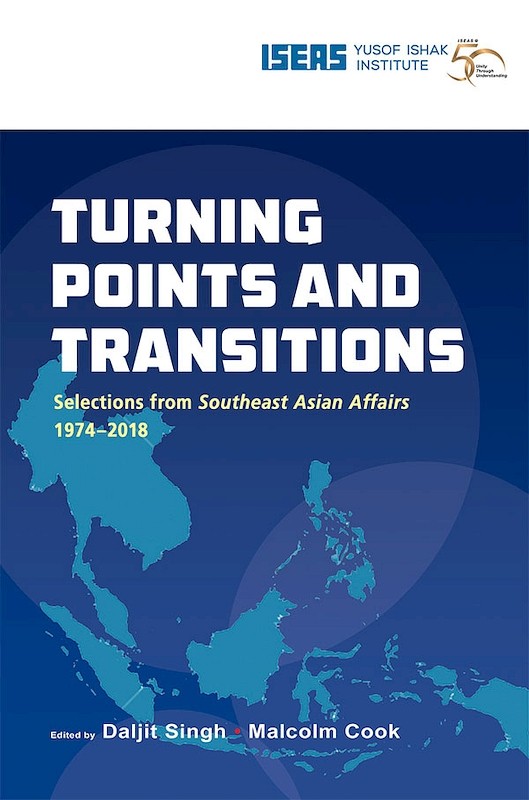 Date of publication:
2018
Publisher:
ISEAS – Yusof Ishak Institute

Ebook is available
About the publication
"
Southeast Asian Affairs
has for decades been an indispensable reference for those concerned with political and economic developments across this vibrant and highly diverse region. Each year, leading experts on the region and its constituent states have contributed detailed assessments of individual countries and region-wide themes which collectively provide an important and reliable record of Southeast Asia¹s often dramatic evolution since the early 1970s. Some of the most significant and interesting of these chapters have been carefully selected and brought together in this volume, which will be a valuable resource for students of the region."
Dr Tim Huxley, Executive Director, The International Institute for Strategic Studies-Asia, Singapore
"At a time when Southeast Asia is under-going rapid changes, this compilation of essays is a must-read for all those who seek to understand ASEAN and its member states. Southeast Asia is more than ASEAN and as an inter-state organization that works by consensus, ASEAN can do no more than what its members allow it to do."
Bilahari Kausikan, Chairman Middle East Institute, National University of Singapore and former Permanent Secretary of the Ministry of Foreign Affairs, Singapore
"For the last fifty years, ISEAS has been the 'go to' place for students and scholars from all over the world seeking to develop a deeper knowledge of Southeast Asia. Since it first appeared in 1974, Southeast Asian Affairs has provided thoughtful and timely analysis of critical developments in the region annually. This carefully chosen collection of some of these essays authored over the years brilliantly maps out the contours of change and transformation that have shaped Southeast Asia's recent history, and captures the dynamism of this fascinating region."
Joseph Chinyong Liow, Dean, College of Humanities, Arts, and Social Sciences and Dean, S.Rajaratnam School of International Studies, Nanyang Technological University
"The book Turning Points and Transitions, commemorating the 50th anniversary of the founding of ISEAS, is like a literary time machine. It takes us back through contemporary expert commentary and analysis to the major forces and events that shaped the political and economic evolution of the Southeast Asia region. A new generation of scholars has replaced typewriters with computers, but many of the roots of the issues and conflicts that ISEAS will be dealing with in the future are to be found in the past that is so ably documented in this volume."
Donald E. Weatherbee, Donald S. Russell Distinguished Professor Emeritus at the University of South Carolina
Contents
Turning Points and Transitions: Selections from Southeast Asian Affairs 1974–2018
[Whole Publication, ISBN: 9789814843089], by Daljit Singh, Malcolm Cook,

authors

Preliminary pages with Introduction, by Daljit Singh,

author

THE REGION

The Diplomatic Emergence of China and Its Implications for Southeast Asia (1975), by Victor C. Funnell,

author

Stability and Security in the Region after ANZUK (1975), by George G Thomson,

author

The Quetion of the "Overseas Chinese" (1976), by Wang Gungwu,

author

Southeast Asia 1976: The Handling of Contradictions (1977), by Chan Heng Chee,

author

The "Fukuda Doctrine" and Its Implications for Southeast Asia (1978), by Toru Yano,

author

Expanding Horizons in Southeast Asia? (1994), by Michael Leifer ,

author

AFTA in the Light of New Economic Developments (1995), by Florian A Alburo ,

author

Southeast Asia in 1999: A False Dawn? (2000), by Daljit Singh,

author

East Timor's Future: Southeast Asian or South Pacific? (2001), by Hal Hill,

author

Southeast Asia in 2002: From Bali to Iraq — Co-operating for Security (2003), by Chin Kin Wah,

author

The Year in ASEAN: The Charter, Trade Agreements, and the Global Economic Crisis (2010), by Rodolfo C Severino,

author

China's Two Silk Roads Initiative: What It Means for Southeast Asia (2015), by David Arase,

author

China's International Strategy and Its Implications for Southeast Asia (2016), by Zhang Zhexin,

author

BRUNEI

Negara Brunei Darussalam: "A New Nation but an Ancient Country" (1985), by Sharon Siddique,

author

CAMBODIA

Kampuchea 1979–81: National Rehabilitation in the Eye of an International Storm (1982), by Ben Kiernan,

author

Cambodia 1991: Lasting Peace or Decent Interval? (1992), by Mike Yeong,

author

Hun Sen's Pre-emptive Coup: Causes and Consequences (1998), by Sorpong Peou,

author

Cambodia in 2017: Plus ça change... (2018), by Khatharya Um,

author

INDONESIA

The Indonesian Economy Facing the 1990s: Stuctural Transformation and Economic Deregulation (1990), by Sjahrir,

author

A Year of Upheaval and Uncertainty: The Fall of Soeharto and Rise of Habibie (1999), by Leo Suryadinata,

author

Indonesia: The Regional Autonomy Laws, Two Years Later (2003), by Gary F. Bell,

author

The Impact of Domestic and Asian Regional Changes on Indonesian Foreign Policy (2010), by Dewi Fortuna Anwar ,

author

LAOS
MALAYSIA

The 'Battle Royal' — The UMNO Elections of 1987 (1988), by A B Shamsul,

author

Malaysia: A Fateful September (1999), by John Funston,

author

Tears and Fears: Tun Mahathir's Last Hurrah (2004), by Bridget Welsh,

author

Malaysia: Political Transformation and Intrigue in an Election Year (2009), by Johan Saravanamuttu,

author

MYANMAR

Burma in 1988: Perestroika with a Military Face (1989), by James F. Guyot,

author

Myanmar: No Turning Back (2012), by Moe Thuzar,

author

Myanmar's General Election 2015: Change was the Name of the Game (2016), by Tin Maung Maung Than,

author

THE PHILIPPINES

An Overview of the Philippines (1974), by Lim Yoon Lin,

author

Unfinished Revolution: The Philippines in 1986 (1987), by David Timberman,

author

Terrorism: Evolving Regional Alliances and State Failure in Mindanao (2006), by Kit Collier,

author

SINGAPORE

Singapore's Foreign Policy in the Seventies: The Reconciliation of Global and Regional Interests (1974), by Kawin Wilairat,

author

The Downturn in the Singapore Economy: Problems, Prospects and Possiblities for Recovery (1986), by Cheah Hock Beng,

author

A Return to Normal Politics: Singapore General Elections 2011 (2012), by Terence Chong,

author

THAILAND

American Military Withdrawal from Thailand (1976), by Thanat Khoman,

author

The Thai Economy: From Boom to Gloom? (1997), by Peter Warr,

author

VIETNAM

Vietnam, ASEAN and the Indochina Refugee Crisis (1980), by Frank Frost,

author

Vietnam and ASEAN: A First Anniversary Assessment (1997), by Carlyle A. Thayer,

author

Vietnam: In Search of a New Growth Model (2016), by Jonathan Pincus,

author