Southeast Asian Affairs 2016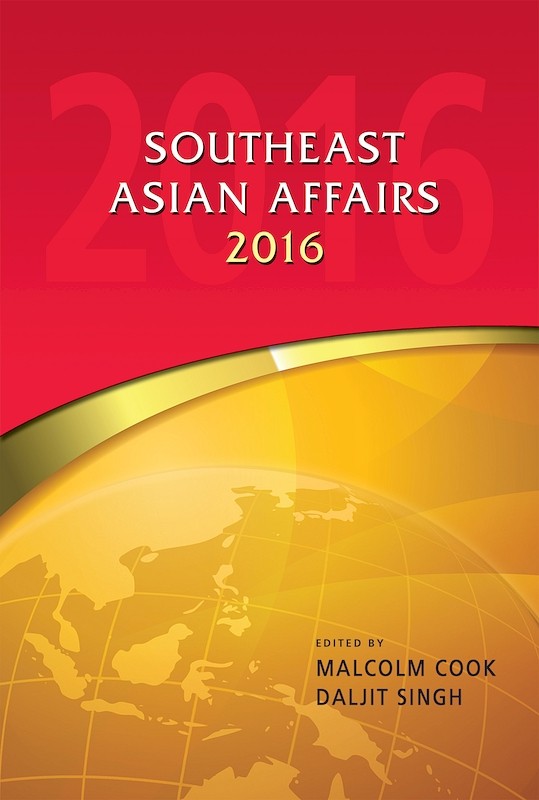 Date of publication:
2016
Publisher:
ISEAS – Yusof Ishak Institute

PDF is available
About the publication
"Southeast Asian Affairs, first published in 1974, continues today to be required reading for not only scholars but the general public interested in in-depth analysis of critical cultural, economic and political issues in Southeast Asia. In this annual review of the region, renowned academics provide comprehensive and stimulating commentary that furthers understanding of not only the region's dynamism but also of its tensions and conflicts. It is a must read."
—Suchit Bunbongkarn, Emeritus Professor, Chulalongkorn University

"Now in its forty-third edition, Southeast Asian Affairs offers an indispensable guide to this fascinating region. Lively, analytical, authoritative, and accessible, there is nothing comparable in quality or range to this series. It is a must read for academics, government officials, the business community, the media, and anybody with an interest in contemporary Southeast Asia. Drawing on its unparalleled network of researchers and commentators, ISEAS is to be congratulated for producing this major contribution to our understanding of this diverse and fast-changing region, to a consistently high standard and in a timely manner."
—Hal Hill, H.W. Arndt Professor of Southeast Asian Economies, Australian National University
Contents
THE REGION

In 2015 the ability of the Association of Southeast Asian Nations (ASEAN) to promote regional autonomy and community-building was challenged by rivalry between the major powers over maritime issues in the South China Sea including China's construction of artificial islands, Japan's security support for claimant states, and by United States' freedom of navigation patrols. ASEAN community-building was challenged by a regional refugee crisis, border tensions between Cambodia and Vietnam, competing regional economic arrangements, domestic political transitions and international terrorism.

Southeast Asian economies are highly dependent on the global economy.  The adverse global economic conditions in 2015 have negatively affected the performance of Southeast Asian economies, some more than others. The economic slowdown of China and the lethargy of major European economies have dampened the demand for manufactured exports from Southeast Asia. The decline in oil and gas prices have reduced export and fiscal revenues for a number of countries such as Indonesia and Malaysia. Whilst most economies are expected to recover in a more favourable global economic environment in the future, significant economic structural challenges remain.

As Barack Obama nears the end of his Presidency, his administration's "rebalancing" strategy directed toward the Asia-Pacific constitutes a significant part of his foreign policy legacy. As China rises, that strategy remains a core element of American efforts to reassure ASEAN that the United States will remain an "indispensable" player in their region. Despite criticisms directed toward rebalancing from various quarters, that policy nevertheless remains an appropriate security posture at a time when Southeast Asia is confronting intensifying security challenges and US resources are becoming increasingly strained. Rebalancing's future viability will depend largely on how well a post-Obama US presidential administration adapts to these challenges and succeeds in sustaining that policy's initial vision of projecting a comprehensive and consistent US policy approach into the region.

The basic framework of China's international strategy has been established since the new Chinese leadership assumed office three years ago. Largely an inheritance of the previous ones, the new Chinese international strategy features more confidence and determination in safeguarding China's perceived core interests, and stronger steps toward achieving the century-long ambition of "the great rejuvenation of the Chinese nation" yet at the same time, it also features a more active and responsible Chinese role in maintaining global peace and stability as well as enhancing regional economic integration. With regards to the prospects of major-power relations remaining stable and  regional economic integration regaining momentum in the next few years, it would be wise for other nations in the Asia-Pacific, Southeast Asian ones in particular, to join in China's new economic initiatives and strive to foster a "community of common destiny" through closer consultation and cooperation with China and among themselves, so as to achieve sustainable and long-lasting peace and development for all nations in the region.

Japans Strategic Coordination in 2015: ASEAN, Southeast Asia, and Abes Diplomatic Agenda, by Kei Kogo,

author

see abstract

Japan's policy toward Southeast Asia in 2015 can be regarded as "strategic coordination", focusing on policy implementation with several new diplomatic initiatives. Its objective was not only to continuously strengthen Japan's comprehensive friendship ties with Southeast Asian states and ASEAN, but also to shape China's behavior in Southeast Asia and beyond. While engaging with ASEAN member states through social and cultural interactions facilitated by new initiatives such as "Partnership for Quality Infrastructure" and JENESYS2.0, Japan aimed to mitigate China's assertiveness in the South China Sea by emphasizing the rule of law through ASEAN-led institutions and through its bilateral defence links with individual Southeast Asian states. However, given that the most of the policies were set in forth in the past, Japan's policy toward Southeast Asia in 2015 was more of a strategic coordination, rather than a strategic shift.

The Indian Prime Minister Narendra Modi announced the upgrading of India's erstwhile "Look East Policy" (LEP) to a more action-oriented "Act East" strategy at the India-ASEAN summit in Myanmar in November 2014. Since then, much debate and discussion has taken place on the nature and content of the strategy. A large part of the debate has been speculative, since India is yet to come out with an official vision statement on the "Act East". However, various pronouncements by India, as well as the shifting pattern of its engagement with countries on its East, are beginning to throw greater light on the strategy. This paper discusses the features of the strategy as discernible till now and emphasizes its geographic scope and strategic depth. It discusses the specific relevance and implications of the "Act East" for Southeast Asia. While India's engagement with ASEAN is likely to become more comprehensive and strategic over time, the region would need to be prepared for the implication of India playing a more active role in regional affairs.

BRUNEI DARUSSALAM

For Brunei Darussalam, 2015 was primarily about the dilemma of maintaining domestic stability in the face of significant regional and global instability in areas of particular vulnerability for Southeast Asia's smallest country. Plummeting global energy prices saw the country's once extremely large current account surpluses reverse into a large deficit. At the same time, as the smallest and weakest claimant in the South China Sea, Brunei Darussalam has the fewest means to counter the effects of growing Chinese assertiveness, US–China rivalry, and ASEAN ineffectiveness in relation to these disputed waters that lap onto the shores of the sultanate. Aided by significant long-standing financial, political and diplomatic reserves, Brunei Darussalam was able to maintain an impressive level of social, political and diplomatic stability in these challenging times.

CAMBODIA

After thirty years of rule, Cambodian Prime Minister Hun Sen is facing the biggest challenge of his political career. A new generation of Cambodians born after the Khmer Rouge genocide has grown up to reach a critical mass under relative peace. Many are demanding better conditions than the established patronage system that the ruling Cambodian People's Party can currently provide and that result was most visible in the 2013 elections. The "post-Khmer Rouge baby-boomers" are gradually transforming political, economic, and social expectations, partly facilitated by communications technology. As Cambodia moves into lower middle-income status and embarks on regional economic integration, such expectations will rise further . Cambodia's contemporary democratization and political narrative, then, can be understood in this context. This chapter examines this narrative within the political, economic, social-cultural, and foreign policy context of 2015.

INDONESIA

2015 in Indonesia has been a year of tremendous ups and downs on the political front as President Joko "Jokowi" Widodo has been seeking to find his political feet, as well as on the economic front, as the country experienced in this year the worst currency devaluation since 1998, and a dramatic turnaround in economic policy in the second half of the year. Foreign policy was not without its own drama, featuring  the drawn out and sensationalized executions of eight foreign drug offenders, and a US state visit. Finally, in 2015 Indonesia was responsible for the worst haze in 18 years, choking the region for several months and causing approximately USD 34 billion in damage. This chapter will review the highlights of the year in Indonsia, focusing on four areas- political highlights, institutional reform, the economy, and foreign policy. It will conclude with a brief section on Jokowi's leadership style and outlook for the future.

President Joko (Jokowi) Widodo has stated his ambition to increase investment in infrastructure to a level that is sufficient to support high growth rate of 7 per cent per annum over the next five years. However, as this chapter discusses, Jokowi's infrastructure agenda is not that different from the masterplan of his predecessor, Susilo Bambang Yudhoyono (SBY). This chapter argues that SBY's government has set valuable foundations for Jokowi's administration to solve Indonesia's infrastructure problem. Laws, regulations, institutions and planning documents are all there. It is up to the current administration to execute the existing plans. Jokowi's administration can learn from previous successes and failures of his predecessor. Learning from SBY's two term presidency, big ambition per se is not enough. It requires good and effective leadership with strong political will to implement the plan given many competing interests and power struggles. The ultimate challenge is for the administration to ensure that infrastructure development will bring benefit for local people, through direct job creation, technology transfers and local capacity building.

LAOS

The year 2015 was an intriguing time for Laos as it was a pivotal year towards establishing the ASEAN Economic Community (AEC). It was also a year for reflection as Laos observed its 40th year of state building since its independence in 1975. This chapter provides an overview of a broad spectrum of key economic, socio-political, and foreign affairs developments in Laos in 2015. Although Laos has sustained high economic growth with the poverty rate cut by half, the country has faced challenges in managing its fiscal deficit and other structural problems amidst the slow recovery of the global economy. Future growth and development will depend upon how effectively Laos can improve its business environment, enhance productivity, and improve connectivity. Laos will also see a power transition in 2016 but that is not  expected to significantly change the governance landscape over the years to come.

MALAYSIA

2015 was a challenging year for Malaysia. At home, the country and its embattled Prime Minister Najib Razak spent most of 2015 muddling through a daunting set of political, economic and social challenges, all made worse by the long shadow of one of the country's worst scandals implicating the Premier himself. And abroad, while Malaysia had a big foreign policy year which saw it both chair the Association of Southeast Asian Nations (ASEAN) and hold a non-permanent seat in the United Nations Security Council, the spillover from the country's domestic turmoil along with a series of crises put a dent on some notable achievements.

The ambition of Malaysia is to transform itself by the year 2020 into a technologically sophisticated, export driven, high-income and developed nation state. Foreign and domestic private capital and high-quality human capital have been identified as the key drivers of this growth trajectory. Malaysia's core challenge and dilemma is its current higher education provision: a dual public-private system. The first a centrally controlled and managed public provision based upon a politically resolute, race-based affirmative action strategy and determined by a rather insular bureaucratic system. And a parallel provision, a sizeable private delivery system with profit as its bottom line. Can Malaysia under such constrained supply conditions generate the critical mass of high-quality and skilled employable workforce to achieve its 2020 goal?&nbsp; <br>

MYANMAR

Though dominated by the elections of November, 2015 was a year which underscored the serious problems the country faces as it attempts to continue its transition from a military-dominated government to a form of power sharing between the army and civilian politicians. Severe flooding led to the loss of more than a hundred lives at mid-year, with millions displaced and significant costs to the predominantly agricultural economy, fuelling inflation and undermining the country's export drive.&nbsp; Other lives were lost as a consequence of over-exploitation of natural resources, particularly in the mining sector. Foreign investment declined and the balance of trade and payments both remained in the negative despite growth in trade. The most testing inheritance for any government, Myanmar's 67 year long civil war remained unresolved, despite several years of negotiations and the signing of a partial "nationwide ceasefire agreement" in October. The great expectations of previous years remained yet unfulfilled.

On 8 November 2015, in Myanmar's sixth multi-party general election ( GE2015) since independence in 1948, voters' desire for 'change' swept away the conservative forces associated with more than five decades of military dominance in the politics of Myanmar. That simple catchy 'C' word, reminiscent of Barak Obama's United States presidential campaign battle cry in 2008, proved more effective than the 'goodies' delivered during the five years of USDP (Union Solidarity and Development Party) rule under President U Thein Sein as well as the last minute deluge of amenities, goods and services brought in by powerful USDP candidates to their designated constituencies in garnering votes from the weary public. The National League for Democracy (NLD), led by Daw Aung San Suu Kyi&nbsp; clinched super majorities in both houses of parliament stunning pundits, competitors, detractors, supporters and the NLD itself, not only in Myanmar but also in the international community.Thus, GE2015 appeared to herald the dawn of a new era in Myanmar politics whose troubled experiment in parliamentary democracy was truncated by the military coup of 2 March 1962.&nbsp; However, both powerful agencies and rigid structures stand in the way of 'real change' as envisaged by the NLD leadership and aspired to by those who voted in the popular party led by their beloved hero's daughter.

THE PHILIPPINES

The year 2015 was a "wait and see" year for the Philippines as it geared up for National Elections in 2016. While economic growth&nbsp; remained stable and the outlook for the country in many respects remains positive, several "guideposts" are useful in assessing long term growth and institutional stability: these include the addressing of issues related to the ongoing peace process, reforms that increase sustainable growth such as infrastructure and disaster management, as well as anti-corruption and transparency measures. Ultimately, it is a shift in the way politics is played — away from the familial and elite based politics that feature prominently in electoral politics and beyond — on to a more even playing field that will determine how far the country has progressed.&nbsp;&nbsp; <br>

The reforms of the Aquino administered were intended primarily to reduce corruption and to improve the governance process in the Philippines. Tagged as "Matuwid na Daan" (the Straight Path), these reforms eventually resulted in an economic turnaround for the country, producing records and economic fundamentals never before seen in the country.&nbsp; However, coordination failures continue to plague the economy and have caused the recent slowdown in its economic performance. The chapter argues however that the country can turn its back on its history as long as the reforms are continued.&nbsp; As expectations for structural improvements are felt, self-fulfilling prophecies can make the recent economic growth sustainable.

SINGAPORE

How should a review of Singapore in 2015 be best framed? By an acronym and a number: SG50. 2015 was the year Singapore celebrated its fiftieth year of independence with the ubiquitous SG50 logo embossed on and attached to almost anything. Much like an individual turning middle-aged, the year was one where the nation experienced loss, made decisions about its future, reflected on and celebrated its past with pride and, tried to become comfortable with its own skin.

THAILAND

A fragile and harshly enforced public order, a troublesome royal succession, international discords, and a sluggish economy were the leitmotifs of Thailand's state of affairs in 2015. The rejection of a draft charter that would have paved the way for the country's return to democracy meant that the junta, which had taken power in May 2014, would remain in power in the foreseeable future. The generals seemed intent on guiding Thailand through the looming royal succession and, more importantly, on suppressing the effects of grave structural changes in the socio-political setup of the Thai nation.

Since the Thai military seized control of government in May 2014 it has sought to impose its version of "Thainess" on society. With strong notions of hierarchy, loyalty and service, a range of officially-mandated values have been used to create a narrow sense of belonging. There is little tolerance for dissenting voices at a time when Thai society confronts major challenges. Diminished democratic institutions have proved no match for the alliance of royalist and military forces that are looking to manage the anxious end to King Bhumibol Adulyadej's seventy-year reign. These forces draw on deep reservoirs of cultural practice to support their vision of what "being Thai" should mean.

TIMOR-LESTE

In Timor-Leste, 2015 will be remembered for the resignation of Xanana Gusmão from the position as Prime Minister. The move has been viewed as the beginning of a long awaited leadership transition, from the senior leadership to the younger generation, which occurred as part of a broader restructuring of the Timorese government. However, Gusmão remains in government in a new position as Minister of Planning and Strategic Investment, and in many respects, the new government continues in the path of its predecessor. One of its main challenges will be to decide whether to continue to invest the country's petroleum revenues into the large-scale, oil-funded infrastructure projects seen over the last few years, or to focus more on sustainable, long-term development initiatives. The country's heavy reliance on petroleum resources to fund its national development remains challenged by continued disputes with Australia over the division of maritime borders and resources in the Timor Sea.

VIETNAM

This chapter examines major political, economic and foreign policy developments in Vietnam in 2015. Politically, preparations for the Communist Party of Vietnam's (CPV) 12th National Congress to be held in early 2016 dominated the country's domestic political agenda. The Party's draft political report shows some notable changes in its thinking and policy orientation. At the same time, personnel arrangements for the congress were deliberated throughout the year, but the final outcomes will not be determined until a few days before the congress convenes. Economically, despite signs of improvement, especially in the foreign-invested and export sectors, Vietnam's economic foundations were still constrained due to problems in the SOE and banking systems. The country's aggressive pursuit of Free Trade Agreements (FTA) and its deeper integration into the global economy, however, helped to offset negative repercussions of ailing domestic economic conditions. In terms of foreign policy, dealing with China and the South China Sea disputes continued to dominate the country's diplomatic agenda. In 2015, while trying to repair ties with Beijing, Vietnam also succeeded in strengthening relations with the United States, Japan, India, Russia, as well as some ASEAN countries.

Vietnam endured an extended period of economic turbulence since 2008 that has derailed the growth model that emerged over the three decades of the doi moi reform period. That model consisted of "vent for surplus" export industries welded to an inward looking, state-dominated sector. The former provided jobs and foreign exchange and the latter distributed rents throughout Vietnam's highly commercialized state apparatus. The failure of this model, largely due to lax credit controls and the inability to impose discipline on the state sector, has set the scene for the creation of a new model in which export industries are integrated into the domestic production structure. Achieving this new model depends on the state's tolerance for the formation of commercial interests that are genuinely independent of the government and in a position to demand a separation between regulatory agencies and the business interests of agencies and individuals that are part of the state structure or closely allied to the state.