The Other Ladies of Myanmar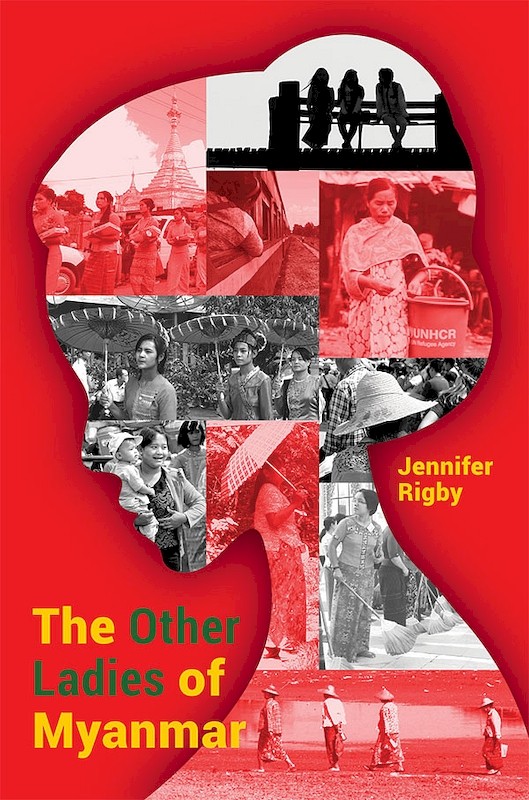 Date of publication:
2018
Publisher:
ISEAS – Yusof Ishak Institute

Ebook is available
Reviews
Reshmi Banerjee, Tea Circle, November 2018.
"In her book, The Other Ladies of Myanmar, Jennifer Rigby brings forth the lives of twelve such women - women who have traveled on an unconventional road with an infectious zeal to bring change, to shake up outdated mindsets with defiance from the ground up. The book tried to capture not only their dreams and the challenges they have faced, but also attempts to understand the minds and hearts of these formidable women drivers of change in Myanmar - the often understated yet impressive torchbearers of hope.
The book raises certain pertinent questions which Myanmar needs to address if it wants to bring the marginalized category of women into the mainstream. The heavy dual burden which women are supposed to take - in terms of looking after their home and work constantly puts pressure on them. Moreover the daily discriminatory treatment and violence that they endure in every sphere of life, including dated cultural norms, is challenging. The insufficient support and prevailing anti-women attitudes that they experience, the culture of 'stigmatization of the victim', lack of inheritance rights (including land rights), the habit of shaming fearless women who fight back and push boundaries are some of the obstacles women in Myanmar which the book covers well.
The inspirational stories covered in this book will hopefully provide an impetus for many women in Myanmar to not only dream big, but vociferously act on their dreams."
About the publication
Bronze medallist of 2020 Independent Publisher Book Awards, Category 76: Women's Issues - http://independentpublisher.com/article.php?page=2439
In Myanmar, Aung San Suu Kyi is often not called by her name. Instead, she is just "The Lady", an honorific nickname that signifies her place in the collective imagination of her country. And from global human rights icon to Myanmar's de facto leader, she is certainly a towering figure. But The Lady's reputation has only tarnished in recent years in the face of the persecution of her country's Rohingya minority.
In this new book, we present some of Myanmar's other ladies: women from across the social spectrum who are changing their country, and its perceptions of gender, from the ground up. From the artist who defied the junta to hand out sanitary towels at her exhibition, to the Muslim campaigner who has already spent a quarter of her life in prison; from the feminist Buddhist nun to the pop star who gets called a whore for performing; these are the voices of The Other Ladies of Myanmar.
Contents
The Other Ladies of Myanmar
[Whole Publication, ISBN: 9789814818261], by Jennifer Rigby,

author

1. The Activist: Cheery Zahau

2. The Feminist Buddhist Nun: Ketu Mala

4. The Businesswoman: Yin Myo Su

5. The Environmental Campaigner and Princess: Devi Thant Cin

7. The Refugee Sexual Health Nurse: Mu Tha Paw

8. The Rohingya and Human Rights Champion: Wai Wai Nu

9. The Farmer: Mar Mar Swe

10. The Pop Star: Ah Moon

11. The Politician: Htin Htin Htay

12. The Archer: Aung Ngeain