Does ASEAN Matter? A View from Within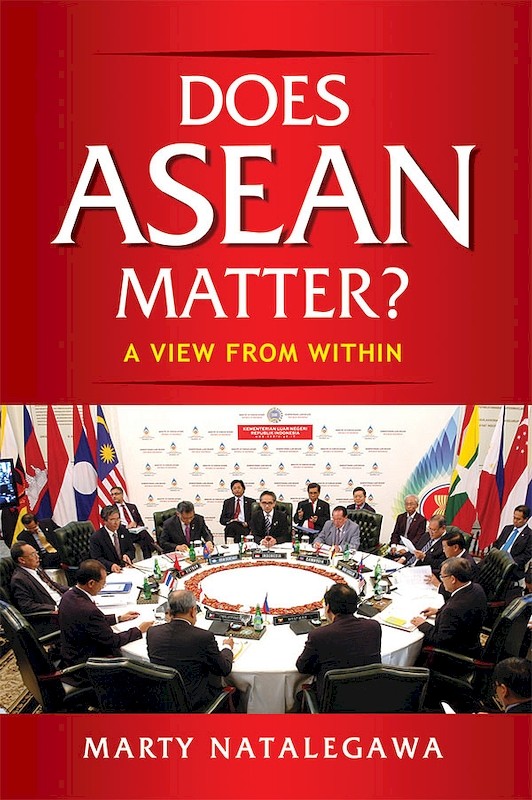 Date of publication:
2018
Publisher:
ISEAS – Yusof Ishak Institute

Ebook is available
Reviews
Lukas Maximilian Muller, ASIEN 155/154, 2021.
"Former Indonesian Foreign Minister (2009 - 2014) and former Director General for ASEAN Cooperation (2002 - 2005) Marty Natalegawa's book "Does ASEAN Matter?" adds to a long line of memoirs by Indonesian politicians seeking to influence public perceptions of their achievements while in office. Serving during Susilo Bambang Yudhoyono's second term as President, Natalegawa prominently guided Indonesia's eventful 2011 ASEAN chairmanship. ... Yudhoyono's second term is remembered as a relatively outward-looking period in terms of foreign policy. With this book, Natalegawa attempts to cement the perception of Indonesia as a regional leader within ASEAN.
The book lays out an ambitious scope, aiming to deviate from the history-focused ASEAN literature by concentrating on the organization's relevance with a view towards the future. What makes the book worth reading is Natalegawa's perspective on diplomatic choices as the primary driver of regional policy, rather than great power rivalries. This view, certainly influenced by Indonesia's self-perception as a regional power, separates the book from other ASEAN memoirs, particularly those published by Singaporean diplomats."
George Yeo, Chairman and Executive Director of Kerry Logistics Network; Former Minister for Foreign Affairs, July 2018.
"Dr Marty Natalegawa's book on ASEAN provides an inside view of ASEAN's evolution over the years from an Indonesian perspective. That perspective is a critical one because without Indonesia's leadership from the inception, there would have been no ASEAN, certainly not the one that we have today. As the largest country in Southeast Asia, with an economy that may well become the world's 4th largest by 2050, Indonesia has always been the anchor of ASEAN. Dr Natalegawa, as one of ASEAN's most able diplomats, asks 'Does ASEAN matter?' His book explains why this is a rhetorical question."
Ambassador Ong Keng Yong, Executive Deputy Chairman, RSIS; Director, Institute of Defence and Strategic Studies, July 2018.

"This is a rare book on ASEAN by a brilliant mind of Indonesia. Marty Natalegawa brought us into many closed quarters of ASEAN decision-making and inner workings. His crisp and incisive writing reveals how several critical episodes in recent ASEAN diplomacy were handled, and possible ruptures in the ASEAN family averted. Some of the information has never been publicly shared before. Not all ASEAN colleagues will agree entirely with Marty's ideas articulated. Yet, they cannot disagree that the book is a masterpiece by an ASEAN insider whose speeches and writings have always been thought-provoking and forward-looking. Students of ASEAN and the interested observers will find Marty's book easy to digest and and yet profound."
Professor Tommy Koh, Former Ambassador to the United Nations, July 2018.
"Pak Marty was one of ASEAN's most outstanding foreign ministers. His views on ASEAN are cogent and convincing."
Donald Weatherbee, Donald S. Russell Distinguished Professor Emeritus, University of South Carolina, July 2018.

"During the second term of Indonesia's President Susilo Bambang Yudhoyono's, 2009 – 2014, Foreign Minister Marty Natalegawa was at the center of Indonesia's efforts to maintain ASEAN's progress. During a previous posting in the foreign ministry, he had been the Director General for ASEAN Cooperation. As a highly skilled diplomat deeply engaged in ASEAN's pursuit of regional peace, security, and prosperity, Natalegawa brings insights and analyses of particular value in answering the question "does ASEAN matter?" They are of special interest because his tenure as Indonesia's representative in ASEAN coincided with critical events undermining the organization's coherence and solidarity as well as its principles and purposes: Myanmar and the Rohingya boat people; the Thailand – Cambodia border war; the collapse of the 2012 ASEAN Ministers' Meeting; and the regional impact of China – United States competition. Natalegawa was a key figure in managing these and other issue areas threatening ASEAN's claim to "centrality" in Southeast Asia's regional political architecture. "
Andrew J. Nathan, The Council on Foreign Relations, 2019.
"Natalegawa, a former Indonesian foreign minister, is a strong believer in the value of the ten-member Association of Southeast Asian Nations, and its often-derided process of constant meetings and declarations, for dampening conflict and getting the attention of outside powers. He gives blow-by-blow accounts of some of his toughest negotiations within the group.
Natalegawa's stories constitute a primer on the dark arts of diplomacy, including the value of ambiguity, the cultivation of personal relationships with fellow leaders, creative word and punctuation choices, the profligate use of the passive voice - and just showing up. "
Rasmus Abildgaard Kristensen, International Affairs Vol. 95 Issue 3, May 2019.
"The former Foreign Minister of Indonesia, Marty Natalegawa, offers his perspective in a new book entitled Does ASEAN Matter?. Although he ends up answering in the affirmative, Natalegawa is not blind to the weaknesses of ASEAN and the challenges facing the organization. As such, his nuanced and insightful contribution to the debate. The book is divided into three main parts, each dealing with one of ASEAN's three transformative contributions, as the author sees them.
The book is 'a view from within' and based on Natalegawa's personal experiences. This is one of its strengths, as it shows exactly how ASEAN has mattered on various issues. The author also provides numerous examples of Indonesia's leadership role in advancing the ASEAN agenda. This is often under-appreciated in the existing literature, which tends to view Indonesian foreign policy as reactive and inward-looking, including in relation to ASEAN."
International Affairs rated it as the Top 5 must-read books on the Indo-Pacific:
https://medium.com/international-affairs-blog/top-5-books-the-indo-pacific-ef10634d9a66

More reviews can be found at the following links:
https://www.scmp.com/author/marty-natalegawa
https://www.aljazeera.com/news/2021/3/2/myanmar-crisis-a-litmus-test-for-asean-says-indonesias-ex-fm
https://www.youtube.com/watch?v=aoWVaKeGHmo
Commentary on RCEP in Nikkei
https://asia.nikkei.com/Opinion/ASEAN-must-counter-Chinese-attempts-to-own-RCEP-trade-agreement
CSIS-Pertamina Banyan Tree Leadership Forum with author:
https://www.csis.org/events/csis-pertamina-banyan-tree-leadership-forum-dr-marty-natalegawa
https://www.bangkokpost.com/opinion/opinion/1539034/when-asean-just-isnt-asean-enough
http://www.abc.net.au/radio/programs/pm/aseans-inertia-and-complacency-must-change-marty-natalegawa/10052850
https://en.antaranews.com/news/118001/former-indonesian-foreign-minister-recognizes-taiwans-economic-contribution-to-asean
http://www.thejakartapost.com/life/2018/09/03/does-asean-matter-marty-natalegawas-personal-notes.html
https://nysean.org/does-asean-matter-view-within-0
Marty Natalegawa: ASEAN Must Have a Script | Endgame S2E20 https://www.youtube.com/watch?v=4_sU88IbY-E
About the publication
Written by the highly regarded diplomat Marty Natalegawa, former ambassador and foreign minister of Indonesia, this book offers a unique insider-perspective on the present and future relevance of ASEAN. It is about ASEAN's quest for security and prosperity in a region marked by complex dynamics of power. Namely, the interplay of relations and interests among countries — large and small — which provide the settings within which ASEAN must deliver on its much-cited leadership and centrality in the region. The book seeks to answer the following questions: How can ASEAN build upon its past contributions to the peace, security and prosperity of Southeast Asia, to the wider East Asia, the Asia-Pacific and the Indo-Pacific regions? More fundamentally and a sine qua non, how can ASEAN continue to ensure that peace, security and prosperity prevail in Southeast Asia? And, equally central, how can ASEAN become more relevant to the peoples of ASEAN, such that its contributions can be genuinely felt in making better the lives of its citizens?
Contents
Does ASEAN Matter? A View from Within
[Whole Publication, ISBN: 9789814786751], by Marty Natalegawa,

author

Preliminary pages and Introduction: Does ASEAN Matter?

1. Statecraft and Diplomacy in a World Transformed: 1967 to the Present

2. Southeast Asia: From Trust Deficit to Strategic Trust

3. ASEAN and the Region: From Cold War Pawn to ASEAN Centrality

4. From State-centric to People-centred ASEAN

5. ASEAN: Wither or Prosper?

APPENDICES

Appendix 1. Guidelines for the Implementation of the DOC

Appendix 2. Declaration of the East Asia Summit on the Principles for Mutually Beneficial Relations

Appendix 3. Statement of ASEAN Foreign Ministers on ASEAN's Six-point Principles on the South China Sea