Islam in Southeast Asia: Negotiating Modernity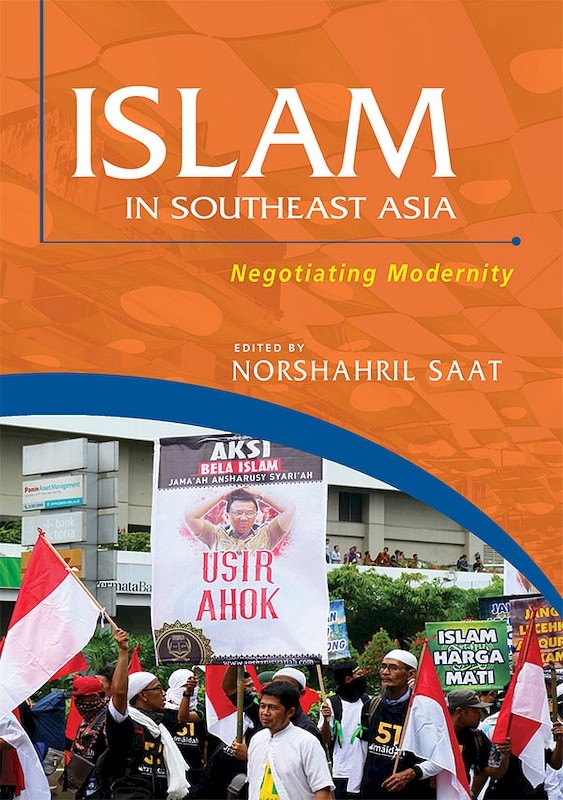 Date of publication:
2018
Publisher:
ISEAS – Yusof Ishak Institute

Ebook is available
Reviews
Moch Nur Ichwan, Journal of the Humanities and Social Sciences of Southeast Asia, Vol. 175, Issue 4, 2019.
"While in the 1990s most authors of Southeast Asian Islam were outsiders or Western and non-Muslim Asian scholars, many native Muslim scholars of Southeast Asia have since the 2000s engaged in writing about their own history, culture, politics, and society. Norshahril Saat's two books here under review, The State, Ulama and Islam in Malaysia and Indonesia (SUI) and Islam in Southeast Asia: Negotiating Modernity (ISA) represent this trend.
SUI is Saat's monograph stems from his PhD at Australian National University (ANU). ISA is a collective volume he edited as part of the ISEAS–Yusof Ishak Institute's workshop on "Islamic Development in Southeast Asia" held in 2015, which was updated to include some further developments up to 2018. SUI focuses on the official Islamic scholars (ulama) in Malaysia and Indonesia, while ISA focuses on the issue of Middle Eastern influence and regional struggles with modernity in Malaysia, Indonesia, and Singapore.
...these two books are valuable contributions to the field, representing how Southeast Asian Muslim scholars and activists write about their own religion in their own respective countries. Such studies are important amid the broad availability, if not dominance, of similar books and collective volumes written by non-Southeast Asian scholars. These two books have undeniably contributed to the study of contemporary developments of Islam and their dynamics in Southeast Asia; one of the most significant yet still somewhat neglected peripheries of the Islamic world."
Nazirah Lee, Journal of the Malaysian Branch of the Royal Asiatic Society, Volume 92, Part 1, No. 316, June 2019.
"Islam in Southeast Asia: Negotiating Modernity is a compilation of eight articles that offers new insights on the dynamic developments which have taken place within Muslim society in Malaysia, Indonesia and Singapore. The authors of the chapters - academics and researchers with proven prowess in their respective fields - present articles that offer in-depth explanations of the developments in the subject of their choice. This book, according to the editor, Norshahril Saat, is an attempt to elucidate the impact of the developments of the Middle East on the Muslims in Malaysia, Indonesia and Singapore, especially in the sphere of contemporary socio-cultural factors and politics. The editor also informs readers that 'Southeast Asia' in the title is limited to the three countries considered to be the bastion of modest Islam in the region: Malaysia, Indonesia and Singapore. Issues related to the Muslims in Thailand, the Philippines and Burma are intentionally neglected. Also, discussions and analyses presented in the book encompass only circumstances and progression prior to 2015 as the book contains selected papers from a workshop held in Singapore in 2015.
Overall, each section of this book explains that Muslims have a different attitude towards modernity. The dichotomy between modernists and traditionalists is not unknown in the development of Muslims' history in the Malay Archipelago. The developments began with the Islah and Tajdid movements at the end of the nineteenth century. The call for Muslims to exercise and practise reasoning and thinking has divided Muslims in the Malay Archipelago into groups known as Kaum Tua and Kaum Muda. This book demonstrates that Muslims now belong to various groups representing those who are liberal, tolerant, and moderate, versus those who are labelled as conservative and practise stricter Islam."
About the publication
"Islam in the Malay world of Southeast Asia or Islam Nusantara, as it has come to be known, had for a long time been seen as representing the more spiritual and Sufi dimension of Islam, thereby striking a balance between the exoteric and the esoteric. This image of 'the smiling face of Islam' has been disturbed during the last decades with increasing calls for the implementation of Shari'ah, conceived of in a narrow manner, intolerant discourse against non-Muslim communities, and hate speech against minority Muslims such as the Shi'ites. There has also been what some have referred to as the Salafization of Sunni Muslims in the region. The chapters of this volume are written by scholars and activists from the region who are very perceptive of such trends in Malay world Islam and promise to improve our understanding of developments that are sometimes difficult to grapple with."
— Professor Syed Farid Alatas, Department of Sociology, Faculty of Arts and Social Sciences, National University of Singapore
"Perceptions of Southeast Asian Islam are increasingly contested. On the one hand, much of the international community continues to laud the region's Muslims as among the most 'moderate' and 'inclusive' in the world. On the other hand, stories about creeping Wahhabism and escalating jihadist threats abound in media reporting, often accompanied by commentary that the nature of Southeast Asian Islam is becoming more radical, less tolerant and more 'Arabized'. In this volume, a range of Muslim scholars and activists from Indonesia, Malaysia and Singapore reflect upon developments in their communities and seek to bring greater nuance to our understanding of these complex religio-cultural and political changes. This book opens up authentic regional perspectives on Islam's contemporary role."
— Assoc Professor Greg Fealy, Department of Political and Social Change, Australian National University
Contents
Islam in Southeast Asia: Negotiating Modernity
[Whole Publication, ISBN: 9789814818001], by Norshahril Saat,

editor

SECTION I: MALAYSIA

3. Competing Discourses Among Malaysian Muftis: Still a Case of Arabization?, by Norshahril Saat,

author

4. The Riyal and Ringgit of Petro-Islam: Investing Salafism in Education, by Mohd Faizal Musa,

author

SECTION II: INDONESIA

5. The Middle East Influence on the Contemporary Indonesian "Campus Islam", by Yon Machmudi,

author

6. Contemporary Middle Eastern Islamic Thought and Its Transmission in Indonesia: A Critical Assessment, by Azhar Ibrahim,

author

7. Plural Islam and Contestation of Religious Authority in Indonesia, by Ahmad Najib Burhani,

author

8. Preachers-cum-Trainers: The Promoters of Market Islam in Urban Indonesia, by Najib Kailani,

author

SECTION III: SINGAPORE