Trending Islam: Cases from Southeast Asia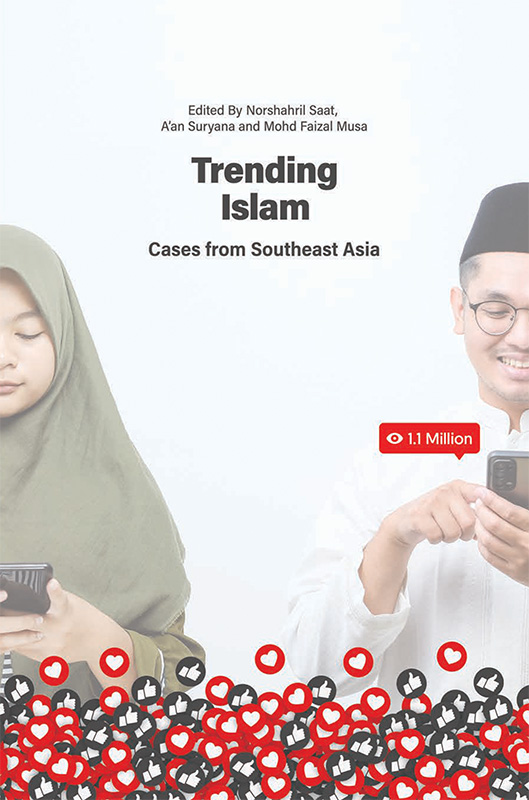 Date of publication:
2023
Publisher:
ISEAS – Yusof Ishak Institute

Ebook is available
About the publication
What are trending Islamic ideas in Southeast Asia; how are they transmitted and who transmits them? These are questions that linger among the minds of policymakers, diplomats and scholars interested in Islam in Southeast Asia.
Trending Islam
maps and discusses key personalities, groups or institutions that influence Muslims in the region. This book dedicates more space to discuss the role of the Internet in disseminating religious discourses. Internet's role, in particular the use of social media either to advance interpretations of Islamic ideas or to gain influence in the public sphere, is becoming more significant as it allows information to spread faster and wider. While not discounting traditional issues such as extremism and terrorism, matters that continue to affect many people's lives in the region, the book delves into the interaction between violent and non-violent extremism and the liberal and progressive responses to them.
Trending Islam
covers the transmission of Islam in several countries and some case studies.
"This timely and important volume brings together scholars providing nuanced analyses of the current dynamics of Islam in Southeast Asia. This volume guides readers through the complexities of Muslims' evolving engagement with global modernity by exploring different aspects of Islam in the region. In addition to chapters devoted to understanding major actors and institutions, this volume also examines the transmission of Islamic ideas; assesses how multiple actors from diverse backgrounds, competing for Islamic interpretation and expression, are impacted by the Internet and social media; and discusses the paradoxes of established Muslim organizations and state-sponsored da'wah groups. A must-read for whoever is interested in Southeast Asian Islam!"
Noorhaidi Hasan, Professor in Islam and Politics at Universitas Islam Internasional Indonesia of Jakarta and
Sunan Kalijaga State Islamic University of Yogyakarta
Contents
PART I: CONTINUING AND EMERGING TRENDS
PART II: STATES AND ORGANIZATIONS DRIVING TRENDS

4. Extremism in Malaysia: Civil Servants as Trendsetters and Conduits of Trends, by Mohd Faizal Musa,

author

5. Digital Anti-Islamist Activism at the Forefront of Political Polarization in Indonesia, by Yuji Mizuno,

author

6. Surveillance Capitalism and Dataization among Religious Organizations in Singapore, by Faris Ridzuan, Afra Alatas,

authors

7. Being Funny Is Trendy: NU Garis Lurus vs NU Garis Lucu, by A'an Suryana,

author

PART III: INFLUENCERS DRIVING TRENDS

8. Amar Makruf dan Nahi Mungkar: Moral Policing of Female Muslim Celebrities and Influencers in Brunei, Malaysia, and Indonesia, by Sharifah Nurul Huda Alkaff,

author

9. YouTube Islamic Web Series and the Mediatized Piety among Urban Muslims in Indonesia, by Andina Dwifatma,

author

10. Being Spiritual and Trendy: Singapore's Islamic Authority in the Age of Capitalism and Populism, by Norshahril Saat,

author