Pentecostal Megachurches in Southeast Asia: Negotiating Class, Consumption and the Nation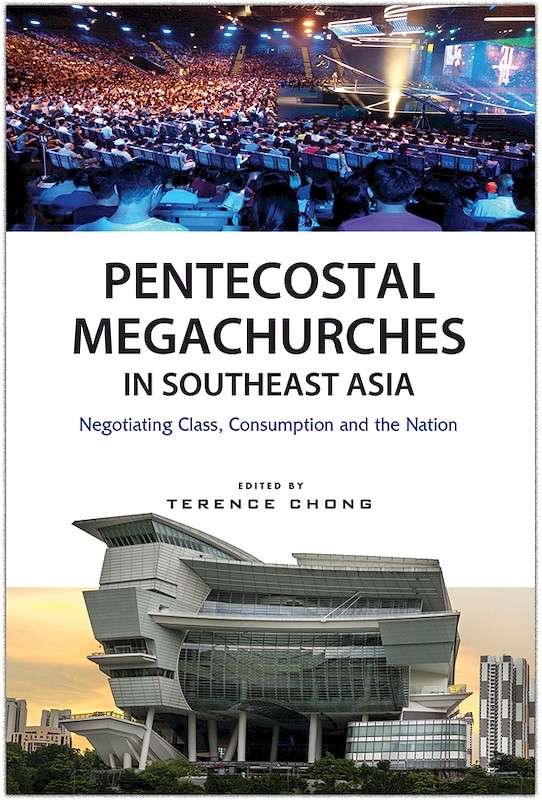 Date of publication:
2018
Publisher:
ISEAS – Yusof Ishak Institute

Ebook is available
Reviews
Mirjam Lucking, ASIEN 152/153, 2020.




"This edited volume offers insights into various forms of Pentecostalism in Southeast Asia – a region that is associated with Islam, Buddhism, Taoism and Hinduism, but less with Christianity. .... In the introduction, Terence Chong exposes the simultaneity between universal, regional and local features of Pentecostalism.




Chang-Yau Hoon argues ... that the relationship with the Muslim Indonesian population lacks the ecumenical and interfaith activities that are common among Christian and Muslim mainstream organizations (pp. 22, 35) ... [and] explains the differences in legal privileges of different ethnic groups in Malaysia, pointing out that there has been a significant increase in Pentecostalism among non-Malay indigenous groups (p.106). .... Jayeel Serrano Cornelio emphasizes the prominent role of overseas Filipino workers in Pentecostal movements (p.128) and Joel Tajedo explains that charismatic movements are also widespread among Catholic Filipinos (p.159).




The edited volume is a valuable contribution to the study of Christianity in Southeast Asia and Pentecostalism globally. It is of crucial interest for anyone who seeks to understand contemporary social dynamics in Southeast Asia."




Gabriel Faimau, PentecoStudies Vol. 19 Issue 2, pp. 225-227, 2020.




"Presenting case studies from Indonesia, Malaysia, Philippines and Singapore, the book offers rich historical and ethnographic details as well as theoretically nuanced analysis on the extraordinary growth of the Pentecostal movement and how this influences the religious landscape and cultural manifestations in the region, particularly in major cities such as Jakarta, Kaula Lumpur, Manila and Singapore.




Adding new insights to this collection, Chapter 6 (Cornelio) and 7 (Tejedo) discuss the innovative indigenization strategies adopted by independent Pentecostal megachurches in the Philippines.




The growth of the global Pentecostal movement has drawn considerable attention of scholars in the past few decades. The case of Pentecostalism with its megachurches in Southeast Asia analysed in this book offers a unique perspective as the book highlights how the Pentecostal movement attracts some segments of the population in the majority Muslim societies of Indonesia and Malaysia, Catholic society of the Philippines and pragmatic society of Singapore.




As such, the case studies and critical analysis of Southeast Asian Pentecostal megachurches presented in this book will undoubtedly benefit students of religion and world Christianity, scholars of Pentecostal and Charismatic studies and those who are interested in the intersection between religion and modernity."




Lau Sin Wen, NZJAS, 21: 2 (Dec 2019).




"All chapters rigorously contextualise these religious forms in the social, cultural, economic, and political contexts in which they inhabit in order to demonstrate how the indigenising tendencies of Pentecostalism are lived in the Southeast Asian context. Besides demonstrating the ways in which their case studies align with definitions of a "megachurch," the essays in this volume pay attention to how organisational structures facilitate expansion, the construction and significance of mediatised theatrical worship services to the congregation, the importance of transnational networks in sustaining a sense of being a part of a global Christian community for these religious groups, as well as how these megachurches negotiate local discourses of nation-building, social and political activism, wealth accumulation and consumption and racial intolerance.




This volume stands out amongst studies examining the global revival of Christianity in that it offers a comparative view of how Pentecostalism is lived across Asia.




...the volume is engaging, coherent, and tightly woven together. Written by sociologists, anthropologists, media specialists, theologians, and Asianists, it offers much to researchers and students of religion, Christianity, and Asia. The ethnographically rich and fine-grained studies collected within it not only documents but also offer important insights into how Pentecostalism is lived across Asia. Its light prose and intriguing case studies make this volume suitable for any undergraduate class on Asian religion, Christianity in Asia, and Asian society."




Graeme Lang, Journal of Contemporary Asia, 29 Sept 2018.

"The rise of Christian "mega-churches" in Southeast Asia has attracted increasing interest because of their extraordinary growth in some major cities in the region. The so-called Pentecostal churches feature lively stage performances and ecstatic worship punctuated by "speaking in tongues" (glossolalia). These churches still represent only small minorities in each of these societies, but their growth, and the size of some of these churches, pose questions for our understanding of religions in Southeast Asia. Why would Pentecostal Protestant megachurches (defined as having more than 2,000 members) find success among some segments of the population in the largely Muslim societies of Malaysia and Indonesia, the largely Catholic society of the Philippines and the relentlessly pragmatic society of Singapore? Why do they attract so many young people?





Pentecostal Megachurches in Southeast Asia provides case studies of megachurches in each of four societies (Chang-Yau Hoon and En-Chieh Chao on Indonesia, Jeaney Yip and Chong Eu Chong on Malaysia, Jayeel Serrano Cornelio and Joel A. Tejedo on the Philippines, and Daniel P.S. Goh and Terence Chong on Singapore, with an introduction to the volume by Chong.)




Sociologists will .... note the useful observation in some of the chapters that the development of these megachurches among the new-middle-classes in Southeast Asia and their embrace of urban middle-class media interests, social needs, and consumption aspirations, is linked to the growth and rising prosperity of these middle-classes in many cities in the region over the past few decades.




Overall, the chapters in this book are rich in historical and ethnographic detail and should be useful for scholars and students seeking to learn more about these varieties of Christian religiosity in Southeast Asian cities."



About the publication
Charismatic pastors, fast-paced worship sessions, inspirational but shallow theology, and large congregations — these are just some of the associated traits of Pentecostal megachurches. But what lies beneath the veneer of glitz? What are their congregations like? How did they grow so quickly? How have they managed to negotiate local and transnational challenges? This book seeks to understand the growth and popularity of independent Pentecostal megachurches in Southeast Asia. Using an ethnographic approach, the chapters examine Pentecostal megachurches in Malaysia, Indonesia, the Philippines, and Singapore. Each chapter dwells on the development of the megachurch set against the specific background of the country's politics and history.
Contents
Pentecostal Megachurches in Southeast Asia: Negotiating Class, Consumption and the Nation
[Whole Publication, ISBN: 9789814786898], by Terence Chong,

editor

INDONESIA

2. Pentecostal Megachurches in Jakarta: Class, Local, and Global Dynamics, by Chang-Yau Hoon,

author

3. Counting Souls: Numbers and Mega-worship in the Global Christian Network of Indonesia, by En-Chieh Chao,

author

MALAYSIA

4. Reaching the City of Kuala Lumpur and Beyond: Being a Pentecostal Megachurch in Malaysia, by Jeaney Yip,

author

PHILIPPINES

6. Jesus is Lord: The Indigenization of Megachurch Christianity in the Philippines, by Jayeel Cornelio,

author

7. Pentecostal Charismatic Megachurches in the Philippines, by Joel Tejedo,

author

SINGAPORE

8. Grace, Megachurches, and the Christian Prince in Singapore, by Daniel P S Goh,

author

9. Speaking the Heart of Zion in the Language of Canaan: City Harvest and the Cultural Mandate in Singapore, by Terence Chong,

author