Citizens, Civil Society and Heritage-making in Asia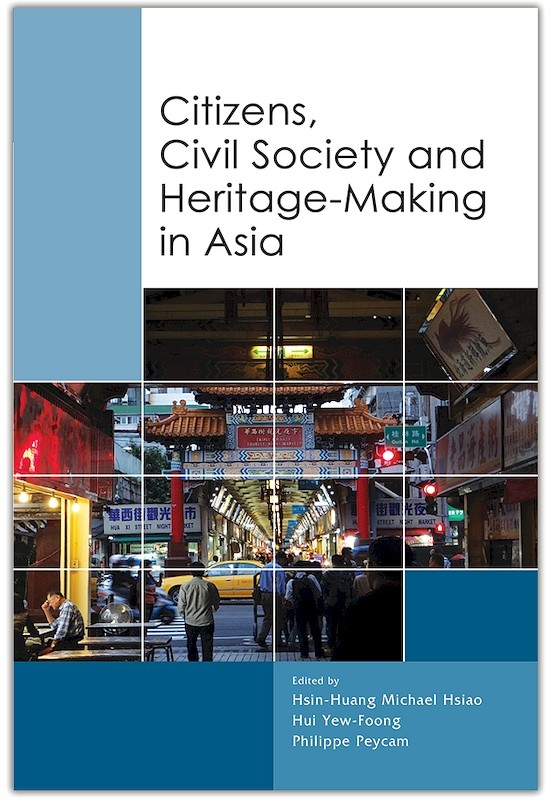 Date of publication:
2017
Publisher:
ISEAS – Yusof Ishak Institute / IIAS / Institute of Sociology, Academia Sinica

PDF is available
Review
Odajima Rie, Southeast Asian Studies, Vol. 10 No. 1, April 2021.
"Citizens, Civil Society and Heritage-Making in Asia probes heritage-making and civil society movements in pivotal locations across Asia. Based on the contributors' intensive research and closeness to people in diverse places, it provides a better understanding of Asia, particularly of societies and groups at the grassroots level and their identities. It makes a significant contribution to Critical Heritage Studies (CHS) by drawing attention to the creation of civil society through heritage-making analyses. Although CHS engages with similar themes and social levels, the sociological insights of this book into rarely studied sites and groups, along with other important themes such as complex politics, colonial and postcolonial memories, and kaleidoscopic tempi in Asia, make this volume unique.
...the multiple layers of discussion in this volume offer significant keys to understanding present-day Asia. ...this book presents model studies not only for CHS but also for studies of civil society, memory, and postcoloniality in Asia."
Lauren Yapp, Bijdragen Tot De Taal -, Land- En Volkenkunde 174 (2018) 81 - 139
While the editors highlight several of the volume's sub-themes in their introduction - democratization, diaspora, localims, etc. - there is another thread running through many of the chapters that they do not point out, but which is certainly worth noting. In many of the accounts of heritage-making presented here, citizens and civil society groups are seen to accept and advance an understanding of the ruins of the colonial past as emblems of either modernity (as in Amae's chapter on Taiwan) or of cosmopolitanism (as in Robert's chapter on Yangon), rather than as testaments to histories of oppression or trauma. This potentially problematic trend is one that I have also witnessed in Indonesia with regards to the re-appropriation of colonial-era architecture and infrastructure by heritage activists there. While certainly not the primary focus of this volume, it is striking to see this theme play out across the region, suggesting there is much more to be researched and written on this matter.
Overall, this volume represents a welcomed re-centering of the everyday efforts of citizens and civil society in our understanding of heritage-making in (parts of) Asia today. Let us hope that the approach modeled by the authors here is one that other scholars take up in the future.
About the publication
This volume is based on papers from the second in a series of three conferences that deal with the multi-scalar processes of heritage-making, ranging from the local to the national and international levels, involving different players with different degrees of agency and interests. These players include citizens and civil society, the state, and international organizations and actors. The current volume focuses on the role of citizens and civil society in the politics of heritage-making, looking at how these players at the grass-roots level make sense of the past in the present. Who are these local players that seek to define the meaning of heritage in their everyday lives? How do they negotiate with the state, or contest the influence of the state, in determining what their heritage is? These and other questions will be taken up in various Asian contexts in this volume to foreground the local dynamics of heritage politics.
Co-publication: ISEAS – Yusof Ishak Institute / IIAS / Institute of Sociology, Academia Sinica
Worldwide distribution by ISEAS
Contents
3. Heritage-Making and Post-coloniality in Yangon, Myanmar, by Jayde Lin Roberts,

author

5. The Reconstruction of Heritage in Rural Vietnam: An Analysis of State and Local Dynamics, by Hy V Luong,

author

6. Performing Cultures, Negotiating Identities: The Cultural Politics of Indigenous Cultural Villages in West Malaysia, by Cai Yunci,

author

7. Constituting Philippine Filmic and Linguistic Heritage: The Case of Filipino Regional Films, by Katrina Ross A Tan,

author

8. Encounter and Counter-Narratives of Heritage in Macau, by Sheyla S Zandonai,

author

9. Cultural Activities of the Chinese Community in Post-war Myanmar, by Yi Li,

author

10. Chinese Street Opera in Singapore: Heritage or a Vanishing Trade, by Zhang Beiyu,

author

12. Becoming Taiwanese: Appropriation of Japanese Colonial Sites and Structures in Cultural Heritage-Making — A Case Study on the Wushantou Reservoir and Hatta Yoichi, by Yoshihisa Amae,

author

13. Defining Culture in the Heritage Preservation of Taiwanese Veterans' Villages: The Case of Zuoying, by Li Danzhou,

author