Competition Law, Regulation and SMEs in the Asia-Pacific: Understanding the Small Business Perspective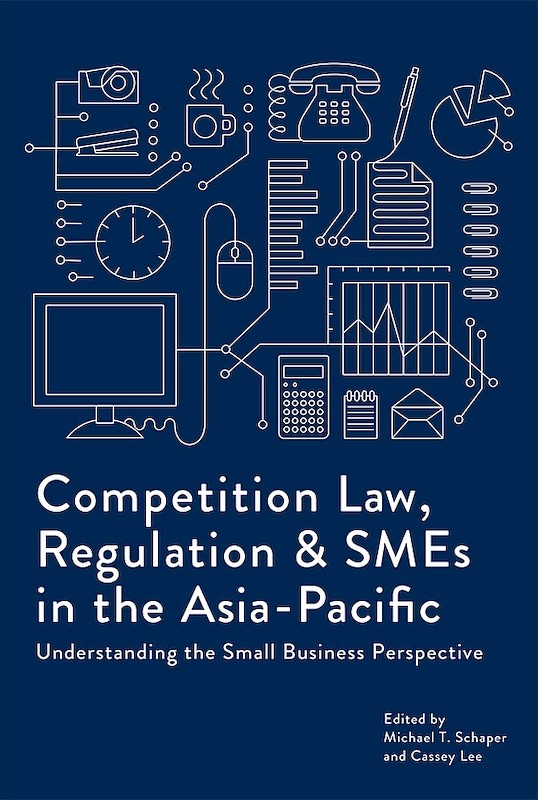 Date of publication:
2016
Publisher:
ISEAS – Yusof Ishak Institute

Ebook is available
Reviews
Lynn White, Journal of the Royal Anthropological Institute, 2018.
"Small and medium enterprises (SMEs) have contributed mightily to development in both rich and poor nations. This fine book introduces new ways to assess such enterprises' legal and cultural contexts by considering how definitions of SMEs and reliabilities of data collection vary by jurisdiction. At the same time, thirty-four experts in diverse fields have written the book's twenty-two chapters, concerning more than a dozen Asia-Pacific countries (plus a UK chapter) and this short review cannot do justice to each of them. However, credible generalizations can be made, especially on cultural topics: one overarching point is that the chapters tend to be written from the viewpoints of governments rather than SMES.
SMEs are often anti-governmental, even when enforcement of anti-trust regulations would help them. When or if they obey laws, compliance costs represent higher portions of revenue for them than they do for large firms. Surprisingly few chapters note that big companies affect legislation strongly. SMEs hire most workers but exercise scant political clout. Future work by anthropologists might explain such ironies since they could agree that 'M[micro] SME business activity is socially embedded. Cultural values may even trump such fundamental economic assumptions as the profit motive' (Fournier, p.376)."
Pacharasut Sujarittanonta, International Journal of Asian Studies Vol. 15 Part 1, Jan 2018.
"What are effective ways to engage SMEs and raise their awareness of and compliance with competition law? How should a competition authority approach SME trade associations? Should SMEs merit differential treatment to reconcile the conflict between SME policies and competition law? These are a few examples of open questions the book has shed light on. Since there is no one-size-fits-all solution, the approach of the book is to take readers through a number of interesting real-life case studies on competition law enforcement and how regulatory agencies in various Asia-Pacific countries overcome the existing challenges. Such wide perspectives from seasoned contributors ranging from researchers to practitioners certainly help connect the dots.
One interesting empirical finding in this book is drawn from SME experiences in the United Kingdom where competition law has been in effect for decades. .... This UK experience yields a valuable lesson for the Asia-Pacific countries.
.... The book puts forth simple and sensible recommendations that a regulator should engage SMEs in a proactive, cooperative, and discretionary manner. The book also suggests highly feasible approaches to disseminate information and education materials through online channels. Key success factors include creating simple and SME-specific contents, obtaining third-party endorsement, awarding certification and so on.
The large section of the book that provides country case studies is particularly interesting as it discusses competition law enforcement experiences in various settings.
Competition Law, Regulation and SMEs in the Asia-Pacific: Understanding the Small Business Perspective is simple and yet insightful. The book's narrative simulates an experience of attending a seminar where many discussants share their perspectives on a wide range of topics related to competition law and SMEs. Although, probably intentionally, there is no conclusion that wraps up the finding and prescribes policy recommendation, the book provides many case studies for readers to understand implications and encourage further discussions. I believe the book is suitable for a broad group of readers. Policymakers and practitioners can learn from a range of experiences of how to make competition laws more workable. Researchers will find that the book, both implicitly and explicitly, provides useful guidance for directions of further research on this under explored area."
Burton Ong,
Asian-Pacific Economic Literature
, 2017.
"The 22 chapters in the book were written by a diverse range of lawyers, economists, regulators, and policy analysts from Australia, China (including Hong Kong), Japan, Korea, Malaysia, Singapore, the UK, and Vietnam. They offer a multiplicity of complementary perspectives on how the vital economic role played by SMEs in the Asia-Pacific jurisdictions ought to be supported by competition law and industrial policy frameworks that facilitate the development of these enterprises.
Most of the chapters are written in an accessible manner, making the book suitable for a broad audience of students and practitioners interested in the business aspects of competition law, as well as the application of competition law to the SME sector. Readers of some of the chapters would benefit from having some background knowledge of the industrial economics field, in order to completely follow the arguments made, but this is a low hurdle to cross. As far as this reviewer could tell, there were no algebraic formulae to decipher in any of the chapters. Instead, the authors of many chapters have incorporated a wealth of primary and secondary sources of information into these discussion: statistics, survey responses, empirical data (presented in easy-to-read graphs, tables, and pie-charts), flowcharts, diagrams, and excerpts are utilized throughout to illustrate the points made by the authors, making these chapters a useful compilation of factual information for reference purposes.
On the whole, this book deals with an important area of interest for competition authorities in the Asia-Pacific region, especially those from less mature jurisdictions, who are shaping their policy frameworks to deal with SMEs. This is clearly an emerging area of policy research which, as the editors of this book point out, deserves greater academic attention - particularly the question of what the actual measurable impact of competition policy and law on SMEs is and the causal link between competition law and productivity within the small firm sector. The chapters in this book will certainly provide a reference point for future debates and discussions on this topic as it develops in the years to come. "
About the publication
Small and medium-sized enterprises (SMEs) account for more than 90 per cent of all businesses in the Asia-Pacific region — an area which is rapidly updating its competition laws and regulations to encourage greater entrepreneurship and open, dynamic economies.
Yet SMEs are almost invisible when those competition policies and laws are developed and enforced. SMEs are often quite different businesses than large, multinational corporations, but their nature, significance and characteristics are often overlooked.
This book seeks to rectify the relative neglect in research and policy discussions on the role of the SME sector in competition policy and law. Drawing on contributions from a wide range of competition regulators, lawyers, academics, consultants and advisers to the SME sector, it addresses such important issues as:
perceptions and views of small businesses about competition law;

regulator engagement and education of the SME sector;

the link between competition law and economic growth;

franchising, SMEs and competition law;

issues in enforcing competition law against SMEs;

the role of Chinese family firms;

trade, professional and industry associations;

country case studies from Vietnam, Singapore, Indonesia, Malaysia, China, South Korea, Hong Kong SAR, Japan and the Pacific Islands.
"This book is an important step in remedying the gaps in our knowledge and policy of this important area." —Dr Alan Bollard, Executive Director, APEC Secretariat
Contents
Competition Law, Regulation and SMEs in the Asia-Pacific: Understanding the Small Business Perspective
[Whole Publication, ISBN: 9789814695817], by Michael T. Schaper, Cassey Lee,

authors

SECTION 1: THEORIES AND BASIC CONCEPTS

4. The Competition Experience of UK SMEs: Fair and Unfair, by David Storey,

author

SECTION 2: SMEs AND COMPETIITION LAW

9. How Competition Law May Affect Franchised SMEs in APEC Economies, by Jenny Buchan,

author

10. Chinese Family Firms in Southeast Asia: Special Problems for Competition Law?, by R Ian McEwin,

author

11. Trade Associations: Competition Law Advocates or Offenders?, by Rachel Burgess,

author

SECTION 3: COUNTRY STUDIES

20. A New Competition Agency Learns to Deal with SMEs: The Case of the Hong Kong Competition Commission, by Knut Fournier,

author

21. The Regulation of Television Programme Production Contracts under Japan's Subcontract Act, by Iwakazu Takahashi,

author