Trails of Bronze Drums Across Early Southeast Asia: Exchange Routes and Connected Cultural Spheres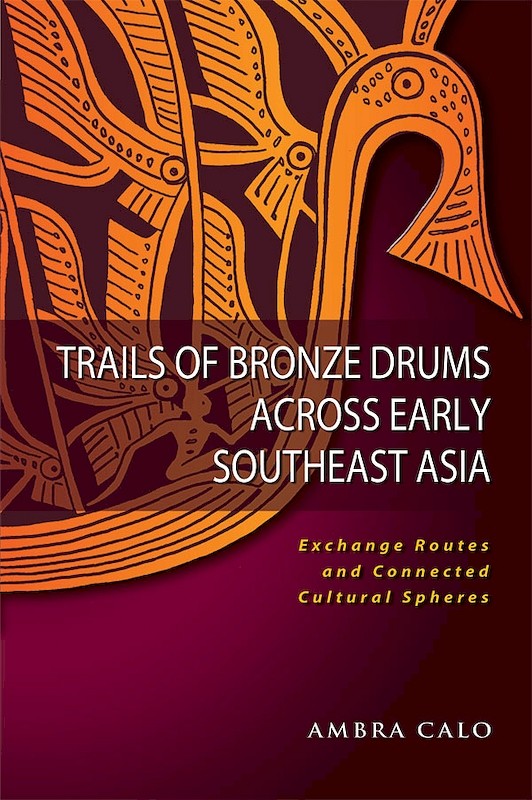 Date of publication:
2014
Publisher:
Institute of Southeast Asian Studies
Reviews
"This book is the first inclusive survey of bronze drum culture, and it provides a comprehensive summary of ritual bronze drum museum holdings and archaeological excavations in south China and Southeast Asia. The book provides accessible summaries and a synthesis of the archaeological evidence supported by 128 glossy pages of quality maps, charts, and mostly colour photographs of the cited artefacts. The author details how inclusive data access now allows international scholars to reconsider early internal and external agencies that had impact on logic and regional bronze drum cultures, especially as these related to early regional commerce. In doing so, this book provides the first comprehensive artefact documentation of the earliest Southeast Asia riverine and oceanic trade routes.
The book consists of pairings of the archaeological evidence with re-readings and cross-references of local inscriptions and a variety of early written accounts with specific interest in tracing bronze drum distributions as these coincide with contemporary trade routes.
This is a valuable book that provides an accesible overview of early bronze drum culture in south China and Southeast Asia that will have meaning to students as well as specialist scholars. The book includes substantive details accompanying metallic and other related artefacts recovered at bronze drum excavation sites, including iron imports and glass and metallic beads that are now being scrutinized as underutilized primary sources that document wider early Indian Ocean maritime trade networking. The book's bibliography is an excellent up-to-date base for follow-up reading".
(The International Journal of Maritime History)
"Ambra Calo makes a significant contribution to the extensive literature on the bronze drums of the Dongson type by choosing to consider these ritual metallaphones in their entire geographical range. In doing this she avoids nationalistic debates and at the same time provides rich insights into the extensive trading networks and pathways along which Dongson drums moved during the late metal age (300 BCE-500 CE). Calo uses her impressive mastery of archaeological detail to trace a series of "distribution domains" that include the Dongson and Dian cultures of northern Vietnam and southern China, the cross-regional routes of mainland Southeast Asia and the islands of western Indonesia.
There is a great deal of solid scholarship and scientific detail in Calo's work that will ensure its usefulness for many years to come, and her contribution to our understanding of the timing and routes of transmission of Dongson-type drums is enriched through her methodological choices, which introduce the very useful concepts of regional clusters and distribution domains to a wider readership". (Pacific Affairs)
About the publication
This study examines the transmission of ceremonial Dong Son bronze drums from their centres of production in north Vietnam and its immediate environs along river and maritime routes throughout Mainland and Island Southeast Asia (MSEA and ISEA) from the perspective of Late Metal Age (300 BC AD 500) exchange networks. This period saw the growth of long-distance exchange linking MSEA and ISEA and involving the mainland to island transmission of bronze objects and casting technology. The distribution of ceremonial bronze drums associated with political/religious power along major routes marks contacts between early cultural spheres, and particularly possible alliances which would have favoured the exchange of commodities. The growth and progressive political significance of strategically located trade centres set the stage for the process of state formation during the historic period. Examining the distribution across present national boundaries, this study focuses on what type of drums are found where to identify different phases and routes of transmission associated with different inter-regional networks, interconnected cultural spheres, and regional bronze drum casting traditions arising from the influence of Dong Son drums.