Breaking With the Past? Civil-Military Relations in the Emerging Democracies of East Asia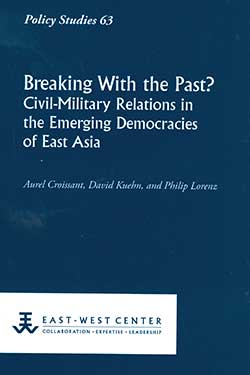 Date of publication:
2012
Publisher:
East-West Center
About the publication
In recent decades, several East Asian nations have undergone democratic transitions accompanied by changes in the balance of power between civilian elites and military leaders. These developments have not followed a single pattern: In Thailand, failure to institutionalize civilian control has contributed to the breakdown of democracy; civil-military relations and democracy in the Philippines are in prolonged crisis; and civilian control in Indonesia is yet to be institutionalized. At the same time, South Korea and Taiwan have established civilian supremacy and made great advances in consolidating democracy. These differences can be explained by the interplay of structural environment and civilian political entrepreneurship. In Taiwan, Korea, and Indonesia, strategic action, prioritization, and careful timing helped civilians make the best of their structural opportunities to overcome legacies of military involvement in politics. In Thailand, civilians overestimated their ability to control the military and provoked military intervention. In the Philippines, civilian governments forged a symbiotic relationship with military elites that allowed civilians to survive in office but also protected the military's institutional interests. These differences in the development of civil-military relations had serious repercussions on national security, political stability, and democratic consolidation, helping to explain why South Korea, Taiwan, and, to a lesser degree, Indonesia have experienced successful democratic transformation, while Thailand and the Philippines have failed to establish stable democratic systems.
Co-publication: East-West Center
Policy Studies series publication on Southeast Asia, co-published by the East-West Center and ISEAS. Available exclusively from ISEAS for distribution in Asia.