Structure of the Asset Management Industry: Organizational Factors in Portfolio Investment Decisions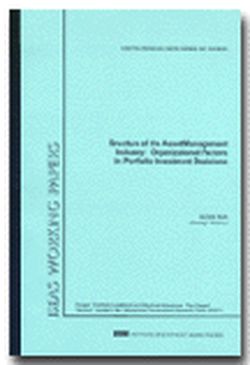 Date of publication:
2000
Publisher:
Institute of Southeast Asian Studies
About the publication
Portfolio investor behaviour in emerging markets is shaped by a wide range of factors, that are as yet not well understood, as underlined dramatically by the Asian Crisis. One important set of factors that shape portfolio investor behaviour -- and that has received limited attention to date -- consists of organizational factors. This paper examines the structure and workings of the global asset management industry. It is hoped that a better understanding will lead to more effective policies by both governments and international financial institutions to support the process of economic recovery and restructuring in Asia.
Contents
Structure of the Asset Management Industry: Organizational Factors in Portfolio Investment Decisions


[Whole Publication]