Urban Biodiversity and Nature-Based Solutions in Southeast Asia: Perspectives from Indonesia and Malaysia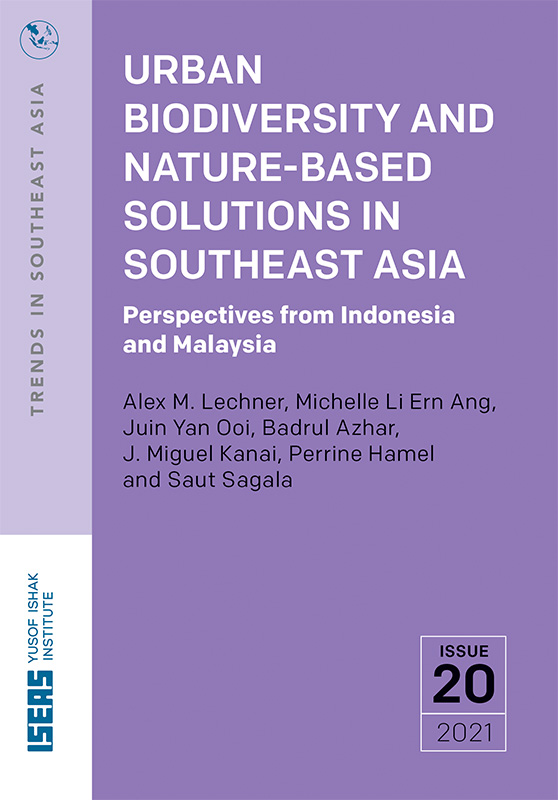 Date of publication:
2021
Publisher:
ISEAS – Yusof Ishak Institute

Ebook is available
About the publication
Rapid urbanization and development in Southeast Asia have impacted its high biodiversity and unique ecosystems, directly through the use of forest lands for infrastructure building, and indirectly through increasing ecological footprints.
In Greater Bandung, Indonesia and Greater Kuala Lumpur, Malaysia, rapid urbanization over the last thirty years has resulted in an increase in built infrastructure of approximately two and three times respectively.
A Nature-Based Solutions approach can potentially underpin urban design and planning strategies in Greater Bandung and Greater Kuala Lumpur, as well as other cities in Southeast Asia, to address biodiversity conservation and also global environmental challenges such as climate change adaption and mitigation, while supporting well-being.
Mainstreaming Nature-Based Solutions in Southeast Asia will require knowledge gaps to be addressed, greater awareness, increasing the evidence base, metrics for measuring success, support from institutions and stakeholders, and new and innovative financing.
The urgency of global socio-ecological challenges, in particular the biodiversity and climate crisis, means transformational change is needed in Southeast Asia, for urban, ecological, technical, economic, and social systems, while still supporting sustainable development.
Contents