Religious Diversity in Singapore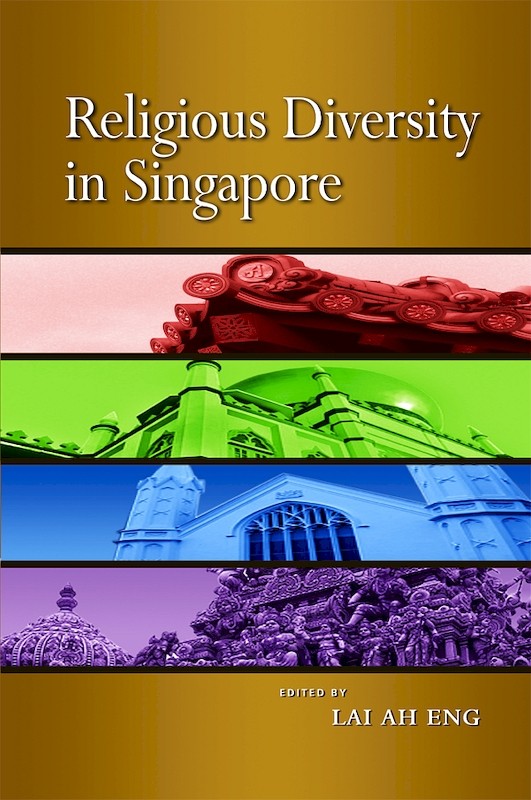 Date of publication:
2008

Ebook is available
Reviews
"This collection covers much religious territory, offers a sample of Singapore's rich religious diversity, while addressing ever-present pressures for conformity with national values and policies. This book serves as a useful general reference, with a helpful glossary of religious terms, for scholars or others concerned with contemporary Asian religious trends" (Pacific Affairs).
About the publication
Religious and ethno-religious issues are inherent in many multiethnic and multi-religious societies. Singapore society is no exception. It has long been multiethnic, multicultural and multi-religious, being at the crossroads of many major and minor civilizations, cultures and traditions, and its religious diversity continues to develop in the current contexts of growing religiosity, religious change and conflict often in the name of religion. Despite this background, there is lack of in-depth knowledge, nuanced understanding and regular dialogue about religions and the meanings of living in a multi-religious world.
This volume covering major themes of Singapore's religious landscape, religion in schools and among the young, religion in the media, religious involvement in social services, and interfaith issues and interaction fills important gaps in the knowledge and understanding of Singapore's religious diversity and complexity. A collective effort of researchers and practitioners, it is a timely and useful reference for scholars, decision-makers, leaders and practitioners as well as for concerned citizens and followers.

Co-publication: ISEAS / IPS
ISEAS / IPS
Contents
Religious Diversity in Singapore
[Whole Publication, ISBN: 9789812307552]

PART I: THE LANDSCAPE OF RELIGIOUS DIVERSITY

1. Religious Influences and Impulses Impacting Singapore, by Tham Seong Chee ,

author

4. Discourses on Islam in Southeast Asia and Their Impact on the Singapore Muslim Public, by Azhar Ghani,

author

5. Global Christian Culture and the Antioch of Asia, by Jean Debernardi,

author

6. "Religiously-inspired", "India-derived" Movements in Singapore, by Vineeta Sinha,

author

8. Diversities and Unities: Towards a Reformist Buddhism in Singapore, by Kuah-Pearce Khun Eng,

author

9. The Sathya Sai Baba Movement in Singapore: Its Service Mission and Philosophy of Communal Identity Construction, by Nagah Devi Ramasamy,

author

11. The Evolution of the Sikh Identity in Singapore, by Arunajeet Kaur,

author

12. Religious Processions: Urban Politics and Poetics, by Lily Kong,

author

PART II: RELIGION IN SCHOOLS AND AMONG THE YOUNG

13. From Moral Values to Citizenship Education: The Teaching of Religion in Singapore Schools, by Charlene Tan,

author

14. Religious Education as Locus of Curriculum: A Brief Inquiry into Madrasah Curriculum in Singapore, by Sa'eda Buang,

author

15. Mission Schools in Singapore: Religious Harmony, Social Identities, and the Negotiation of Evangelical Cultures, by Robbie B H Goh,

author

PART III: RELIGION IN THE MEDIA

17. Religious Reasons in a Secular Public Sphere: Debates in the Media about Homosexuality, by Kenneth Paul Tan,

author

PART IV: RELIGIOUS ORGANIZATIONS IN SOCIAL SERVICES

21. Delivering Welfare Services in Singapore: A Strategic Partnership between Buddhism and the State, by Kuah-Pearce Khun Eng,

author

22. Saving the City through Good Works: Christian Involvement in Social Services, by Mathew Mathews,

author

PART V: INTERFAITH ISSUES AND INTERACTION

23. Religious Diversity, Toleration and Interaction, by Ten Chin Liew,

author

24. Negotiating Christianity with Other Religions: The Views of Christian Clergymen in Singapore, by Mathew Mathews,

author

25. The Inter-Religious Organization of Singapore, by Lai Ah Eng,

author

27. Building Bridges between Christians and Muslims: A Personal Journey, by See Guat Kwee,

author

28. Conclusion: Some Remarks on Religious Diversity in Singapore, by Lai Ah Eng,

author