The Ambiguity of Identity: Ethnicity Maintenance and Change Among the Straits Chinese Community in Malaysia and Singapore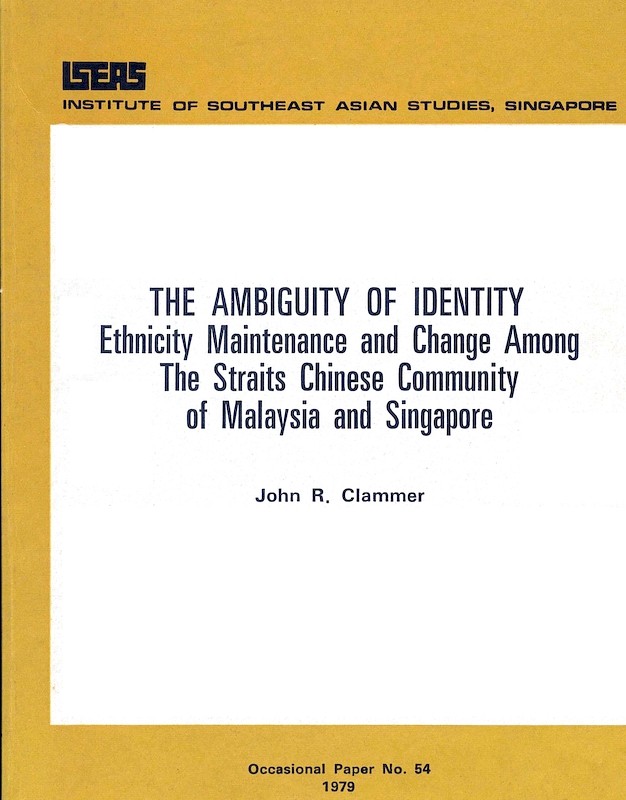 Date of publication:
1979
Publisher:
Institute of Southeast Asian Studies
About the publication
The Straits Chinese (otherwise known as Babas or Peranakans) represent a unique blend of Chinese and Malay cultural traits and yet are quite distinct from both these two source cultures. Many rose to the positions of political and social prominence under British rule. The nature of this cultural and political accommodation and its dynamics provide an ideal ethnographic base for an exploration of ethnicity in Southeast Asia. This paper examines the nature of their identity and culture, the changes in the nature of the group and internal and external criteria for identification. The thesis is that the emergence of the Baba community is due to a combination of social and political factors, including the nurturing of a group willing to distinguish themselves from other Chinese migrants by learning English and acting as social and political brokers between the government and the population. Their position becomes ambiguous after 1942, with the decline of British influence. The writer's argument is that the outcome of this situation is not to be explained by factors of choice or perception but by structural factors. The paper concludes with an examination of these structural factors (including processes of accommodation, assimilation, and resignification) which have their roots in the colonial past of the area in the present management of ethnicity in Malaysia and Singapore.
Contents
The Ambiguity of Identity: Ethnicity Maintenance and Change Among the Straits Chinese Community in Malaysia and Singapore
[Whole Publication, ISBN: 9789814377355]