Global Methane Pledge: A Review of Data, Policy and Transparency in Reducing Methane Emissions in Malaysia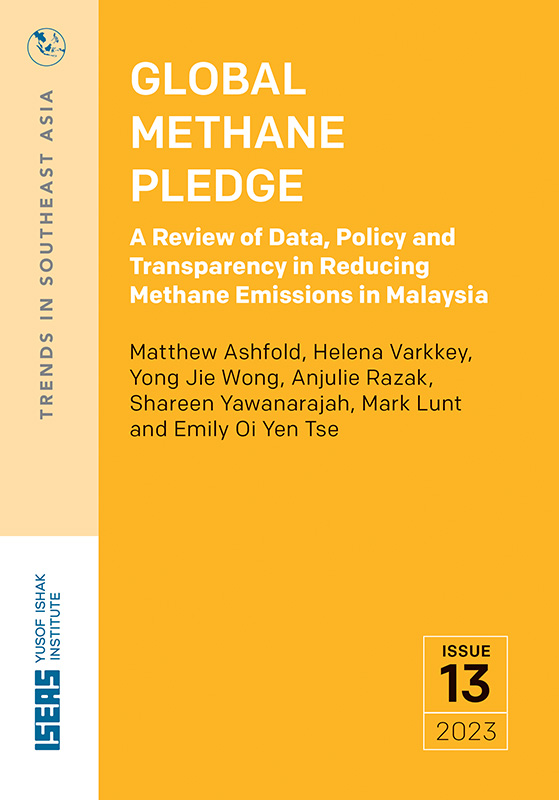 Date of publication:
2023
Publisher:
ISEAS – Yusof Ishak Institute

Ebook is available
About the publication
Malaysia is a signatory of the Global Methane Pledge, but the implications for national action on methane emissions remain unclear. We reviewed publicly available literature and data, arriving at the following key findings:
1. There is no clear national plan for methane action yet. Since signing the Pledge in 2021, there has been no demonstrable government initiative focusing on joined-up methane action at the national level. Malaysia does not have a methane strategy or policy, and sector-specific regulations focusing on methane emissions are either not present, vague, or publicly inaccessible.
2. There are indications emissions are falling due to positive corporate action. Effective methane reduction initiatives exist in Malaysia's top two methane-emitting sectors, oil and gas and palm oil, and key players have committed to net zero pathways with methane reductions central to progress to 2030. Emissions should be expected to rapidly fall further if action can be scaled across all industry players.
3. Quantifying reductions with confidence remains challenging. Different reporting approaches and incomplete information on assumptions and uncertainties in quantification approaches, make independent analyses of reported emissions challenging. Wider deployment of measurement-based emission quantification is a key option to improve confidence in progress.
4. Improvements in corporate Monitoring, Reporting, and Verification (MRV) in the coming years are expected. While some corporate standards remain confidential, key companies have joined international frameworks featuring transparency and MRV measures like the Oil and Gas Methane Partnership 2.0 and, in a broader climate context, the evolving Science Based Targets initiative. Improved corporate MRV should enable improved national emissions reporting.
5. Methane reduction is a "low-hanging fruit". Methane is a major initial lever to reduce greenhouse gas emissions up to 2030 in the climate plans of leading Malaysian industry players. Action to improve methane-related processes in the key oil and gas and palm oil sectors thus presents a valuable opportunity for Malaysia to contribute to global climate mitigation within its long-term national interests. Therefore, decisive methane action is needed even while plans for further crucial greenhouse gas emission reductions are developed and articulated in more detail.
Contents
Global Methane Pledge: A Review of Data, Policy and Transparency in Reducing Methane Emissions in Malaysia
[Whole Publication, ISBN: 9789815104806], by Matthew Ashfold, Helena Varkkey, Yong Jie Wong, Anjulie Razak, Shareen Yawanarajah, Mark Lunt, Emily Oi Yen Tse,

authors