Modernity and Re-enchantment: Religion in Post-revolutionary Vietnam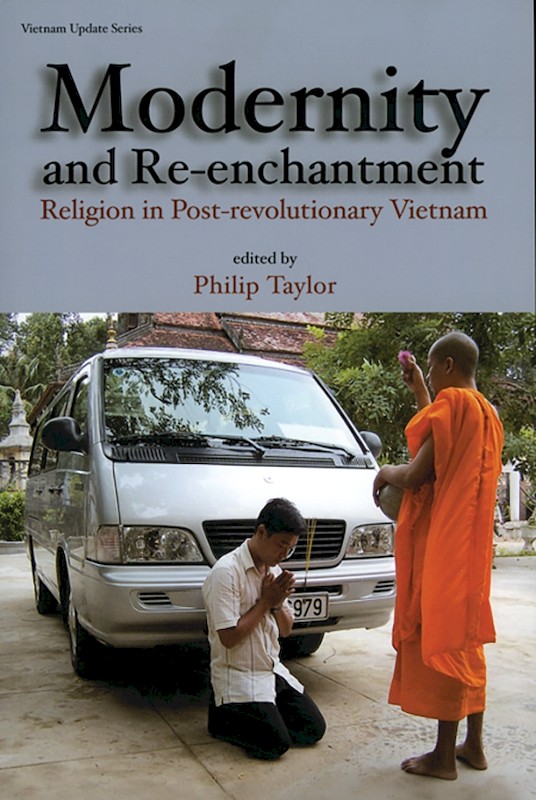 Date of publication:
2007
Publisher:
Institute of Southeast Asian Studies
Review
"This volume charts a new religious geography by looking at shared logics of spiritual efficacy across a range of practices, which include ancestor veneration, spirit mediumship, Buddhist sectarianism and Catholic myths and miracles. The contributions are all of a high ethnographic standard, and offer new perspectives on the search for meaning, efficacy and authority from international scholars in anthropology, history and religion. As Phillip Taylor notes in a conceptually rich introduction, the vibrancy and diversity of current practices in Vietnam has created a space for different voices and agents to develop new beliefs and rituals in a rapidly changing society" (
Paciic Affairs
).
"Modernity and Re-enchantment defines, documents, and discusses each issue thus providing a huge contribution to Vietnam Studies, as well as to cross-cultural research. One of the stated goals of the book is to present a 'new wave of scholarship' based on ethnographic fieldwork and the volume is extremely successful in completing this task. The articles are rich in field data, they are clear and well written and they avoid excess jargon. The ethnographic articles cover several different religious and/or ritual practices and several different locales. This is a great addition to Vietnamese studies because although several scholars have dealt with questions of modernity and re-enchantment in Vietnam, they often focus on a particular ritual or a particular place. This book adds depth and variety to the dialogue" (Asian Ethnology).
About the publication
The richness and vibrancy of Vietnamese spirituality are vividly portrayed in these twelve essays that shed light on the remarkable reflorescence of religion in this communist country.
Ancestor worship, mediumship, sacrifices, and communal rituals have not only survived Vietnams reintegration into the capitalist world; they are intrinsic to the dramatic reshaping of its contemporary social and cultural life. Transnational Buddhism and Christianity challenge the political status quo as they answer conflicting aspirations for enlightenment, justice, national development and cultural identity.
Making conceptual contributions to anthropology and comparative religion, this book provides insights from post-revolutionary Vietnam into the diverse passages to re-enchantment in the modern world.

Contents
Modernity and Re-enchantment: Religion in Post-revolutionary Vietnam
[Whole Publication, ISBN: 9789812304568]

1. Modernity and Re-enchantment in Post-revolutionary Vietnam, by Philip Taylor,

author

2. Returning Home: Ancestor Veneration and the Nationalism of Doi Moi Vietnam, by Kate Jellema,

author

3. Ritual Revitalization and Nativist Ideology in Hanoi, by Choi Horim,

author

4. Feasting with the Living and the Dead: Food and Eating in Ancestor Worship Rituals in Hoi An, by Nir Avieli,

author

5. Unjust-Death Deification and Burnt Offering: Towards an Integrative View of Popular Religion in Contemporary Southern Vietnam, by Thien Do,

author

6. Spirited Modernities: Mediumship and Ritual Performativity in Late Socialist Vietnam, by Kirsten Endres,

author

7. Empowerment and Innovation among Saint Tran's Female Mediums, by Pham Quynh Phuong,

author

8. Buddhism for This World: The Buddhist Revival in Vietnam, 1920 to 1951, and Its Legacy, by Elise Anne DeVido,

author

9. The 2005 Pilgrimage and Return to Vietnam of Exiled Zen Master Thich Nhat Hanh, by John Chapman,

author

10. Nationalism, Globalism and the Re-establishment of the Truc Lam Thien Buddhist Sect in Northern Vietnam, by Alexander Soucy,

author

11. Miracles and Myths: Vietnam Seen through Its Catholic History, by Jacob Ramsay,

author

12. Strangers on the Road: Foreign Religious Organizations and Development in Vietnam, by Andrew Wells-Dang,

author

Publications in the Vietnam Update Series