Marrying Young in Indonesia: Voices, Laws and Practices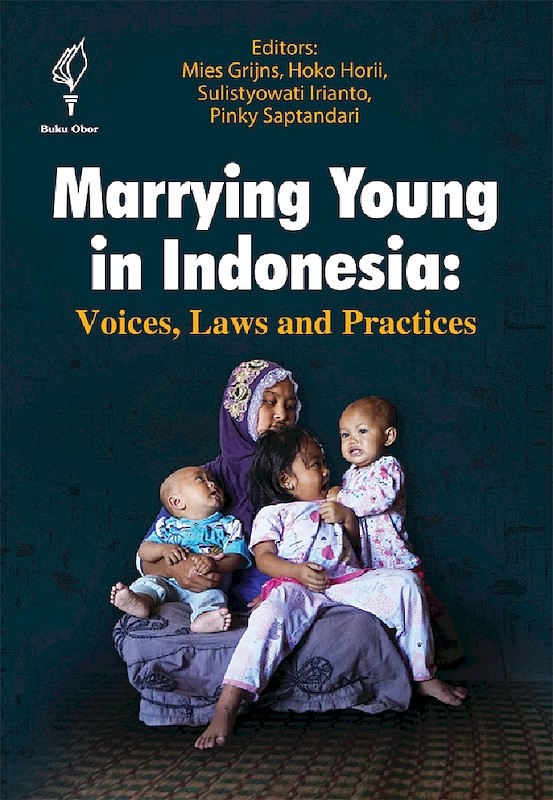 Date of publication:
2019
Publisher:
Yayasan Pustaka Obor Indonesia / ISEAS – Yusof Ishak Institute
Reviews
"
Overall, I find this a conscientious collection of research. It provides rich descriptions of the consequences of child marriages. I recommend this book to social scientists who are interested in how various social institutions may interact with one another to shape the patterns of child marriages, and in turn, influence individuals' well-being."
Reviewed by Wu-Ling Chong in
JATI-Journal of Southeast Asian Studies
27, no. 2 (December 2022).
Click here to read the review
.
Ariane Utomo, South East Asia Research, 2020.
"
Marrying Young in Indonesia
features empirical chapters on the diversity of everyday practices around child marriage, and the complex causes and consequences associated with it. The edited collection is the outcome of an academic workshop held at the University of Indonesia in 2017. .... Much of the book's content was written prior to the revision of the Marriage Law in 2019, but such a temporal aspect behind the book's production makes it an even more timely and engaging read. The book serves as a critical reading to better understand the contestations behind efforts to regulate marriage timing and to end child marriage in Indonesia.
In interrogating the complex terrain of child marriage research, the book effectively displays a variety of research methods, from survey through life history and legal archival analysis. Scholars working on marriage and family change in the region will particularly appreciate the detailed methods section in each of the empirical chapters. The description of case studies and field site selection seem to indicate patterns of geographic clustering.
...the nuanced perspectives and wide-ranging geographical insights on child marriage presented in this book will be of interest to policymakers, activists and scholars working in this field."
About the publication
"Stop Child Marriage" has been a growing movement in Indonesia since the early 2010s. Child marriage, in this context, means marriage involving anybody under the age of eighteen. Women's rights and children's rights are at the centre of this movement. Both Indonesian and international organizations oppose marriage under the age of eighteen, trying to develop strategies to counter the wrongs and abuses they have observed.
This book is the outcome of a workshop on child marriage research: twelve chapters that complement studies of contemporary child marriage in Indonesia. It includes research from different regions in Indonesia: South Sulawesi; South and West Sumatra; West Nusa Tenggara; West, Central and East Java; and DI Yogyakarta.
The book offers a new perspective on child marriage by presenting everyday practices instead of focusing on stereotypical and sensational cases. In-depth research enables micro-level analysis of the socioeconomic context that affects child marriage practices in different regions. Local actors such as regional bureaucrats, judges, religious leaders, parents and young people themselves play dynamic roles in changing or sustaining the practice of child marriage.
This collection of interdisciplinary research provides an excellent background for debates and discourses on child marriage at the national and international level. This book aims to inspire more activists, academics and policymakers towards informing and supporting adolescents in their choices and protecting them, when necessary, from the reality and negative consequences of forced and early marriage.