Framing Asian Studies: Geopolitics and Institutions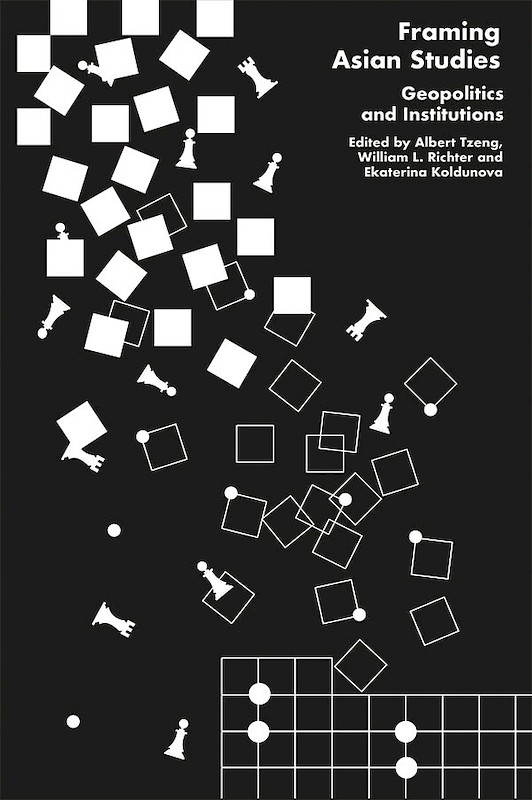 Date of publication:
2018
Publisher:
ISEAS – Yusof Ishak Institute

Ebook is available
Reviews
Ooi Keat Gin, JMBRAS, June 2019.




"Editors Tzeng, Richter, and Koldunova have divided the volume's eleven papers into four parts: 'Contested "Asia"', 'Geopolitical Framing of Western Discourse', 'Asian Studies in Former Soviet Union,' and 'Inter-Asian Gazes.' As expected, the 'Introduction: Framing Asian Studies' sets the stage and, to a great extent, contextualises each paper against the respective backgrounds.




[A]ll the essays featured in the volume focus on and raise critical inquiries about the interplay of geopolitics and institutions. .... A 'must read' for all academics involved in Area Studies with particular attention to Asian Studies, decision-maker mandarins of research institutions, think-tanks, libraries and repositories, funding agencies and foundations dealing with Asia as a whole or parts thereof, and colleges and universities. The aforesaid principal players need to comprehend the past trajectories of development of Asian Studies that had been influenced and impacted by geopolitical factors from within the continent as well as from without. Future production of knowledge about Asia in the twenty-first century should draw on Anglo-Euro-Asian scholarship in tandem with each other. Therefore, greater promotion of transnational projects such as the present volume enriches the tapestry of knowledge drawn from a kaleidoscope of viewpoints by researchers from various corners of the global scholarly community."




Kevin Hewison, Journal of Contemporary Asia, Routledge, 18 June 2018.




"A highlight of the collection is its generally optimistic tone. As the co-editors express it, "Asian Studies appears alive and well..." (5) in a range of places from the US to Europe and Australia and to Asia itself. Even though the book developed from a project that was dropped before the book came out - seeking to link Singapore's government think-tank on Southeast Asia, the ISEAS – Yusof Ishak Institute, and the International Institute for Asian Studies in the Netherlands - this optimism still shines through (viii).




The collection is in four parts and 12 chapters. .... Part II involves three chapters that consider Western discourse on Asia. .... Part III of the collection examines Southeast Asia studies in Russia (Chapter 8 by Ekaterina Koldunova) and Indian studies in Soviet Lithuania (by Valdas Jaskunas). Both chapters are welcome given that little has been known of these arenas. .... The final three chapters are in Part IV and about Asian studies in the region - Inter-Asian Gazes. .... For those looking for the optimistic take on Asian studies, this collection is likely to be welcomed."
About the publication
This book explores the interconnection between geopolitical context and the ways this context frames our knowledge about Asia, highlighting previously neglected cause–effect relations. It also examines how various knowledge institutions promote and shape Asian Studies. The authors seek to explain why Asian Studies and its subfields developed in the way they did, and what the implications of these transformations might be on intellectual and political understandings of Asia. The book not only builds on the current debates on the decolonization and de-imperialization of knowledge about Asia; it also proposes a more multifaceted view rather than just examining the impact of the West on the framing of Asian Studies.
"This timely and valuable collection is the best analytical and substantive guide we have to the great diversity of changing geopolitical contexts which have shaped the modern production of knowledge about Asia, before, during, and after the Cold War, on both sides of the Atlantic, and also in Australia, Russia, Lithuania, India, Japan, Korea, and Southeast Asia."
Professor and Chair, Department of History,
New York University
"This book is an important addition to the growing number of works on Asian and Southeast Asian studies that seek to take stock of how area studies concerning the region have been developing and what its trajectory is. This book takes a critical view of these developments by going beyond the geopolitical backdrop, contextualising Asian studies in terms of its colonial and Orientalist roots, and bringing attention to the critical reactions to these problems of knowledge production. The book is unique in that it not only looks at Asian studies in the West, but also examines the field in the former Soviet Union as well as within the Asian centres of research."
Professor, Department of Sociology
Faculty of Arts & Social Sciences, National University of Singapore
"Asia, a combination of geo-cultural sites without obvious borders of any kind, is un-learned and re-learned in this timely book via an array of Anglo-Euro-Asian scholarship on knowledge. Anyone determined to move beyond pedagogical categories must engage with this transnational project."
Professor, National Taiwan University
Contents
PART I: CONTESTED "ASIA"

2. From Oriental Studies to Asian Studies: The Metamorphosis of the Western Mind, by Maitreyee Choudhury,

author

3. Geopolitical and Social Framings of Australia's "Asia Literacy", by Kirrilee Hughes,

author

4. Maps as Illustrations and Logos: Geopolitical Construction of Asia and South Asia, by William L Richter,

author

PART II: GEOPOLITICAL FRAMING OF WESTERN DISCOURSE

5. From Geertz to Ricklefs: The Changing Discourse on Javanese Religion and its Wider Contexts, by Riwanto Tirtosudarmo,

author

6. Framing Cambodian Affairs: French and American Scholarship, Media and Geopolitics, by Gea D.M. Wijers,

author

7. Studying Taiwan: The Politics of Area Studies in the United States and Europe, by Hardina Ohlendorf,

author

PART III: ASIAN STUDIES IN FORMER SOVIET STATES

8. Southeast Asian Studies in Russia: Agents against Structural Limits, by Ekaterina Koldunova,

author

9. India Studies in Soviet Lithuania: Approaching Asia from Outside the Establishment, by Valdas Jaskūnas,

author

PART IV: INTER-ASIAN GAZES

11. South Seas Chinese in Colonial Classifications, by Huei-Ying Kuo,

author

12. Chinese Studies in Japan and South Korea: Geopolitics, Local Embeddedness and Knowledge, by Claire Seungeun Lee,

author