The ASEAN Economic Community and Beyond: Myths and Realities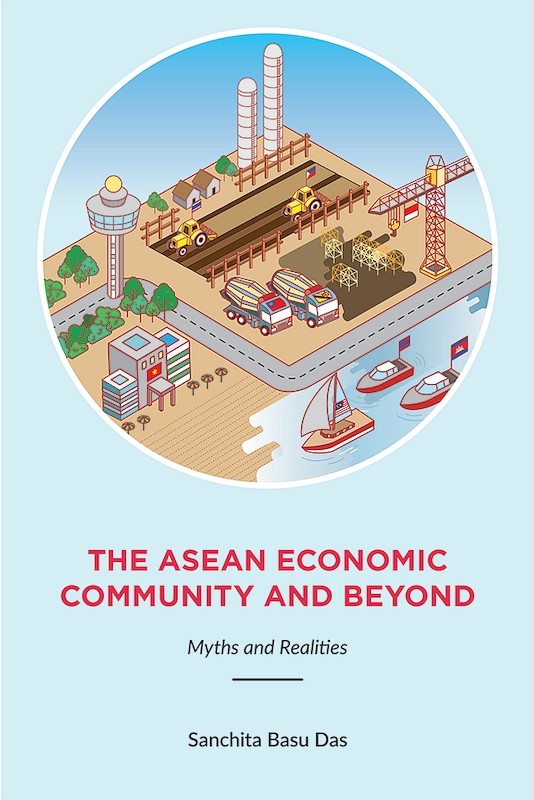 Date of publication:
2015
Publisher:
ISEAS – Yusof Ishak Institute

Ebook is available
Reviews
Sakkarin Niyomsilpa.
Journal of Population and Social Studies
, Vol. 24:2, July 2016.
"This book covers major economic and strategic issues related to the ASEAN Economic Community (AEC) and other important regional initiatives in the Asia-Pacific region. It is one of the few publications which discuss the future of AEC in connection with other regional trade initiatives including the Regional Comprehensive Economic Partnership (RCEP) and the Trans-Pacific Partnership (TPP) from the political economy point of view.
.... The author has done a good job in linking the AEC with other regional trade initiatives in the midst of strategic rivalries between the USA and China. Recent Chinese initiatives including the One-Belt, One-Road program and the Asian Infrastructure Investment Bank (AIIB) are well discussed in connection with ASEAN's future economic linkages with China.
....In any case, people who are interested in ASEAN studies, economists, political scientists, diplomats and trade experts should not miss this book."
About the publication
The year 2015 has special significance for regional economic integration. The ASEAN Community, integrating the political, economic and social aspects of regional cooperation, will complete its first milestone by December 2015. Expectations of tangible benefits under an ASEAN Economic Community have attracted much attention though many of the initiatives will be realized post-2015.

Following the policy of open regionalism, ASEAN has also signed free trade agreements with Australia, New Zealand, China, India, Japan and South Korea. It has launched negotiations for the Regional Comprehensive Economic Partnership (RCEP) agreement in 2013, with expected breakthrough by end-2015.

The Southeast Asian economies are also involved in two other regional initiatives. First is the Trans-Pacific Partnership (TPP), initiated by the United States. As part of the U.S. "pivot to Asia", the TPP is envisioned as a "comprehensive and high-quality" agreement and has concluded its negotiation in October 2015. Second, the discussions on regional connectivity have broadened; China has emerged as a recent lead proponent with its proposals for "One Belt, One Road" and the Asian Infrastructure Investment Bank.

All these together have implications not only for individual Southeast Asian countries but also for regional trading architecture. To aid in understanding the beginnings, development, and potential of these grand plans, this collection of 22 essays offers a rich analysis of ASEAN's own economic integration and other related initiatives proliferating in the broader Asia-Pacific region.
Contents
The ASEAN Economic Community and Beyond: Myths and Realities
[Whole Publication, ISBN: 9789814695183], by Sanchita Basu Das,

author

1. Introduction: The ASEAN Economic Community and Beyond

PART I: THE ASEAN ECONOMIC COMMUNITY (AEC)

2. The ASEAN Economic Community: An Economic and Strategic Project

3. Can the ASEAN Economic Community Be Achieved by 2015?

4. Goods to Flow Slow and Steady within the ASEAN Economic Community

5. The Limited Impact of the ASEAN Economic Community on Skilled Labour Migration

6. Five Facts About the ASEAN Economic Community

7. Growing Economic Diplomacy in ASEAN: Opportunities and Threats

8. Towards ASEAN Economic Community 2025!

PART II: BEYOND THE ASEAN ECONOMIC COMMUNITY

9. The Regional Comprehensive Economic Partnership: Going Beyond ASEAN+1 FTAs

10. Comparing ASEAN+1 FTAs for an Effective RCEP

11. Challenges in Negotiating the Regional Comprehensive Economic Partnership Agreement

12. The Next Decade in ASEAN-U.S. Economic Relations

13. RCEP and TPP: Comparisons and Concerns

14. The Trans-Pacific Partnership (TPP): Economic and Strategic Implications for the Asia-Pacific

15. The Trans-Pacific Partnership as a Tool to Contain China: Myth or Reality?

16. RCEP and TPP: Can They Converge into an FTAAP?

17. Is APEC's Relevance Fading?

PART III: AN ASEAN PERSPECTIVE OF REGIONAL CONNECTIVITY

18. Promoting Asia's Infrastructure for Regional Trade and Investment

19. Addressing Infrastructure Financing in Asia

20. APEC and ASEAN Connectivity: Areas of Mutual Interest and Prospects of Cooperation

21. China's Three-pronged Strategy on Regional Connectivity

22. Can the China-led AIIB Support the ASEAN Connectivity Master Plan?

Appendix: Summary of the Trans-Pacific Partnership Agreement