Zhongguancun Science Park: A SWOT Analysis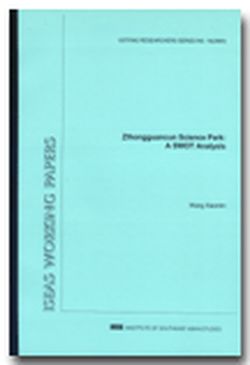 Date of publication:
2000
Publisher:
Institute of Southeast Asian Studies
About the publication
The IT revolution has resulted in a new wave of Science Parks in Asian Countries. The Zhongguancun Science Park (ZSP) is the pioneer of Chinese Science Parks, which has a 12-year history. This paper identifies 7 key factors for a successful Science Park in terms of strengths/weaknesses, opportunities/threats of the ZSP, and puts forward policy recommendations. It also summarizes the experiences and
lessons of the ZSP and draws attention to the fact that the role of Science Parks in a developing country is to absorb, digest, and deliver global advanced technology.

Contents
Zhongguancun Science Park: A SWOT Analysis


[Whole Publication]