A Changeless Land:Continuity and Change in the Philippines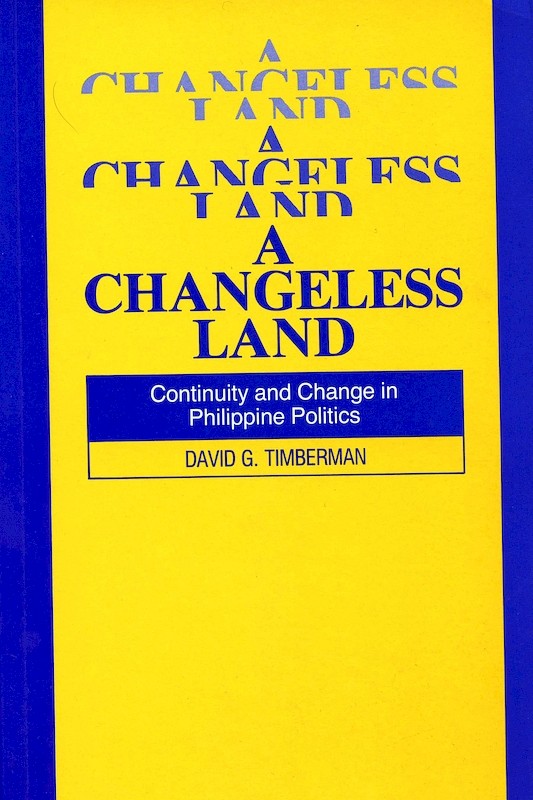 Date of publication:
1991
Publisher:
Institute of Southeast Asian Studies
About the publication
This book examines the elements of continuity and change in Philippine politics and government over the last quarter century. This period, from the early 1960s through 1988, encompasses three distinct phases: the decline of a traditional" elite democracy, the imposition of martial law and constitutional authoritarianism under Ferdinand Marcos, and the restoration of democracy under Corazon Aquino. By examining the elements of continuity and change during this period, this study attempts to provide a context for understanding current and future political developments in the Philippines.
Contents
A Changeless Land: Continuity and Change in Philippine Politics (hard cover)
[Whole Publication, ISBN: 9789814379625]

PART I: TRADITIONAL PHILIPPINE POLITICS

1. Philippine Society and Political Culture

2. Traditional Government, Politics and Economic Affairs

PART II: THE AUTHORITARIAN EXPERIENCE, 1972-86

4. Authoritarianism and Its Impact

5. The Decline and Fall of Marcos, 1983-86

PART III: DEMOCRACY RESTORED

6. The Politics of Survival, 1986-88

7. The Restoration of Democracy under Aquino

8. The Military and Other Political Actors

9. The Communist and Non-Communist Left

10. The Politics of Economic Recovery & Reform

11. The Prospects for Change in a 'Changeless Land'