Southeast Asian Affairs 1996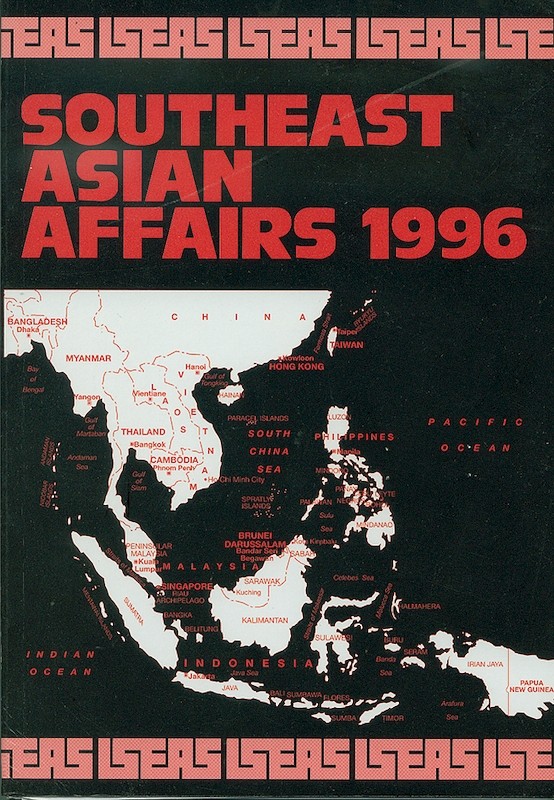 Date of publication:
2001
About the publication
Southeast Asian Affairs, of which there are now twenty-three in the series, is an annual on the political, economic and social trends and developments in Southeast Asia. First published in 1974, Southeast Asian Affairs represented then, as it still does now, a unique collection of analyses on contemporary Southeast Asia by contributors primarily from the region and reflecting the viewpoint of the region.
Designed to be easily readable yet in-depth, informative yet analytical, issue-focused yet providing a background, the annual has come to be a useful tool for all serious students, academics, diplomats, senior executives, journalists and publicists who seek to understand the dynamics of Southeast Asian developments.
Southeast Asian Affairs 1996, like the previous volumes, is divided into two parts. The first part consists of articles that provide the regional and ASEAN overviews. The second focuses on internal developments in each of the ten Southeast Asian countries. There is a state-of-the-nation analysis as well as articles devoted to a salient issue or significant theme for selected countries.


Contents
Southeast Asian Affairs 1996


[Whole Publication]

THE REGION

1. Southeast Asia: Trends, Developments and Challenges

2. Recent Economic Developments in Southeast Asia

3. Japan's Search for a Political Role in Southeast Asia

4. The Republican Congress: Asia's Gain or Pain?

5. Financing Old Age in Southeast Asia: An Overview

BRUNEI

6. Brunei in 1995: A New Assertiveness?

CAMBODIA

7. Cambodia: A Year of Consolidation

8. Cambodia's Post-Cold War Dilemma: Democratization, Armed Conflict, and Authoritarianism

INDONESIA

9. Indonesia at 50: Islam, Nationalism (and Democracy?)

10. Indonesia: Setting the Stage for Soeharto's Re-election

LAOS

11. Laos: Back to a Land of Three Kingdoms?

MALAYSIA

12. Malaysia: Mahathir's Last Hurrah?

13. New Malays, New Malaysians: Nationalism, Society and History

MYANMAR

14. Myanmar: Several Endings, No Clear Beginnings

PHILIPPINES

15. The Philippines in 1995: Completing the Market Transition

16. The Philippines Labour Diaspora: Trends, Issues and Policies

SINGAPORE

17. The Internationalization of Singapore Politics

18. Consumption and Social Aspirations of the Middle Class in Singapore

THAILAND

19. Thailand in 1995: The More Things Change, The More They Remain the Same

20. The Thai Economy in the Mid-1990s

VIETNAM

21. Vietnam: Better Managing Reform